By Roger Talayaratne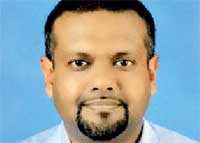 With the emergence of COVID-19, life as we know it has changed significantly especially around our work and where we work. With social distancing and the associated restrictions, up to two-thirds of staff in companies today perform their duties from home. This situation has caused challenges both for the employer and the employee in ensuring the maintenance of productivity and the delivery of results amidst a changing work environment, where regular follow up and review meeting have become limited.

The home is a place you try to disengage from the stress of work, relax and enjoy your time with your family and also engage in things that give you relaxation like watching TV, reading, connecting with friends and hobbies. Now suddenly when you are expected to change within that familiar environment and start to perform your work-related tasks it becomes quite challenging and strange for both your family and you have to be able to adapt quickly.

Being the Managing Director of Ebenezer Double Edged Solutions Ltd., I have had many questions from our customer base about how they can optimally manage productivity when their workforce is operating from home. We also helped put in place some good practices to aid productivity from their staff working from home.

Here are some points and tips that may help you to improve your own productivity whilst working from home:

Try to have a separate work area within your home, like an office room or space that can be converted to a work area, if possible one which separates you from the familiar distractions of being at home. In the absence of a defined work area, we may end up sitting at the dining table or working whilst lying in bed. There are challenges in both these scenarios. Whilst the dining table provides a good posture for work you are probably in the centre of all the distractions, on the other hand a bedroom offers you good privacy for your work, but let's face the facts that our mind and body are often tempted to rest, relax and eventually sleep in the bedroom, as this is what your mind and body has been used to in this environment. Thus a separated work area, if available in your home, gives you privacy as well as keeps you in a working mindset.

Planning out your work which needs to be completed within the day and the week also keeps you accountable to finish it as per your plan. A time based to-do list can help you get organised. Have strict discipline about your work, keep yourself accountable to your employer. If you are leading a team, keep in consistent communication with them not allowing work to pile up, but reviewing progress of completion in a timely manner.

Try to think about how your distance from your workplace impacts your team, customers, suppliers and other stakeholders, and ensure they are informed adequately about how you may be reached in case they need to get in touch. Remember to specifically mention your working hours and the times that you are available as some have experienced work related calls eating into your personal and family time.

Keeping connected to the office and external stakeholders becomes vital for business continuity, make sure you voice out your requirements to your employer to keep you functioning and well connected to both your team and external stakeholders you deal with. Do not assume your office administrators will know all your requirements to work from home. Remember they are new to this too.

Although you are physically distanced from your office, keep connected with your work colleagues and your supervisor. Team work is powerful don't lose it. Be accountable to apply leave on days you are not able to work or when you are sick. It is your entitlement and you should use it, to avoid your work getting held up. If you are unable to do it delegate it to someone who is able.

You may want to resist the temptation of been drawn to the relaxing familiarity of your home and getting caught between your responsibilities of work and your responsibility towards your family. This can cause strains in relationships at home with your spouse and children. It's important to note that your first priority is your family, don't ever let them feel differently. A good way to address this is to explain your work demands and norms of work to your family, they may be able to better understand you and help you during your time of work if they are prior informed of the expectations of your work place.

When attending meeting via Zoom, Skype and similar applications, make sure you are well prepared and dressed suitably. Ensure your background behind you is neatly arranged and professional especially when meeting with customers online. Remember you represent your company. Always keep your mic muted and unmute it only when you are speaking, you will be amazed what can get picked up on audio and when everyone on the call hears it, it may be a distraction to the meeting.

Not all work that can be done in the office can be done at home. This should give you some free time. Further the number of meetings will substantially reduce making up additional time for you use this time to engage in developing your skills by attending online training and self-development. Speak to your supervisor about areas of training and development that you might be able to engage in during this time, which can help you and your organisation in the future.

Although the lockdown is lifted, the requirement for social distancing still remains and the infrastructure of the country to support social distancing including transportation that can accommodate the full work force whilst maintaining the required social distance is still in a developing stage. What this means to us is that we still may have quite a few days ahead of us where we are working from home and we owe it to our organisations as well as to the nation to ensure that we keep the productivity high, contributing and continuously adding value to our organisations and to the economy of the country. Let us be strong contributors doing everything within our power to rebuild the economic growth to our country.