President and Council Members taking the oath of office from CMA Advisory Council Member Esmond Satarasinghe. From left: Kumari Wijewardena, Ruchira Perera, Vice President H.M. Hennayake Bandara, S.E. Satarasinghe, President Prof. Lakshman R. Watawala, Manil Jayasinghe, J.M.U.B. Jayasekera and Adrian Perera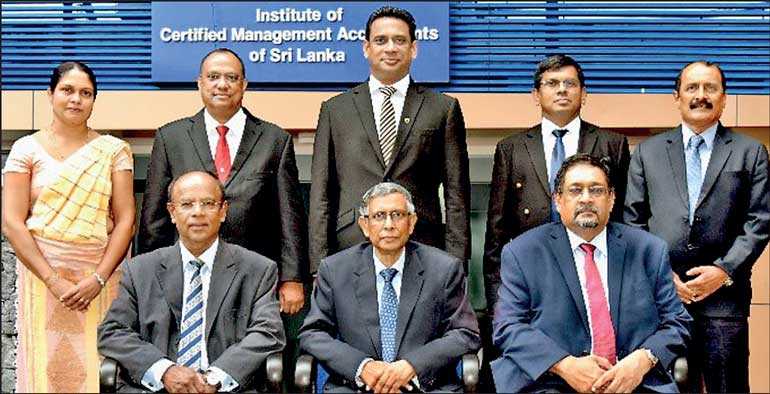 Seated from left: Vice President H.M. Hennayake Bandara, President Lakshman R. Watawala, Manil Jayasinghe. Standing from left: Kumari Wijewardena, Dr. Harendra Kariyawasam, Ruchira Perera, Adrian Perera, and J.M.U.B. Jayasekera.
---
CMA is celebrating its 20th anniversary this year in operational activities since its establishment in the year 1999 with the technical support of CMA Canada (now CPA Canada) and the financial assistance of the Canadian International Development Agency (CIDA). The Institute of Certified Management Accountants (CMA) of Sri Lanka was thereafter incorporated in April 2009 as the National Professional Management Accounting Institution in Sri Lanka by Act of Parliament No.23 of 2009 under the Ministry of Internal Trade and Co-operatives and then Industry and Commerce and now comes under Ministry of Finance.

CMA is a member of the South Asian Federation of Accountants (SAFA) and joins the fraternity of Professional Accounting bodies in India, Pakistan, Bangladesh, Sri Lanka and Nepal. CMA is also a Member of the International Federation of Accountants (IFAC) the global organisation for the accountancy profession spread over 130 countries and jurisdictions with 175 members and representing approximately three million accountants worldwide, and the Confederation of Asian and Pacific Accountants (CAPA) the professional accounting organisation for the Asia and Pacific region.

CMA is a professional qualification specialising in Strategic Management Accounting, Financial Accounting and Finance and Business Management through its certified management accounting study program leading to a Professional Management Accounting qualification. CMA has progressed to become a body with over 16,000 students and 2400 members.

After the incorporation of CMA by an Act of Parliament No. 23 of 2009 the fourth election to the council was held on the 9 May 2019. The new Act provided for a President, Vice President, three Council Members to be elected and three to be nominated by designated institutions from the Central Bank of Sri Lanka, Department of Accounting University of Sri Jayawardenapura and the Institute of Chartered Accountants of Sri Lanka.

Advisory Council Member and Founder Council Member CMA Sri Lanka S.E. Satarasinghe inducted the President and the new council on 29 May at the CMA Head Office. The Founder President Prof. Lakshman R. Watawala was elected uncontested as the President of CMA Sri Lanka.

The members have realised the importance of having an experienced leader in the accounting field for their institute. Prof. Watawala was responsible for setting up of two professional management accounting bodies in Sri Lanka. AAT Sri Lanka and CMA Sri Lanka both now members of the International Federation of Accountants (IFAC). He also held the post of President of the Organisation of Professional Association of Sri Lanka, the apex body of professionals in Sri Lanka.

He has also held many posts in the public corporation sector such as the Chairman of the Ceylon Leather Products Corporation, Chairman State Mining and Mineral Development Corporation, Chairman Peoples Bank, Chairman Board of Investment of Sri Lanka (twice), Advisor Ministry of Finance and Chairman National Insurance Trust Fund.

He currently serves on the Board of the South Asian Federation of Accountants and the Chairman of the International Relations Committee.

Served on the councils of the University of Kelaniya, Open University of Sri Lanka, ICT Agency of the Colombo University.

He also serves as the President of the Institute of Chartered Professional Managers (CPM) a professional management body promoted by CMA, immediate past President of the Association of Management Development Institutes of South Asia (AMDISA) consisting of management bodies and institutions in the South Asian Region.

Those elected to the council of CMA Sri Lanka as per the Parliament Act No. 23 of 2009 for the year 2019 to 2021 are as follows:

Prof. Lakshman R Watawala - President

Hennayake Mudiyanselage Hennayake Bandara - Vice President

Merrinnage Ruchira Asanka Perera – Council Member

Weerakoon Arachchige Adrian Damian Perera – Council Member

Jayasekera Mudiyanselage Udaya Bandara Jayasekera – Council Member

Manil Jayasinghe - Council Member

Kumari Wijewardena – Council Member

Dr. Harendra Kariyawasam – Council Member

The new Council consists of well-experienced professional and academics who have launched its main activities for this year along with the 20th Anniversary Celebrations.

To mark the celebration of 20 years CMA hold its 15th annual flagship event the CMA National Management Accounting Conference 2019 and Commonwealth Accountants Conference which will be held on 9 and 10 September at the Taj Samudra, Colombo on the theme 'Sustainability Development Goals Agenda 2030 - The Role of Professional Accountants'.

To coincide with the National Management Accounting Conference, the 'CMA Excellence in Integrated Reporting Awards 2019' will be presented to companies producing the 10 Best Integrated Reports, Overall Winner, Gold, Silver, Sector Awards and Special Awards. The purpose of the Excellence in Integrated Reporting Awards is to promote integrated reporting among Sri Lankan companies, banks, finance, insurance, industry, commerce, hotels, power and energy, plantations, healthcare, diversified holdings, not-for-profit undertakings especially those listed, unlisted and State owned enterprises/companies, small and medium sector which will be of immense benefit to investors and stakeholders.

The Supporting Partner of the awards is the Colombo Stock Exchange (CSE).

Those who are interested to register for the CMA Annual Conference please contact

Shanthi on 071-4705536 or e-mail: registrations@cma-srilanka.org and those who wish to apply for IR Awards should contact Jinandi on 011-2506391(Ext. 154) or at jinandi.chandraratne@cmasrilanka.org.