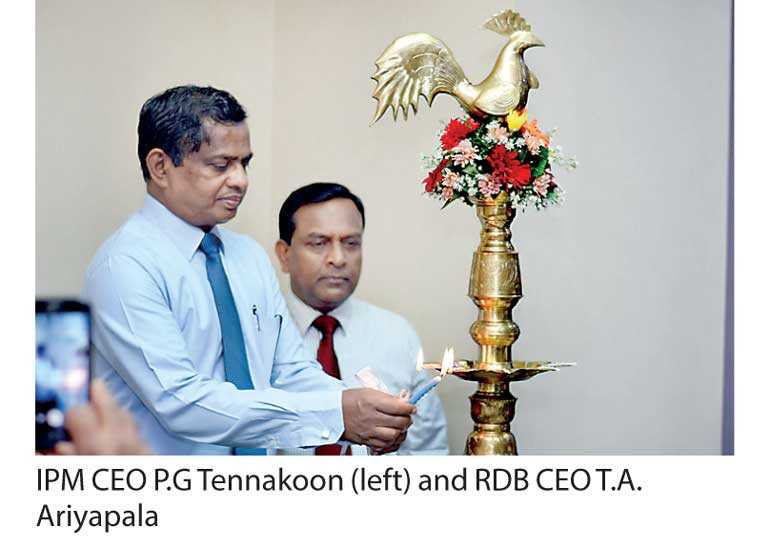 IPM Sri Lanka, the nation's leader in human resource management, inaugurated a customised Advanced Management Development Program (MDP) for the senior management staff of the Regional Development Bank (RDB) recently which has been specifically designed to enhance the skills, attitudes and competencies required for the future growth and development of the bank.

The MDP will be conducted over eight fortnightly Saturdays over a period of four months at Miloda, Academy of Financial Studies in Colombo 1. The inauguration ceremony for the MDP was held on Saturday 10 June with the participation of RDB General Manager/Chief Executive Officer T.A. Ariyapala, RDB Head of HR Thilak Karunathilleke, IPM Sri Lanka Chief Executive Officer P.G. Tennakoon, IPM Sri Lanka Past President and Lead Consultant and facilitator for the Advanced MDP U.A.C. Obeysekere, program participants from RDB and special invitees.

In his welcome address, Ariyapala while thanking IPM Sri Lanka for supporting it with its efforts in developing its human resources said that the participants need to actively participate in the Advanced MDP and be fully open and committed to knowledge acquisition, skill development and enhancing attitudes to reap organisational as well as personal benefits of the program.

"IPM Sri Lanka is delighted to partner with the Regional Development Bank to offer this Advanced MDP for its senior managerial staff. The program has been specifically designed and customised, bearing in mind the future plans and objectives of RDB. We are confident that the results of this MDP will be reflected in the performance of RDB in the coming years. The MDP will focus on providing and enhancing the essential skills, knowledge and attitudes for the management to successfully respond to real world challenges and opportunities. Our experienced panel of expert course lecturers and facilitators are dedicated to ensuring that the participants acquire these essential skills, knowledge and attitudes as key take away from the MDP," said Tennakoon.

"As the national leader in human resource management, IPM continues to remain the quality provider of training, education and consultancy services to the relevant fields," he added.

The MDP consists of seven modules which will be delivered via modern knowledge transfer and learning methods not limited to classroom activities.

Video presentations, movie clips and group presentations will keep attention and participation levels very high ensuring that the full benefits of the program will be passed on to the participants.