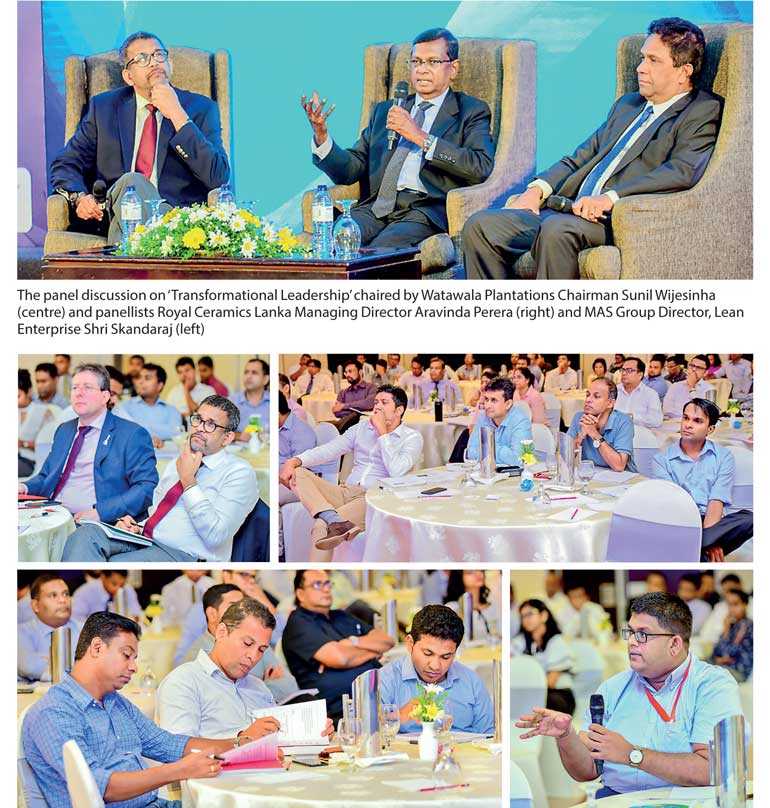 The International Lean Transformation Summit 2018 was inaugurated on 22 May at the Grand Ballroom of Galadari Hotel, Colombo with the participation of 125 Sri Lankan and international lean practitioners and lean thinkers. There were 40 Sri Lankan companies represented at the summit from industrial and service sectors.

The Lean Transformation Summit 2018 organised by Institute of Lean Management for the third time based on the theme 'Calibrating Mind to See Waste' lined up 16 best local and international lean minds to share insights and experience. The objective of the summit was to share the lean education and success stories with Sri Lankan lean community with the aim of strengthening national productivity.

The International Lean Transformation Summit is the national forum for lean practitioners which inspire Sri Lankan business community to start their lean journey. Enterprises which have already started lean initiatives also understood their gaps and speakers added new dimensions to lean journey at the summit.

The first-ever International Lean Transformation Summit in Sri Lanka organised in 2014 by ILM was a great success followed by their second Summit in 2016. The consecutive Summit in 2018 was fine-tuned to be an ideal meeting venue in Sri Lankan lean community by providing formal and informal ways to connect and interact with international resource persons and lean practitioners in Sri Lanka facing the same challenges. This time summit focused on lean banking, lean hospital and lean accounting in addition to lean manufacturing.

Institute of Lean Management Ltd. CEO/Founder Thilak Pushpakumara, a corporate trainer amd TPM and Lean Management Consultant, inaugurated the Summit on 22 May as the Keynote Speaker, addressing on the theme of the summit 'Calibrating Mind to See Waste'. He welcomed the guest audience and delivered an address on how to eliminate and minimise waste. He stated that the waste we see is just the tip of the iceberg and how minds should be calibrated to see the total waste in the entire value chain. He also he clarified the difference between lean and process improvement.

Pushpakumara further explained how to calibrate minds to see waste and how best lean thinking put into practice systematically would improve Productivity, Quality, Cost, Delivery, Safety and Morale (PQCDSM) of an organisation. He focused on discussing how lean can transform an organisation, with increased profits at the same time without the human capital being adversely affected so that participants would understand the challenges, pitfalls, bottlenecks and how to overcome these challenges in the journey of lean transformation for their respective companies.

The keynote speech was followed by the speech 'A Journey of Lean Evolution at MAS' by MAS Holdings Group Director, Lean Enterprise Shri Skandaraj. He shared how lean thinking and calibration of minds to see waste bolstered MAS to stay ahead of the competition as leaders of the business.

His presentation lined up different periods of the MAS lean journey and how they calibrated themselves and went forward at each junction which did not happen due to desire, but met by default. Shri further stated that how they calibrated their lean journey at MAS as an organisation and how they still attempt at doing that. "We are still not lean, because our environment is changing and challenges are changing. Every moment in our lean journey, we had to keep calibrating ourselves."

Rocell Bathware Ltd. Factory Manager Dhammika Ponnamperuma brought an exceptional problem solving case study as his speech.

The Institute of Lean Management Course Director and former Aichi Steel Japan Engineer Mr.Yukio Ando addressed on 'Standardised Worksheets' at a breakout session.

The panel discussion on 'Transformational Leadership' was chaired by Watawala Plantations PLC Chairman Sunil Wijesinha. Royal Ceramics Lanka PLC Managing Director Aravinda Perera and MAS Group Director, Lean Enterprise Shri Skandaraj joined the discussion as panellists.

These three business icons in Sri Lanka shared their experiences and insights in implementing and following up lean practices in their companies and hindrances they faced due to the conventional ideas and mindset prevailing in the country. They further discussed how correct leadership can endure the resistance to the novel lean practices and make the initiations. The audience were encouraged to come up with questions for the Panel.

'Stop to Observe the Essentials of a Lean Mind' was brought to the stage by AIA Insurance Lanka PLC Director Deepal Sooriyaarachchi.

Chartered Institute of Logistics and Transport Chairperson Gayani De Alwis addressed the lean aspect in logistics, with her speech titled 'Lean Thinking in Logistics'.

The final speech for this year's Summit was by International Project Consultants Consortium President Dr. Hugo Wisidagama, who spoke on 'Digital Infrastructure Integration in Lean Principles'.

Presenters from Japan, Russia, India, United Kingdom, Thailand, Malaysia and Singapore delivered presentations and shared their experience and insights on the Summit.

The 3rd Lean Transformation Summit was concluded by Pushpakumara with his closing remarks.

The Platinum sponsor of the event was Royal Ceramics PLC and the Gold sponsor was Omegaline Ltd. The Print Media Partner was Wijeya Newspapers.