From left: Unilever Sri Lanka Chairman Carl Cruz, moderator Aroshi Nanayakkara, business leader Mahendra Amarasuriya, and Group Managing Director, Ceylon Biscuits Shea Wickramasingha
---
If you want your company to be successful; if you want your company to operate with wisdom, with care, then women are the best – Alibaba Executive Chairman Jack Ma


The Women Directors Forum (WDF) of the Sri Lankan Institute of Directors presented a Power Evening titled 'Growth Dynamic: Harnessing the Potential of Women' on 8 August with the keynote address by Unilever Sri Lanka Chairman Carl Cruz followed by an interactive panel discussion with corporate leaders Mahendra Amarasuriya (Chairman, Equity Investments Lanka Ltd., former Chairman, Commercial Bank) and Shea Wickramasingha (Group Managing Director, Ceylon Biscuits Ltd.).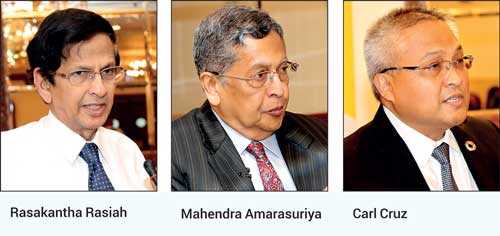 The Power Evening, a part of a SLID series of evening events, was a call to action on achieving business success in today's changing world through the use of diverse talent. In particular, harnessing the knowledge and skills of women who comprise the majority of consumers by getting more women to participate in management and on boards and the importance of building a leadership pipeline of women who are equipped and ready to tackle future challenges.

Cruz shared his personal experiences in moving from awareness to implementation of gender balance throughout Unilever, globally and locally. Unilever's global strategy is to improve the representation of women in management, with a goal of gender balance, inclusion of disabled and LGBT+ employees involves a myriad of activities through their Diversity and Inclusion program including:



a. agile working and flexi-working opportunities

b. career breaks

c. Six months maternity and three weeks paternity leave (which leads to 100% maternity return rate)

d. un-stereotyping the workplace

e. reverse mentoring program where Cruz regularly meets the younger employees where he is challenged and learns from them

The Keynote Address was followed by an interactive panel discussion moderated by Aroshi Nanayakkara with panellists Mahendra Amarasuriya, Shea Wickramasingha and Carl Cruz at which some pertinent thoughts were shared.

Amarasuriya shared his experience on the value add of bringing in Janaki Kuruppu as the first female Board member to the Commercial Bank Board and how differing points of view and experiences in life as well as differing risk averseness bring richness to board discussions.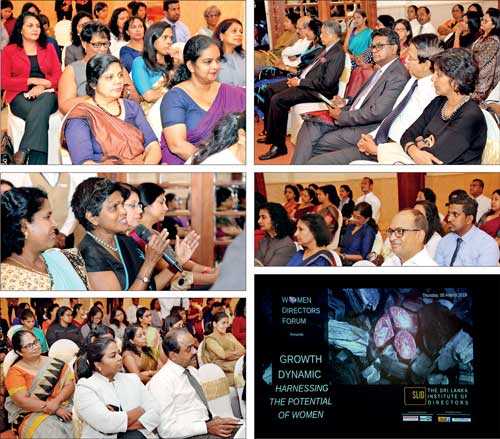 Shea Wickramasinghe shared the importance of proving yourself (regardless of gender) before taking board positions. She encouraged women to make a conscious decision to continue their careers and pursue that decision overcoming the many cultural obstacles that may stand in their way. She also remarked on the importance of having mentors for women and networks for women to retain them in the workplace and groom them for leadership.

Cruz shared the reasoning on why Unilever's strategy of increasing women's participation was a matter of business sense given that the majority of consumers of their products were women.

Nanayakkara wrapped the panel discussion with thanking the working committee of the Women Directors Forum which has a dynamic group of women, Nadija Tambiah, Janaki Kuruppu, Gayani De Alwis, Ranjani Joseph and Malika Wijeratne.

She shared that other activities of the WDF will include encouragement of male champions, specialised training and mentoring program to build a pipeline of board-ready women. Phase 2 will be to take this message to the universities, to the bottom of the tier to prevent people from dropping out of the work force.