As Sri Lanka strengthens its business and economy contributions, how can Sri Lanka sustain its momentum, enabling the talent today to be ready for the world tomorrow? In today's hyper-competitive business environment, the purposeful development of global competencies and capabilities among leaders is essential for organisational effectiveness and competitive edge. Companies require business leaders who create, sustain and develop companies to drive growth.

What are the leadership styles of an Asian global leader? Do leaders in all the regions of Asia display across-the-board similarities? Or are there marked differences, depending on cultures or stages of corporate development? How can you foster global leaders?

These questions were discussed at a Sri Lanka Institute of Directors (SLID) Power Breakfast Forum organised in collaboration with the Centre for Creative Leadership (CCL) which was an exclusive event for SLID members.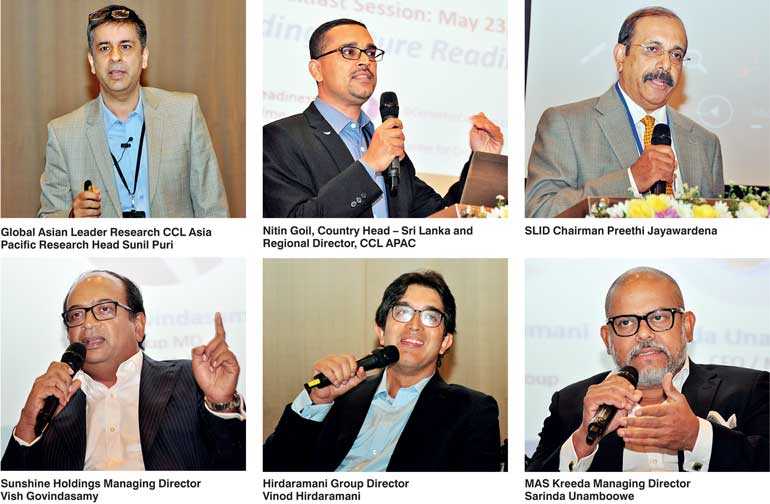 Nitin Goil, Country Head – Sri Lanka and Regional Director, CCL APAC welcomed the participants by sharing about CCL and the work they do. SLID Chairman Preethi Jayawardena made the opening remarks and said that SLID had come a long way from its humble beginnings to where it is now and looks forward to taking SLID to the next level with the support of the dynamic Council Members.

Goil followed the opening remarks by his sharing on 'Future Readiness' and giving a perspective on how digital disruption will affect the future of work and effective leadership, amongst all things will become a critical force in successfully dealing with that disruption. He shared on how leadership itself needs to be disrupted in three different areas –your role, your identity and your meaning. It was a very insightful perspective for participants to look at how they need to disrupt their own leadership today to deal with the challenges of tomorrow.

CCL APAC Head of Research Sunil Puri presented insights from their 'The Asian Leader: From Local Start to Global CXO' research study which comprised 120 in-depth interviews with global CXOs – both Asian leaders in regional and global roles, and non-Asian leaders with considerable exposure to Asia.

He stated that there are five critical attributes that a leader should demonstrate. They should possess the courage to have tough dialogues, push back, lead difficult conversations, to speak up, to create and defend business cases, and to have unpleasant conversations, trust to be able to build relationships, get work done, develop networks in a complex environment, and being non-judgmental.

A leader should have the ability to influence decisions via compelling communication, managing the 'political' landscape in the enterprise, negotiating skills. And finally, strategic thinking, or having long term view on business, understanding micro and macro shifts, displaying commercial acumen, resolving resource conflicts.

The breakfast meeting concluded with a vibrant and engaging panel discussion moderated by CCL APAC Faculty Director and Senior Faculty Chris Dewaron how Sri Lanka can enable the talent today to be ready for a globalised market tomorrow.

The panel comprised Senior SLID Council Members Vish Govindasamy, Managing Director, Sunshine Holdings; Sarinda Unamboowe, Managing Director, MAS Kreeda; and Vinod Hirdaramani, Director, Hirdaramani Group.

Govindasamy shared his experience of returning to Sri Lanka from studying and working in the US and how he was able to provide a different perspective to the business. Unamboowe said that he believes that at the beginning of his career he was lucky to work under leaders who did not believe in a hierarchal system which encouraged and helped him to be successful.

Unlike the other two panellists Hirdaramani said that he was compelled to return to Sri Lanka after his studies to join the family business. He said that his time overseas gave him the insight and ability to work with their overseas business partners. The panellists' experience in working and living in other countries gave them a different perspective and the ability to think differently to the way we are culturally conditioned.

The moderator Chris asked what benefit they received from the volunteer work. Vish stated that being a Council Member at SLID and the Chamber of Commerce gave him a broader insight that he would not get from his work. Unamboowe shared that through the TRAIL walks, he had MAS employees from all levels join him which built a comradeship that when he visits the different facilities he has a connection with them that he would have otherwise not had.

Unamboowe stated that when setting up facilities overseas, they would take the best team from Sri Lanka and also recruit from that country as well. This was one way that they gave their future leaders exposure to gain experience in working in environments other than their own.



Hirdaramani mentioned that the Hirdaramani Group has a 'Discovery Lab' which is dedicated for product innovation and technology where their future leaders would get an opportunity to interact with people from the global apparel industry.

All the panellists agreed that to develop future ready leaders the push has to come from the top. Not from HR, the c-suite or corporate management but from the board of directors themselves, otherwise the initiative will fail.

The best time to get the global exposure was during the early stages of a person's career, before they become general managers or are in roles with more responsibility.

In closing they gave the following advice to middle management looking at becoming the leaders of tomorrow 'don't be afraid to fail', and 'keep learning'.

The Centre for Creative Leadership (CCL) is a top-ranked global provider of executive education. CCL uses research to develop people into better leaders — transforming individuals, teams, organisations, and societies. With over four decades of experience working with tens of thousands of diverse organisations in more than 130 countries across six continents, helping more than a million leaders at all levels CCL is ranked among the world's top five providers of executive education by Financial Times.

CCL has offices in Greensboro, NC; Colorado Springs, CO; San Diego, CA; Brussels, Belgium; Moscow, Russia; Addis Ababa, Ethiopia; Johannesburg, South Africa; Singapore; Gurgaon, India; and Shanghai, China.

Pix by Lasantha Kumara