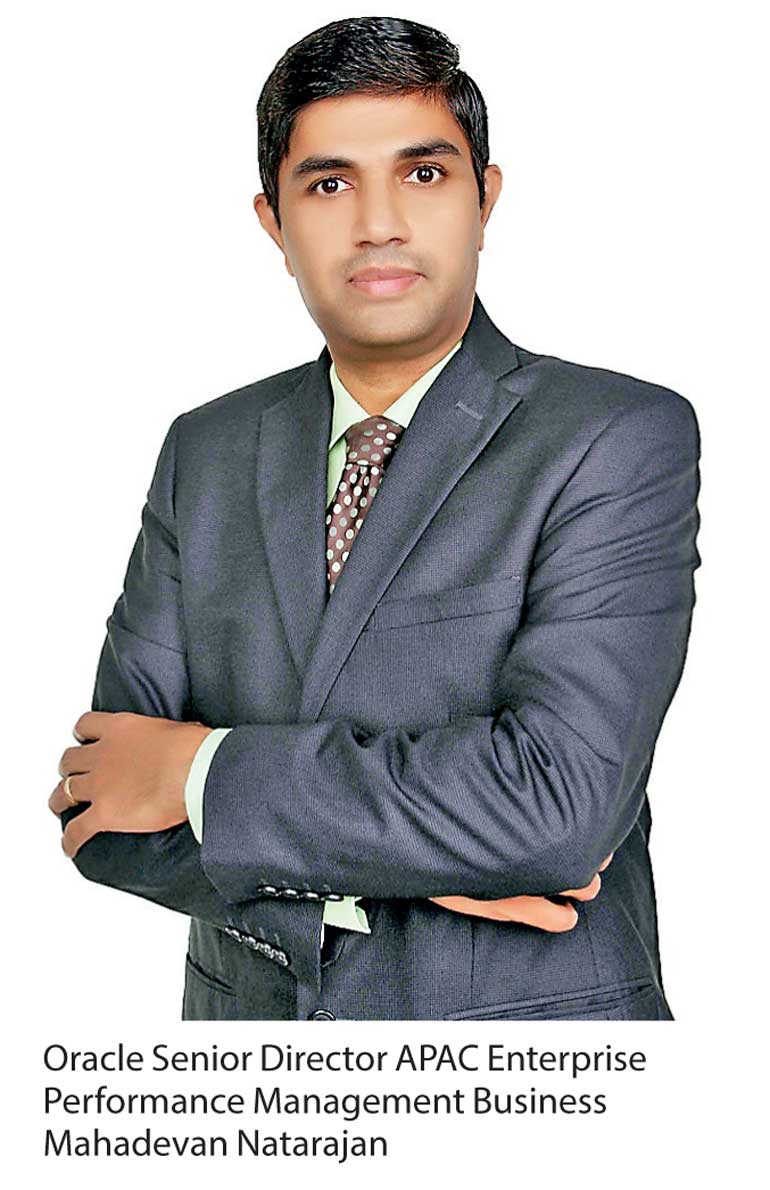 Following are excerpts of a conversation with Mahadevan Natarajan, Senior Director APAC Enterprise Performance Management Business at Oracle, on how CFOs can overcome current business challenges by steering their organisations through a data-driven transformation:
Since its inception in 1986, Global technology giant Oracle Corporation has enabled thousands of organisations across APAC to transform their business operations. Today, the company operates in 25 countries across the region and, serve more than 100,000 customers. Oracle has become a key engine of growth for a plethora of business across private and public sectors, including digitally disruptive organisations that are using the cloud to pioneer new business models.

With well-known brands and organisations in its diverse customer portfolio – from online retailers like Redmart.com, to outdoor media companies like APN – Oracle has witnessed a strong uptake for Oracle Cloud services as businesses across the region drive to transform their operations to digital business models.

While China, Korea, Australia, India and Singapore have been Oracle APAC's top growth markets over the last three decades, Australia, China and India have become the three top contributors to its cloud business. Korea, Singapore and select ASEAN countries are showing growing market opportunities and Oracle continues to invest in research and development and data centres, by hiring new talent and by establishing cutting-edge digital sales hubs that are resourced by new, forward thinking, digital talent.

Several key global macroeconomic events, digital disruption and higher mobile penetration have presented the region with many challenges, making it harder than ever before for Asia Pacific businesses to plan for the future. For those in markets like Hong Kong, where mobile penetration exceeds 200% with high-speed internet, the sheer volume of data coming into a company is proving challenging. However, CFOs are realising that with the right cloud solutions, they can access valuable business insights that can help them make the right decisions, increase agility, enter new markets and grow revenue.

With new market entrants pioneering digital business models and prising away market share from incumbents, some 83% of APAC executives now see disruption from digital start-ups as a threat to their business. Another key challenge is in the area of recruitment. Asia Pacific faces a huge skills shortage caused by rapid economic growth and a lack of digitally skilled talent. The Hays Asia Salary Guide has found that 96% of respondents from Asian businesses believe a lack of skilled employees will affect their business.
Renewed challenges for modern CFOs
These factors have brought renewed challenges for modern CFOs. They need to find a better way to predict external market conditions by having complete visibility of internal business performance and, and at the same time, assist the business to respond appropriately to digital disruption.

CFOs need to understand how digital technologies can enable more customer-centric business models and increase employee productivity. Access to data is critical – CFOs need to ensure they have access to all relevant data to offer actionable insights and assist with their general decision making. Having access to the right data is now a competitive differentiator.

The role of CFO is changing rapidly. Today, key company executives rely on the CFO to offer strategic input and drive innovation. CFOs are challenged to break down traditional functional silos and have a complete and in-depth understanding of the business operations. Those that can do this effectively will be able to make better-informed strategic decisions. The CFO is increasingly tasked to derive actionable insights from vast volumes of data, rather than simply analyse reports, which clearly disrupts the job role of the traditional CFO.

The CFOs of tomorrow are the millennials of today; they are braver in their approach, and focused on more innovative ways to accelerate business success by being willing to embrace the tide of digital disruption sweeping the profession and will use it to their advantage. This will lead their companies on a data-driven business transformation.

"The current generation of CFOs are trying to get their heads around the impact of digitisation. Many do not yet fully trust the findings of big data analytics. As soon as they're willing to place their confidence in advanced analytics, they'll be ready to move forward with adaptive intelligence and automated, AI-enabled approaches to finding insights from data. This requires a shift in mindset, and CFOs need to consciously accept cutting-edge technologies to realise maximum value," Mahadevan commented.

"What we're seeing is that CFOs aged 40-45, have a different view of adaptive intelligence compared to CFOs aged 50-55. The adoption of predictive and real-time intelligence is now imperative amongst all CFOs to retain a competitive advantage. If CFOs fail to accept this, they risk being left behind."
A data-driven approach
A data-driven approach empowers CFOs by giving them the data they need to predict future trends and make better strategic decisions. Tomorrow's CFOs will gather this data from internal sources, third party Data as a Service (DaaS) offerings and IoT devices. CFOs will be armed with deeper insights based on real-time data and predictive analysis that will help them identify and enter new markets rapidly, capture opportunities quicker than ever before, mitigate impending risk and drive service innovation.

By using data and data-driven collaborative tools, the CFO of tomorrow will be able to break down the traditional silos that have stifled communication and understanding between business functions. Drawing on connected and collaborative data, CFOs will have a complete view of the entire business as well as external conditions that may affect the business.

Of course, innovation is only one part of the CFO's role: ensuring financial control is still of paramount importance. Through Oracle's data-driven tools, CFOs will benefit from greater financial transparency, accountability and accuracy; helping the board mitigate risks and make better informed decisions. Oracle understands that digital disruption and economic uncertainty present challenges for CFOs and their businesses.

However, success cannot be achieved by playing it safe. The next-generation of CFOs – those millennials who have a solid understanding of digital technology – will embrace data-led tools and processes that will help them predict future trends, enable collaboration and innovation and, ultimately, help their businesses outpace competitors.

While CFOs may face barriers such as cost to a data-driven approach, their goal is to find solutions that will overcome their key pain points – including talent gaps, revenue growth, and rising employee demands for more flexible, collaborative, digital-first work environments. To address these pain points, all CFOs must adopt a collaborative data-driven approach. Ultimately, every CFO wants an ERP solution that will simplify processes, speed up analytic processes, and enable better decisions making. CFOs who witness the benefits of a collaborative, data-driven mindset – including improved visibility, more accurate predictions through scenario modelling and a more holistic way to see the business – will naturally be interested in evolving their key business processes.
Embracing the new mindset
A number of organisations in APAC have already started to embrace this new mindset and are implementing organisational changes. Companies such as RedMart in Singapore, APN in Australia, Golden Wing Mau Group in China, Pearson India Education Services, St. John Ambulance Western Australia and Bukaka in Indonesia are already experiencing significant advantages through implementing Oracle's cloud-based ERP, EPM and SCM applications.

According to market forecast research from IDC, Asia Pacific is leading the charge for IoT globally, with around 8.6 b connected devices predicted to be installed in the region by 2020 (figure excludes Japan). The Asia Pacific market is expected to report its highest growth yet from 2017-2023. The proliferation of IoT devices in the region will be an important driver for data-driven business transformation and will enable CFOs with access to real-time insights to make better decisions. This year, we expect to see businesses in Asia Pacific starting to increasingly use IoT applications that are capable of delivering IoT data for use across the enterprise.

Oracle also expects Asia Pacific to lead the way in the adoption of data-driven business transformation. Recent research by Forbes Insights showed that 42% of organisations in Asia Pacific consider themselves either advanced or leaders in terms of their digital transformation journey. Meanwhile, Gartner estimates that by 2018, at least 25% of new core financial application deployments in large enterprises will be public Cloud Software as a Service. It seems likely, therefore, that many of the new breed of CFO will be found in Asia Pacific, providing these businesses with a competitive advantage.