Colombo School of Business and Management is privileged to showcase Dhammika Perera, one of Sri Lanka's greatest entrepreneurs as part of the thematic seminar series, 'Evening with a Corporate Leader' on Wednesday, 21 February from 5:30 p.m. onwards at the Shangri La, Colombo 02.

Perera will speak on the lines of 'My Entrepreneurship Mind and the Leadership Heart'. This session promises to be a revealing and inspirational experience with networking opportunity.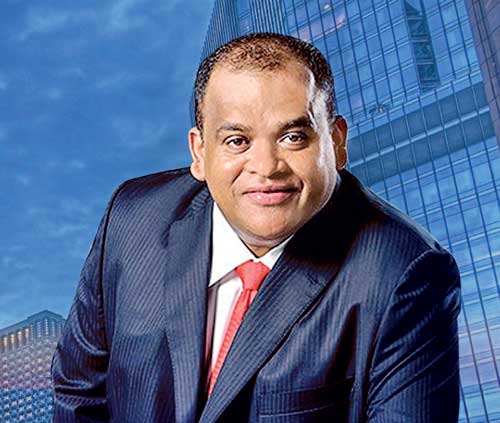 With a sharp business sense and a hunger for success a young man with a mere Rs. 500 in his hand took the Colombo corporate sector by storm. Dhammika Perera is proudly our very own billionaire. He stands as an inspirational hallmark for all those who know him and all those who can learn from him. His portfolio extends from casinos, ships, hotels investments in power projects and other successful business ventures. Perera also stands tall supported by an extensive work population – that ranges from small to very senior management. This is a direct reflection of his people skills and ability to build a pyramid of hierarchy within the corporate frame – managing multiple businesses with a strong arm that ensures success and steady growth.

Clearly a risk taker Perera defies most economic environments and believes in turning a venture favourable regardless of general consensus. Now a prominent figure in Sri Lanka's business skyline Perera remains true to himself and embraces a variety of ventures churning out one success after the other. A very hands on bottom line focused individual who leaves no room for careless error. But ensures his business model is in his mould. This takes the shape of success. His initiatives have left a mark, a growing mark of achievement that many are trying to match.

As Sri Lankans we use International greats for leadership inspiration namely Steve Jobs, Bill Gates and the Ambaani legacy. In their shadows we have our own greats and Dhammika Perera is one of them. The ladder to success is climbed in a various way some through academic qualifications, opportunities and hard work and some through street sense, risk taking and dreaming big. Either way the results are similar once you make it to the top. And each pathway has a story to learn from. Hence this opportunity to understand the journey and be inspired, motivated and directed, with an opportunity for networking with other like-minded corporates.

"Our aim is to facilitate our younger generation and school leavers, to learn by listening to these great leaders. Thus the birth of 'Evening with a Corporate Leader', a thematic seminar series with the aim of creating a platform for knowledge sharing, discussion and debate on various business related topics and to provide space for corporate connectivity and networking that will enable social capital and business opportunity creation," CSBM said.

This will also help Sri Lankans break the barrier of corporate connectivity and provide a platform for networking and to position themselves strongly in the corporate setting. This event is organised by the Colombo School of Business and Management to be held every other Thursday from 6-8 p.m. at the Corporate Campus Premises, ward place, Colombo 7, exception being this session.

The objectives of the session will include: Create a platform for knowledge sharing, discussion and debate on various business related topics; Assist the Sri Lankan business community, public sector and other affiliated institutions access a motivated, rightly exposed, empowered workforce; Provide space for corporate connectivity and networking that will enable social capital and business opportunity creation; Enable a learning, sharing, knowledge culture that promoted innovation, creativity and new thinking to open up new doors in the global environment

EWCL has been on the roll for 18 months covering 33 sessions.

Some speakers at the forum included Kishu Gomes (Chevron), Ashok Pathirage (Softlogic), Kulathunga Rajapakse (DSI), Dilith Jayaweera (Derana, Triad, George Stuart), Nandika Buddhipala (Commercial Bank), Sunil Wijesinha (United Motors, Watawala Plantations), Ranjith Pandithage (DIMO), Dilanka Jinadasa (Hela), Dulith Herath (Kapruka), Dilshan J. Fernando, Director (Dilmah), W.H.K. Wegapitiya, Chairman (Laugfs), Dian Gomes, Chairman (Hela Clothing and CSBM), Dr. Hans Wijayasuriya, (Dialog), Sumal Perera (Access Group) to name a few.

The next speaker to feature will be Ashroff Omar, Group Chief Executive Officer at Brandix and this will be held on 16 March from 6 p.m. at CSBM Corporate Campus, Ward Place, Colombo 07.

This is organised as a free event with the aim of facilitating the knowledge sharing and networking. However CSBM will require interested participants to prior register for the event as the demand for these sessions are overwhelming. The registrations will be on first come first serve basis.

This event is conceptualised, designed and organised by the Colombo School of Business and Management (CSBM) which was established in early 2016 with the patronage of likeminded visionary corporate leaders and respected senior academics with the aspiration of being the 'Business School for the Nation' to promote a leadership culture that builds multiple competencies in grooming a generation of corporate and business leaders in Sri Lanka. It was also aimed at creating a platform to promote a novelty in higher education, professional and executive education, corporate training, career development, research, business support and consultancy.

CSBM is a perfect breeding ground for budding and aspiring leaders locally and regionally.

Colombo School of Business and Management is a certificate awarding institution under the Tertiary and Vocational Education Commission of Sri Lanka (TVE) (Amendment) Act No 50 of 1999 thus all programs offered are in compliance with the Sri Lanka Qualification Framework (SLQF) thereby recognised by the UK National Recognition Information Centre (UKNARIC) to be complying with the quality assurance of any commonwealth country.

As CSBM is a corporate run business school it has the ability to organise such forums like the "evening with the corporate leader" to foster a learning and inspiring culture in Sri Lanka. The final aim of these is to push Sri Lanka international, global and world class.