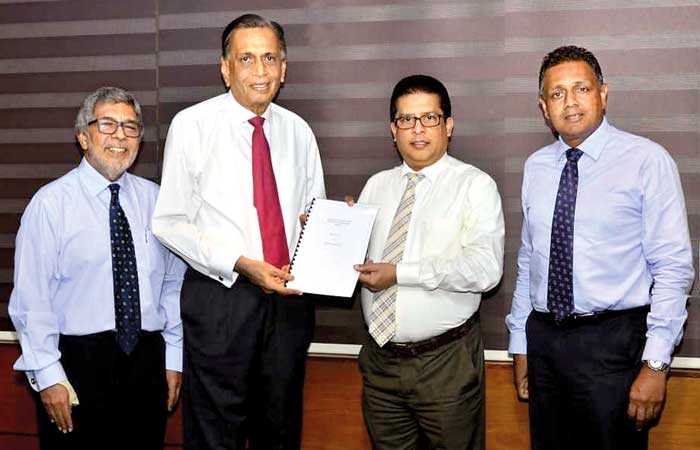 From left: TMC President Emeritus/CMI Past President Fayaz Saleem, TMC Founder member/ CMI Past President Sega Nagendra, DFCC Bank CEO Lakshman Silva and DFCC Bank DCEO Thimal Perera
DFCC Bank has forged a corporate partnership with The Management Club (TMC) as Official Banking Partner for a period of three years from 1 April 2019 to 31 March 2022. This strategic partnership will enable DFCC Bank to issue its credit cards to the members of TMC and Chartered Management Institute UK (CMI).

Under the terms of this partnership, DFCC Bank will partner all TMC events including those of The Chartered Management Institute UK-Sri Lanka Branch and TMC's 'Enable the Disabled' national program. TMC facilitates management interaction, networking and provides social and promotional facilities for leading professionals in the country.

The Management Club, which was inaugurated in 2002, is the premier institution facilitating networking and career development among the management fraternity. TMC is an initiative of The Chartered Management Institute UK and is in existence with four active Clubs in Colombo (Galadari Hotel), Mount Lavinia (Berjaya Beach Hotel), Kalutara (Hibiscus and Ramadia), and Negombo (Camelot Beach) with its CSR arm 'Enable the Disabled' (ETD). Over the years, The Board of Management of The Management Club has been chaired by well-recognised professionals in the business community. TMC's CSR arm, 'Enable the Disabled' has rendered yeoman's service to the community.

DFCC Bank CEO Lakshman Silva said, "DFCC Bank is delighted to partner The Management Club, a premier organisation that provides a platform for business leaders to meet and discuss how they can positively enhance the community. DFCC Bank looks forward to issue DFCC credit cards for members of The Management Club. Our credit cards offer 1% cash back on every swipe which is credited directly to a nominated savings account – a first in the banking sector in Sri Lanka. The TMC members can also avail themselves of exclusive offers at partner merchant outlets. The DFCC Credit Cards sport a sleek look and are enabled with Visa contactless capability and are secured by the advanced EMV chip technology that offers a secure and convenient method of payment. The bank looks forward to supporting TMC's activities and their members."

DFCC credit cardholders can avail of 0% instalment plans, flexi plans, interest free credit up to 51 days, access to cash advances through any ATM network both locally and internationally, supplementary cards for immediate family members, settlements through DFCC online payment or through DFCC virtual wallet, 24 X 7 transaction monitoring by DFCC and Free SMS alerts.

Furthermore DFCC Credit Cardholders can opt for a unique interactive E-statement with quick reference graphical illustrations to monitor and track their spend enabling better financial management. The DFCC Visa Signature and Visa Infinite cardholders also receive special benefits when they travel: free travel insurance, free access to over 1,000 airport lounges worldwide and exclusive Visa offers at partner merchants worldwide.

DFCC Bank PLC is a fully-fledged commercial bank offering the full gamut of commercial and development banking services. The Sri Lanka Institute of Management Accountants (CIMA) and the International Chamber of Commerce of Sri Lanka (ICCSL) has announced DFCC Bank as one of the 10 'most admired companies' in Sri Lanka for 2018. The Bank was also ranked No. 14, in Business Today's list of Top 30 businesses in Sri Lanka. Fitch Ratings Lanka Ltd. has rated DFCC AA- (lka).