By Shehana Dain

As top corporates in the country bring Corporate Social Responsibility to the table in the quest for greater value and competitiveness, experts stress that corporate social innovation is the new CSR.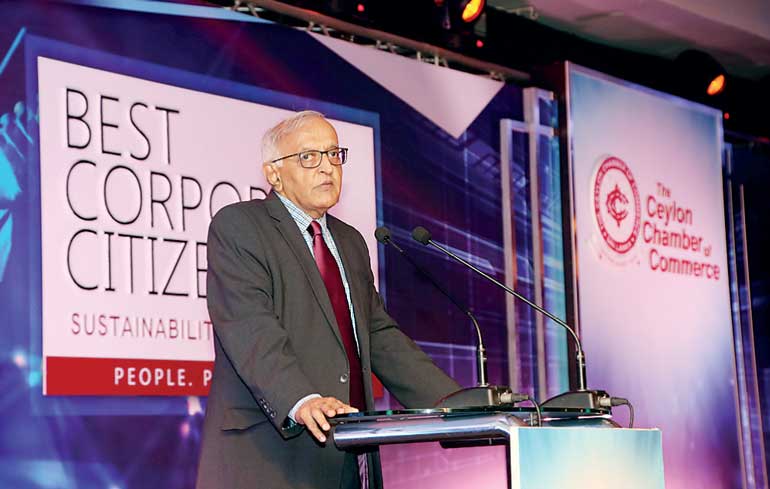 Eardley Perera (left) and David Bent
Commenting at Best Corporate Social Citizen Sustainability Awards 2017, Evaluators Panel Chairperson Eardley Perera stressed that innovation has not been embedded to CSR in the local business arena specifically as business had shown little focus on customers.

"Among your stakeholders you have customers and suppliers. There are some organisations which have given very little attention to the importance of customers. There was nothing extraordinary that you had done on behalf of the customer. You had replicated a lot of things you had done before, virtually replicated some of the things that have been done internationally and nothing innovative that we can talk about. In terms of the customer there is no wow factor in all the applications we have seen this year," he added.

Leading local and multinational corporates and business consultants found common ground during the seventh annual Best Corporate Social Citizen Sustainability Awards ceremony held recently which was organised by the Ceylon Chamber of Commerce, as they agreed that adhering to socially responsible business practices helps the long-term growth and sustainability of businesses big and small, while minimising operational costs.

According to Perera, the 27 applications which were submitted to the evaluators table amounts to just over 10% of companies which possess chamber of commerce membership.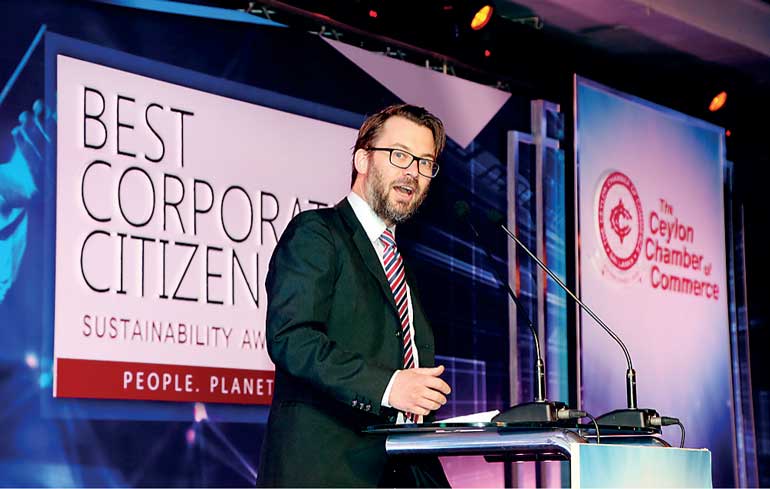 For CSR to achieve its potential, it must focus on key areas of interaction between a firm and its environment and address value creation activities at the centre of the strategic agenda. The challenge is to get innovative CSR thinking on the table when business strategies are being explored and decided.

Emphasising on this issue, he said: "There seems to be a disjoint between some of the people who own and run the company and some of them who're pursuing sustainability. This gap has to be eliminated. Boards of companies must have sustainability strategies and shouldn't be ad hoc engagement."

The chairperson of the evaluators noted that companies should stretch their strategic ambition to align with goals of national importance. Businesses have an impact on societies, thus there is a need to recognise the mutual responsibilities it entails.

"First priority while we do sustainability and productivity profitability – we cannot have all of them in an area of conflict we must get society's minds across to reconciliation to ensure that we don't have any conflicting area contributing in any way to dismantle this country's progress. Sadly none of the applicants had articulated their attempts for reconciliation. This is a very sad situation because this is the cream of the country; you have to take the leadership so that the smaller companies such as SMEs can take you as the example for enthusiasm for reconciliation," he added.

World-leading advisor on sustainable business based in the UK David Bent delivering his keynote speech echoed the belief that the smart partnering with stakeholders is vital to drive corporate social strategy forward. "Try to trigger positive feedback groups of all your stakeholder groups that you rely on and who rely on you. Imagine if you can galvanise and centralise and nurture your suppliers, staff, distribution channels and your customers, imagine how powerful they would be? Everyone being valued for choosing that direction and you can take a larger piece of the pie," he said.

Smart partnering in CSR is known to focus on key areas of impact between business and society and develops creative solutions that draw on the complementary capabilities of both to address major challenges that affect each partner.

Bent also emphasised on the importance of offering support to losers in order to accelerate the transition in a circular economy. "In any profound change there will be winners and losers. One thing is that if you don't support the losers they will keep that change from happening or object as the change happens."

Pix by Shehan Gunasekara