Says good market conduct is driven by good behaviour and not by rules and regulations alone


Emphasises Sri Lanka needs to ensure a responsive regulatory framework and cannot afford to fall behind
The Code of Best Practice on Corporate Governance 2017 was released on Wednesday by the Institute of Chartered Accountants of Sri Lanka (CA Sri Lanka). Here are excerpts from the speech of Securities and Exchange Commission Chairman Tilak Karunaratne at the event which was attended by professionals and officials including CA Sri Lanka President Lasantha Wickremasinghe, University of Cambridge Adam Smith Professor of Corporate Governance Professor Gishan Dissanaike, Deakin University Associate Dean (Regional Engagement) Professor Barry J. Cooper, and CA Sri Lanka Chairman – Corporate Governance Committee Asite Talwatte
It is my pleasure to be present here today for the launch of the updated 'Code of Best Practice on Corporate Governance 2017'. I am pleased to see Professor Gishan Dissanaike, whom I recommended to your Institute to invite as a speaker at this event and Professor Barry J. Cooper as guest presenters this evening.

First, let me very briefly take your memory back to the evolution of corporate governance which has gone through many changes over time before arriving at its present form.
Implementing sound corporate governance practices that comprise of clear and transparent disclosures, encourage accountability and ethical leadership create value for companies, facilitate access to capital and enhances investor confidence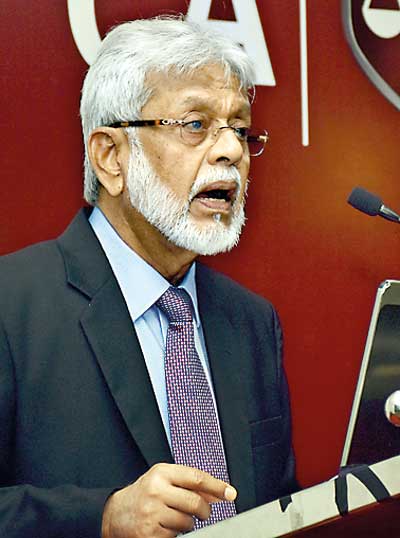 SEC Chairman Thilak Karunaratne
Corporate governance codes and frameworks were triggered as a result of corporate scandals that adversely affected capital markets across the globe. The first Corporate Governance Code was published in UK in 1992 by Sir Adrian Cadbury, a distinguished member of the famous Cadbury family of chocolate fame, a British Olympic rower and Chairman of Cadbury and Cadbury Schweppes for 24 years, as the Chairman of the 'Committee on the Financial Aspects of Corporate Governance' in response to particularly the collapse of Polly Peck after years of falsifying financial reports.

In the US, the mandatory Sarbanes-Oxley Act of 2002 was enacted in response to the financial misconduct of Enron, WorldCom and a host of other companies. Subsequently the world witnessed the global financial crisis, which started around 2008, where companies such as Lehman Brothers failed and Fannie Mae, Freddie Mac were bailed-out by the US government. This resulted in further legislation and gave rise to the Dodd-Frank Wall Street Reform and Consumer Protection Act of 2010. It is sad to note that the current regime in the U.S is trying to roll back these regulations brought in after the last financial crisis by directing a review of the Dodd-Frank Act.

Responding to the Asian crisis in 1999 the Organization for Economic Cooperation and Development (OECD) formulated a set of corporate governance principles to provide jurisdictions with a general guide of best practices. The OECD further highlighted that the corporate governance framework in any jurisdiction should be a combination of legislation, regulation, self-regulation and voluntary standards based on country specific circumstances.

Further, the ASIC website indicates that Australia does not have a general corporate governance code that all companies must comply with. However, listed companies must benchmark their corporate governance practices against the Australian Securities Exchange (ASX) Corporate Governance Council's Principles and Recommendations (ASX Principles). This means that listed companies are not obliged to adopt the ASX Principles, but are encouraged to do so. This is to create a level of flexibility for listed companies to adopt alternative practices more suited to their circumstances.

Let me now briefly examine how corporate governance reforms have taken place in Sri Lanka. The Corporate Governance Code was initially developed by the Institute of Chartered Accountants of Sri Lanka (ICASL) in 1997. Thereafter, it has been revised in 2003, 2008 and most recently in 2013. The last two revisions of the Code was a Joint initiative of the ICASL and the SEC. It is also heartening to note that the "Handbook on Good Governance for Chairmen and Boards of Directors of Public Enterprises" was updated by a committee appointed by the Ministry of National Policies and Economic Affairs on the initiative of the Mr. Dinesh Weerakkody, Chairman National Human Resources Development Council (NHRDC).

The existing Code is on a voluntary basis and could be used by any business entity. But the level of governance and degree of accountability expected from public listed companies are much higher. Therefore, the one size fits all approach on above requires re-visiting.

In the year 2016, the International Organization of Securities Commissions (IOSCO) published a report seeking to strengthen corporate governance frameworks within emerging markets. This report recommends that its members foster good corporate governance based on the 'G20/OECD Principles of Corporate Governance'.

In addition, IOSCO notes that policymakers and regulators need to adopt more robust corporate governance frameworks to address challenges faced by rapid changes in both corporate and financial climates.

Based on the approach adopted by other jurisdictions, the SEC Sri Lanka has started to pursue an initiative to ensure enforceability relating to governance is enhanced and grant oversight by absorbing the voluntary governance requirements in to mandatory listing rules. The drafting of these Rules is completed and currently being deliberated as to which areas of governance requirement, need to be: mandated; comply with mandatory requirements or have an alternative means of complying; comply or explain.

Let me give you an example, the current voluntary code recommends the duality of roles of Chairman and Chief Executive Officer (CEO) performed by two different individuals. The SEC is considering mandating such duality, requiring separation and two individuals (not from immediate family) performing the roles. However, it allows one person to perform both roles, subject to additional safeguards introduced.

However, I must emphasise here that the Commission must approve such provisions after public and stakeholder consultations, suggestions for which will require serious consideration.

Ladies and Gentleman, as you can see, corporate governance has become a key priority on the agenda of capital market regulators and is considered an important factor in strengthening capital markets. Implementing sound corporate governance practices that comprise of clear and transparent disclosures, encourage accountability and ethical leadership create value for companies, facilitate access to capital and enhances investor confidence.

I believe that while a lot has been done in the area of corporate governance, Sri Lanka needs to ensure a responsive regulatory framework and cannot afford to fall behind. Furthermore, good market conduct is driven by good behaviour and not by rules and regulations alone.

I conclude by congratulating the Institute of Chartered Accountants of Sri Lanka for their commitment towards upholding good corporate governance and business ethics.


-Pix by Indraratne Balasuriya