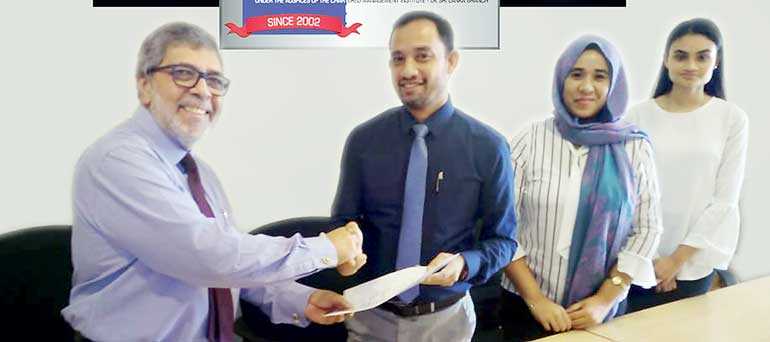 From left: The Management Club President Emeritus Fayaz Saleem, Colombomap Founder/CEO T.R. Adahan, Co-founder M.R. Nabeela and Director Najath Hameed
---
Colombomap is the latest addition to TMC's list of partners who will function as the web and digital marketing service provider for three years commencing 1 January 2019. The MOU was signed between Colombomap and The Management Club on 9 January 2019 at the TMC Secretariat at Galadari Hotel.
Colombomap is a well-established, innovative web and digital marketing service company steered by a highly qualified, tremendously skilled, and extremely experienced team of web developers, designers, software engineers, technology consultants and digital marketers who delight their clients by executing noteworthy projects, realising the desired results and thereby exceeding expectations.

Their professional team is exceptionally competent and well trained to assist in analysing web development and marketing needs and provide the perfect solutions. They provide a full range of services from industry standard web solutions to digital marketing solutions and follow a well-planned out and suitable strategic plan for result-oriented project completion.

Colombomap is adept in providing a powerful and viable web existence that will accelerate customer market share and market value. They consistently strive to set up and develop competitive web alternatives that go well beyond customer expectations. Colombomap possesses a treasure trove full of innovative ideas and alternatives which can create endless possibilities for customer businesses.

Colombomap is proud and honoured to be the official partner for one of the distinguished clubs in Sri Lanka – TMC for its web and digital platforms. It is happy to have redesigned/revamped the TMC website www.tmclanka.com. This adds to the existing pool of customers the company provides its services to that include a few of the best brands in Sri Lanka.