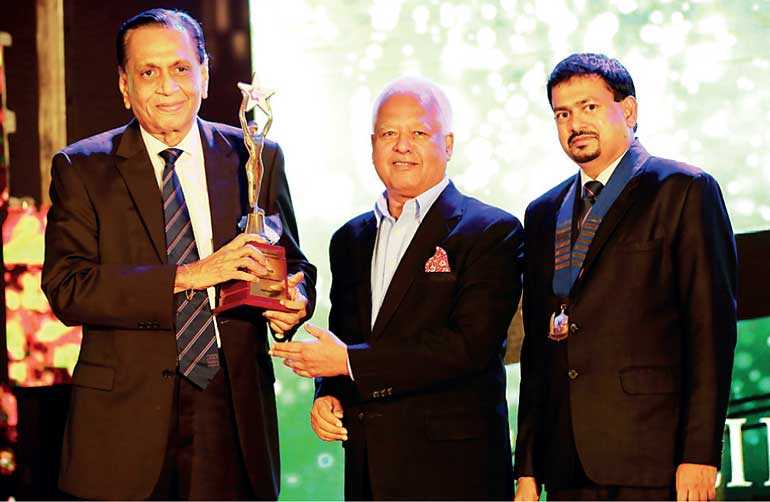 The Chartered Management Institute, UK – Sri Lanka Branch held its awards presentation recently at the Shangri-La Hotel, Colombo. This was the very first time that CMI held a Management Excellence Awards Scheme to recognise the most promising and innovative leaders in the Sri Lanka Business Community.

Awards were given in three industry categories and two organisational sizes to the premier professionals in Sri Lanka culminating in the awarding of the Chartered Management Lifetime Achievement for 2017.

Sega Nagendra, former Senior Director of Carson Cumberbatch PLC, who still continues to hold many Non-Executive Director positions in companies engaged in diverse business activities, was awarded the most prestigious CMI Lifetime Achievement Award for 2017.

Counting 51 years of experience in management, holding prestigious positions in blue chip companies, leading, guiding and inspiring young and dynamic teams of enthusiastic individuals to be future leaders, ingraining ethics and integrity in to their young minds, he was a true leader in every sense in the Sri Lankan business community.

During his long and distinguished career, he adopted best practices of business, transparency and was aptly rewarded and given due recognition in society.

He has been an active member and has held the highest positions of the many Business Councils of the Ceylon Chamber of Commerce.

A dedicated 'People's Person,' not limiting his activities to the work place, he is known to have spread his goodness to the community at large and touched the hearts of many.

His involvement in religious and community based activities are wide and varied and includes holding the position of trustee of many religious and non-religious institutions.

Being a Founder Member, he has been involved with the Chartered Management Institute, Sri Lanka Branch from its inception, contributing to its growth from strength to strength. In recognition of his services as a Past President of CMI UK, Sri Lanka Branch, he has been honoured with CMI's highest level of membership, that of a Companion, which is an exclusive network of professionally qualified senior leaders of the world. He is also a holder of the prestigious MBA, UK, and FCPM – Sri Lanka.

The award was presented by Minister of Special Assignments Dr. Sarath Amunugama deputising for President Maithripala Sirisena in the presence of President CMI – UK – Sri Lanka Branch Malraj Kiriella and State Minister of Finance Eran Wickremaratne and a host of distinguished guests.