Viswanathan Natarajan (Natty), a Neuro-Linguistic Programming (NLP) coach from India, visited Just In Time Group (JIT) recently to help coach the senior and middle management. Natty was invited to coach Just In Time Group by JIT CEO Chrishan Mendis. He obtained his training and certification from ICTA, Denmark-Cyprus and carried out his training under the guidance of Jack Makanai. NLP is a tool with a history of 30 years that helps develop the way we communicate with ourselves and with each other. NLP can help the human experience by modifying or improving upon positive aspects of life and limiting or removing negative aspects of life that holds one back from achieving one's full potential.

Following are excerpts:
By Ruwandi Gamage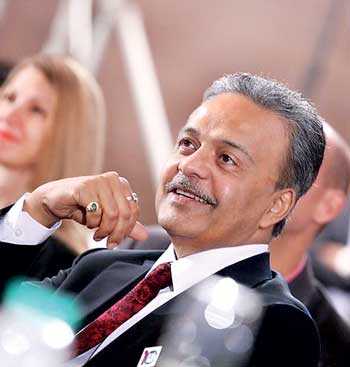 Q: Could you tell me about your experience and how you got involved with NLP?

A:I have worked in the corporate sector for 38 years and I have always had a flair for coaching. When I scanned the market, I read about many different ways of coaching and NLP really appealed to me, because of its simplicity and how everything is laid out in such simple terms. I've been an NLP coach for a year now.


Q: NLP has been around since the '70s. Why do you think it is relevant now?

A:This is probably the only non-intrusive method where you get people to change. If you're using medication, I believe it is intrusive to the body. I coach a lot of Millennials. They are extremely driven and know what they want. However, there's also a distinct lack of emotions in what they do and when they hit the first suggestion of failure, to them everything seems to be falling apart. That is where something like NLP comes in very handy; it is not a tool that is given to you, it's given in doses. You can use it to change yourself. It is very easy to internalise, easy to practice, and doesn't take much time at all. It is all the more relevant in today's world of hurrying around.


Q: How is this relevant to older people?

A: Everyone has something holding them back, which prevents them from reaching their full potential. NLP can help them overcome these obstacles and reach their potential. A lot of people go through life saying 'I have to'. It's an indication that he/she is not doing what they love doing. The secret is saying 'I want to'. If you have 'I want to' in your life then you're doing what you really love doing. I speak to people who 'have to' instead of 'want to'. We need to really consider the choices we take in life and NLP can help achieve that.

NLP is also useful if you're someone who's not in touch with yourself. The way you talk to yourself and the way you talk to people, do you talk to yourself negatively or positively? NLP changes communication. It is a wonderful tool, I hope more people take it up. They'll learn about it and internalise it; and I think it's never been more relevant than today.


Q: How can you change yourself using NLP?

A:As a coach, I don't change anybody. I not only talk to people, I also walk with them, so that they inturn change themselves. I am an extremely insignificant person in this exercise. I talk to them and sincerely try and understand how I can help. NLP says that a lot of our limiting beliefs are negative emotions that are picked up between the ages of six and 10.If we're able to get a person to talk about incidents or experiences that led to the limiting belief, then you don't have a problem making them change, because NLP teaches many techniques. This is also another reason why it becomes relevant even today, even after all these years.


Q: What kind of techniques do you use in NLP?

A:The most important technique of NLP is visualisation. So when you have to see a scenario unfold and you feel that you're not very confident about it, NLP teaches you to visualise the outcome and see yourself enjoying the outcome, in turn improving on your confidence in achieving that goal. This is an amazing technique to use when people's confidence is a little lacking. You can balance the different personality parts within you by controlling your inner voices which encourage or discourage you.

We use another technique where we ask them to visualise the problem, then we ask them to put a frame around that picture. The frame mimics a boundary, one which you can control, and the problem is now limited and now you can do anything.

The other technique I use quite prevalently which is extremely successful is called 'timeline'. It is when you connect the negative emotion that led to a particular incident that happened in their past. So with timeline I help people visit their first experience where they built up this negative emotion. I suggest that they go through that same experience as a very capable adult and help them negate that incident. This results in the belief that what needed to be done was taken care of and there is nothing keeping them from moving forward, so when they come out of it they are emerging as completely new.

Another technique is association and disassociation. For example, in a workplace there are a lot of issues and you're in the middle of the problem. It's said that when you become objective and when you're able to look at it from a distance, you probably get your solutions faster. When you're in the middle it's too overpowering. It's a simple exercise.


Q: Does NLP have aspects of hypnosis?

A: No, NLP does not require this. It's all about accepting a strong and positive suggestion that you would like to accept, from a sincere voice that you trust, to change yourself. They can try it themselves and see how it goes. There is also a certain amount of meditative factor in NLP, basically the visualisation and thought process.


Q: What does NLP really do?

A: You have a model of the world. It means the way you look at the world. You have certain views. If you're not satisfied with that view, you can change it. NLP teaches you how to change that. I find it fulfilling when the change takes place in people. I don't make the change happen. They themselves bring about the change. That change is better because it's not something thrust upon them.

If I can help bring about change in people by letting them know about their limiting beliefs and negative emotions and help them negate these to maximise their potential, then I would be helping them to get rid of something that was holding them back. When people decide they want to change, nobody can stop them. It's beautiful.


Q: We live in an age where people want quick solutions. How can you market something like NLP and say they need to do this every day? Would people pick up on that?

A:It's like getting up in the morning, getting into your car and coming to work, it's on auto pilot. When you internalise everything, the next time you see a conflict, you know how to think.

Let's take what we call one of the NLP habits, NLP Pre-Suppositions. It says that I'm in control of my mind, and hence what I do and the results of that, so I can't blame anybody, I am responsible. The next time you hit a roadblock, you will not blame anybody else; you will introspect and think for yourself why it happened.

Another habit says there is no failure, there is only feedback. You internalise this habit during the NLP training and you learn to move on after you learn from your mistakes.Therefore, if a person is serious and the person is not satisfied with the way he or she is, wants to be much better and believes he or she can be much better, they will practice and internalise. It hardly takes any time and I think it just makes that rush a little better; because you're suffused with positive feelings and confidence, it changes your countenance.

I feel excited when I talk about it, because I believe in it, I have seen it.


Q: Do your previous clients keep in touch with you? Do they talk to you about how their lives have changed because of NLP? Do they tell you they use it all the time?

A:Well, some of them are in touch with me. My current clients back in India email me and talk to me if they're at the height of an emotion, then I am able to use that again in the next session to give them more techniques. I have not done more than three individual sessions with a person.

I would say that 90% of the people are definitely better than when I met them. I take no credit; it is they who affected the change. I only gave them the suggestions and taught them a few techniques. I taught them to think differently, of themselves, of what they are. I would say yes, 90% of them are fine. You know the other 10% are probably not in touch with me for me to know how they are, but I wish they are using what they learnt.

I'm just an individual and I love doing this. My mission in life is to get as many people as possible to find their own true self.


Q: How can people contact you for coaching sessions?

A:I still work through word of mouth. I don't have a website or my own YouTube channel to talk about it. They can mail me at nlpcmaster@gmail.com. Depending on the nature of the coaching, I can call them and speak to them. I do post every day on LinkedIn and that's another way people can connect with me.


Q: How much do you charge for your coaching sessions?

A:There are various levels of training, hence it can be misleading to explain about charges without knowing what you are seeking. All I can say is that if I look at the last one year, I've been extremely flexible on what I would charge as my fee. I don't think anybody has ever told me that it is not affordable. Of course the ultimate goal is to see whether we can offer these services to people online, without meeting them in person.


Q: What if someone here wants coaching in the local language, not English?

A: We're trying to see if we can put together a system by which we can start coaching individuals to learn about NLP and also create a group of coaches who are proficient in the local language. If you're not proficient in English, some techniques can only be done better in your local language. We are trying to see if there is a possibility of creating a team of coaches in Sri Lanka and then making them available either online or in person to the people here who want to learn NLP and bring about change in their lives.