From left: Dileep Mudadeniya of John Keells Group, Kasturi Chellaraja Wilson of Hemas Holdings, W.K.H. Wegapitiya of LAUGFS Holdings, Dhammika Fernando of Tropical Findings, Dr. Ravi Fernando and Moderator Daily FT Editor Nisthar Cassim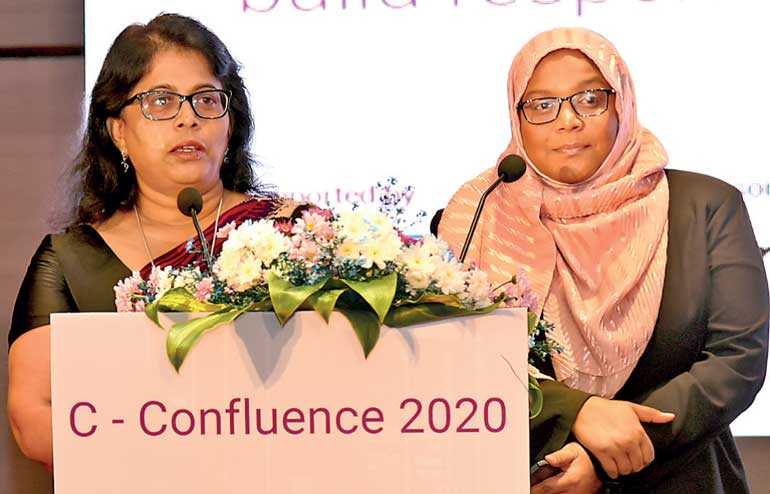 Welcome address by CIMA Country Manager and CILT Chairperson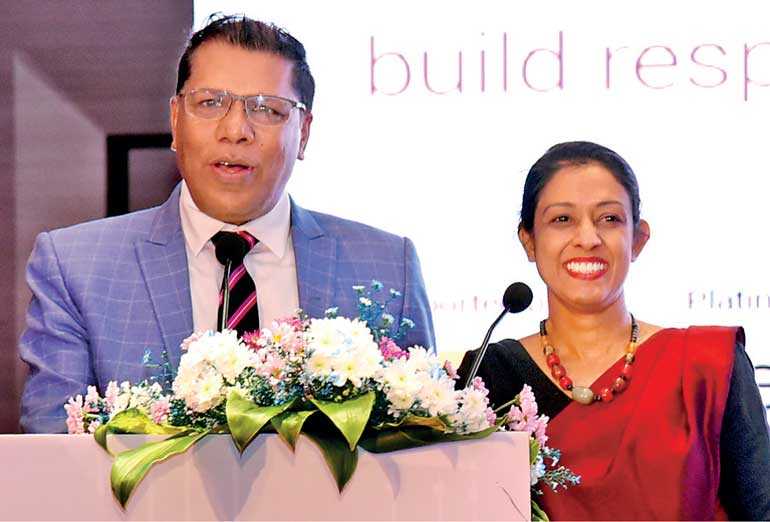 Joint vote of thanks by CIM Country Manager and CIP Treasurer
Sri Lanka's four premier chartered professional bodies, Chartered Institute of Logistics and Transport (CILT), Chartered Institute of Management Accountants (CIMA), Chartered Institute of Marketing (CIM) and Chartered Institute of Personal Management (CIPM) came together on 28 January to launch a C-Confluence at the Oak Room, Cinnamon Grand Hotel.


The main objective of the launch was to provide exposure to the membership to learn from the best in logistics and supply chain, finance, marketing and human resource. This landmark knowledge sharing session was titled, 'Building future ready professionals for sustainable businesses'. Over 250 participants from the four-chartered bodies attended the launch. The event was followed by networking and fellowship.
CIMA Country Manager Zahara Ansary, ACMA, CGMA, and CILT Chairperson Gayani de Alwis, CMILT, during their joint welcome address explained how the idea was born when both bodies were discussing to work together in their centenary year and it became stronger post the Easter Sunday attack. The need to work collaboratively to create opportunity for cross networking of professionals while sharing knowledge was identified as the main need and CIM and CIPM were invited to join and thus formed the group to form the C-Confluence.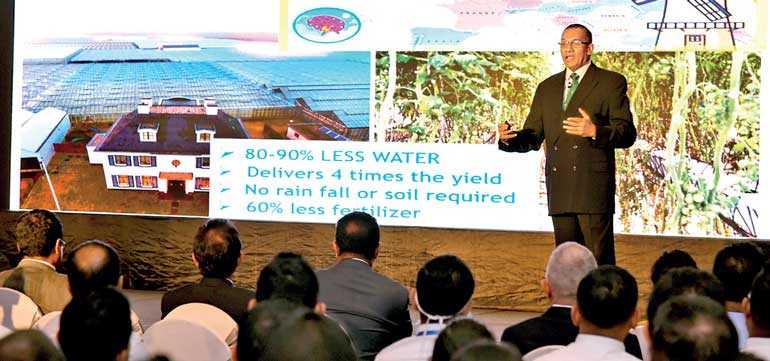 Keynote speaker Dr. Ravi Fernando
The combined age of all four chartered bodies had over 360+ years, with each enjoying rich histories and wealth of knowledge, and sharing of knowledge will be immensely helpful for the country to build future ready professionals, they said. Over 250 participants attended this event. CIM Country Head (Sri Lanka and The Maldives) Onalie Dissanayake, and CIPM Hon. Treasurer Ken Vijayakumar jointly did the vote of thanks.
Global Strategic Corporate Sustainability Ltd. Chairman and CEO Dr. Ravi Fernando delivered the keynote speech. The keynote speech was followed by a panel discussion, with each panellist representing a professional body. The panel consisted of LAUGFS Holdings Ltd. Chairman and Group CEO WKH Wegapitiya CMILT (representing CILT), Hemas Pharmaceuticals Ltd., and Hemas Logistics and Maritime Cluster Managing Director Kasturi Wilson CMILT, FCMA, CGMA (representing CIMA), Cinnamon Hotels and Resorts Head of Brand Marketing, Cinnamon Life Mall CEO, John Keells Group VP Dileep Mudadeniya, FCIM (representing CIM), and CIPM President and Tropical Findings Ltd. Executive GM Dhammika Fernando. Daily FT Editor Nisthar Cassim moderated the panel discussion.
Dr. Fernando in his keynote speech, highlighted, "Future business leaders need to move beyond simply being functional experts and build new skills to be considered future ready, responsible and relevant business leaders." The INSEAD Business School launched a new course titled the 'Aspiring Directors Program' in 2019 which builds future leaders by presenting them 'Future Business opportunities and Business Challenges' which they need to respond to with new skills. The course had seven areas of which Dr. Fernando, covered three considering the time constraints of the event.

According to Dr. Fernando, the future ready business leader needs to:
Embrace future technology
Today, new technology can disrupt most businesses. A few examples include – Precision Agriculture versus Mass Agriculture. In Sri Lanka, 25% of its workforce is engaged in agriculture and extreme weather is disrupting this. Today precision agriculture has enabled Holland to be the second largest agriculture produce exporter where vertical green houses with controlled climatic conditions have made them a global powerhouse. Artificial Intelligence, 3D Printing, robotics are among the other the other new technologies which future ready business leaders need to embrace and mobilise in order to remain competitive.
Understanding the potential impact of geopolitics will be a new skill that will increasingly become mandatory for business leaders who run both multi-nationals and transnationals. A good example is understanding how the China one belt one road strategy offers many opportunities to Sri Lanka to export to Africa, Northern Europe and Latin America by being a manufacturing hub leveraging it. Sri Lanka must negotiate from a position of strength to leverage its unique geographic location.
Quoting some pertinent examples, he mentioned how Pakistan Government made China invest $ 50 billion for their Gwadar port for Belt & Road access through land, when in fact we were only offered $ 1.1 billion for Hambantota port.
Build an adaptation strategy to counter the climate emergency
Since 2000, the past 20 years have been its hottest and warmest temperatures ever recorded. This in turn leads to extreme weather incidents such as 'drought, above average temperatures and floods'. Since having around 150 extreme weather incidents between 1990 and 1999, we see a significant spike of such events to between 500-600 between 2000 and 2020. This in turn significantly disrupts supply chains worldwide. Business, which ignores this simple fact, will be disrupted. The last year has been the hottest recorded in history for Sri Lanka.
Finally, he went on to say that every business must be 'part of the solution' and not 'part of the problem' of the climate emergency. The strategic way to do so is to ensure the business has a 'sustainable business model', which ensures it is committed to renewable energy powering the business and its product range is committed to sustainable consumption. Having a sustainable business model in place will make CSR irrelevant and not required. To be future ready, relevant and responsible corporate business strategy needs to factor the above three new competencies to ensure their corporate strategy is relevant, he opined.
All panellists agreed in unison that cooperation is the way forward in the new business world and not competition and congratulated the four bodies for this landmark initiative.
Pix by Ruwan Walpola