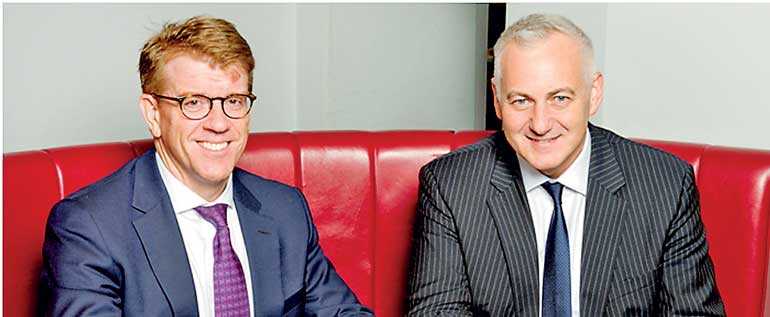 BDO Managing Partner Paul Eagland and Moore Stephens LLP former Managing Partner Simon Gallagher
---
BDO is an international network of public accounting, tax, consulting and business advisory firms which perform professional services under the name of BDO. BDO has officers in 162 countries and employees over 80,000 people worldwide.
The BDO network firm in UK, has completed its merger with Moore Stephens LLP UK on 4 February creating the largest UK accountancy and business advisory firm focused on mid-sized, entrepreneurially-spirited businesses. The merged firm will operate under the BDO brand and as part of BDO's international network. In the UK, BDO LLP now has a combined workforce of 5,000 people across 17 locations.

The merger, which relates to the London, Birmingham, Reading, Bristol and Watford offices of Moore Stephens LLP, will make BDO the third biggest auditor of listed companies, strengthening its position as calls to improve quality and competition at the upper end of the audit market continue. In addition, it cements BDO's ranking as the UK's leading auditor to AIM-listed companies and will enhance its expertise in sectors including financial services, insurance and shipping.

BDO Managing Partner Paul Eagland said: "The audit market is going through a significant period of reform and our clients are facing unprecedented uncertainty as Brexit looms and global trade undergoes fundamental changes. Notwithstanding these uncertainties I'm confident that a combination of our 5,000 people and our reputation for trust and quality, puts us in a fantastic position to help our clients and our people to capitalise on the opportunities that always accompany such change.

"Our clear sense of purpose and growth strategy will help our entire team make this merger a huge success."

Simon Gallagher, former Managing Partner at Moore Stephens LLP, joins BDO's Leadership Team as Head of Advisory. Formerly Moore Stephens LLP's Chief Operating Officer, Jon Randall also joins the Leadership Team as Head of Integration and Transformation.

Simon Gallagher said: "From the moment we started our conversations, our shared ambition was to create a fully-integrated firm that our people are proud of and one which leads in serving what we call the UK's 'economic engine' – the entrepreneurially-spirited, mid-sized businesses that are driving UK growth.

"This merger is one of growth and creates a new force in the market, enabling us to challenge our existing competition and deliver an increasingly impressive range of services to help our people and clients succeed."

The news of the merger comes at a critical moment for the industry, which has come under increased scrutiny in parliament following a series of scandals. The government has called for a comprehensive review of Britain's auditing industry.

It is believed that the merger will increase the BDO brand visibility in the UK market as well as its global presence.