T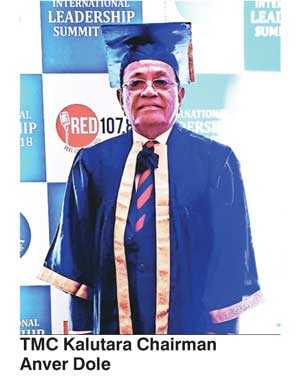 MC Kalutara Chairman Anver Dole, a respected personality in management and leadership circles, was conferred with a Doctorate (Honoris Causa) by the Confederation of International Commission (CIAC), Global, at the International Leadership Summit 2018 – 'When Game Changers Meet Change Makers', gala event at the Mt. Lavinia Hotel recently. The Doctorate was awarded for: Excellence in the Field of Management.

Dole who is the Emeritus President of the Institute of Management of Sri Lanka (IMSL), was recently invited to serve on the Governing Council of the Asian-African Chamber of Commerce and Industry (AACCI). He is a Founder Director and Councillor of the Asian Association of Management Organizations (AAMO), and has given leadership to several professional Organizations.

The Board of Management and the Members take pleasure in congratulating Anver Dole on his achievement.