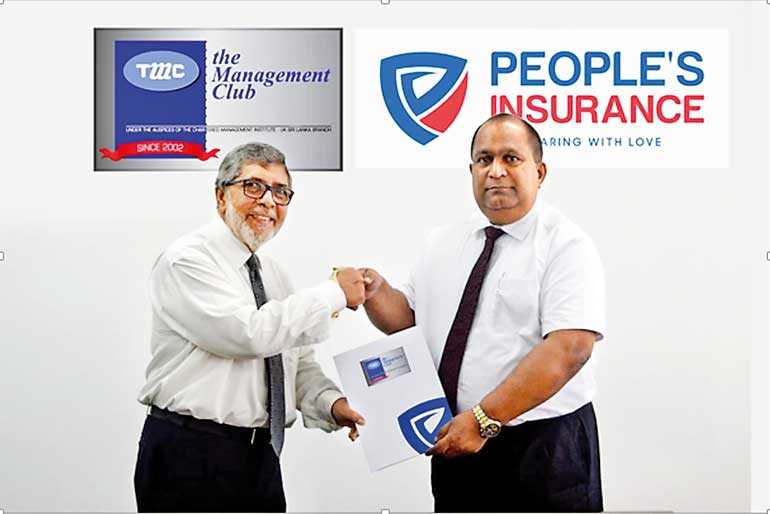 People's Insurance PLC and The Management Club (TMC) signed a Memorandum of Understanding on 21 January at the office of People's Insurance PLC – No. 7, Havelock Road, Colombo 5 to be TMC's Partner Sponsor a period of three years commencing 1 January. The Management Club was represented by the President Emeritus Fayaz Saleem and People's Insurance PLC was represented by the Chief Executive Officer Deepal Abeysekara.

The People's Insurance PLC commenced their commercial operations in 2010 as a non-life (general) insurance company and now they have completed nine successful years. The company offers a wide range of products to both individuals and corporates including motor, property, travel and marine. Today, the company's annual premium income exceeds Rs. 5 billion with more than 150,000 insurance policies issued.

They are listed on the Main Board of the Colombo Stock Exchange (CSE). The company is backed by two of the largest financial institutions of the country, namely People's Leasing & Finance PLC (immediate parent) and People's Bank (ultimate parent) and strong international reinsurers. The company is also rated A+ by Fitch Ratings which was obtained recently. They have their presence island wide through six regional offices and close to 100 window offices at People's Leasing & Finance PLC branch network and through the branches of People's Bank.

Having secured a substantial captive business base, now the company is developing a strong direct (non-group) customer base, moving to the next phase of the company's growth. The company has an outstanding performance track record since its inception. By now, the company has emerged as one of the most profitable non-life insurance company in the country. The company has a state of the art call centre on 24X7 basis, facilitating its customers to report accidents and provide assistance at any time. Customers can also pay their insurance premium on line through the company's website.

The company has a customised enterprise resource planning (ERP) system also in place which has automated and integrated its key business processes – underwriting, claims, reinsurance, commissions and general ledger across the company, including the regional offices and window offices. People's Insurance PLC is proud to be a Partner Sponsor of TMC and looks forward to a mutually beneficial association.