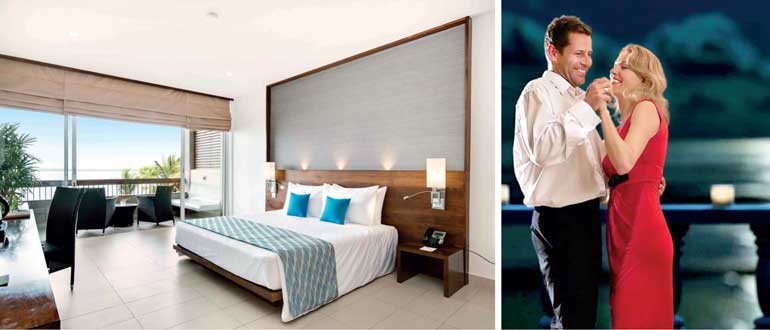 Amagi Aria is bringing the legendary 'Wildfire' to Negombo to give guests an unforgettable Valentine's celebration amidst the stunning backdrop of the lagoon. Although Valentine's Day is globally commemorated on 14 February, Amagi Aria is setting the stage for a fantastic night of entertainment and feasts on Friday, 16 February from 7:30 p.m. onwards at the hotel lawn.

The dinner dance is priced at Rs. 2,500 nett per person, inclusive of a gala dinner buffet, prizes, surprises and an evening of hypnotic tunes of the '80s, '90s and current chart toppers performed by 'Wildfire'. You get to bring your own beverages too!

Spoil that someone special with the 'Valentine's Stay' offer for Rs. 19,500 nett per couple (valid only on 16 February), where you get to enjoy the luxuries of the lagoon-side hotel; Amagi Aria, with a romantically decorated deluxe room, a scrumptious breakfast, a 30-minute boat ride on the lagoon and two tickets to the Valentine's soiree with Wildfire.

Lovebirds can celebrate with romantic escapades that will leave them starry-eyed, while there is also fun to be had for the single guests too. For tickets and reservations, call 0703569143 or visit the Amagi Aria, Negombo Facebook page.