The Kingsbury's in-house bar has introduced 'Cuban Nights,' showcasing a range of Cuban inspired cocktails and tapas menus to be sampled while relaxing under a canopy of fairy lights with Cuban music playing. Cuban nights will be held at the in-house Kings Bar every day until 31 July from 6 p.m. to 11:30 p.m.

The selection of alcoholic beverages, ranging from Bacardi Carta Blanca, a special white rum, to a number of Bacardi cocktails, are all inspired by the Caribbean and Cuba. The hotel carries the usual Cuban cocktail mix of rum, crushed ice and sugar in all of their cocktails.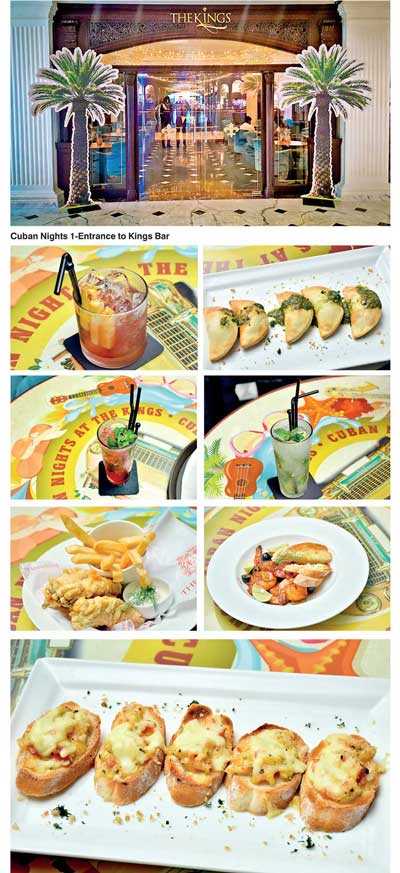 The two tapas menus includes a wide spread of non-veg and veg options to choose from. While the non-veg menu has a selection of 16 items, ranging from caprese empanadas to grilled squid; the vegetarian tapas menu includes 10 items, ranging from vegetable samosas to ravioli.

Caprese empanadas are puff-pastries with a filling of tomato, mozzarella, basil and meat served with a basil-infused sauce, which was filling and tasty. The sweet shrimp dish bathed in roasted garlic oil and the chicken meatballs with spicy tomato sauce are popular since infused with spices they complement the Sri Lankan palate well.

Spanish shrimp that looked similar to bruschetta tasted amazing with its spiced shrimp on top of the crispy bread base, called crostini. Mushroom and ham croquettes, a bread-crumbed fried roll, which was served with fries and mayonnaise sauce, went well with the drinks that were served.

The Kingsbury General Manager Christine Chevalaz explained to Daily FT that the 'Cuban Nights' promotion would give customers of The Kingsbury a diverse experience apart from the usual cuisine already in place at the hotel.

The Kingsbury Colombo is a five-star flagship hotel which serves up a variety of cuisine via its outlets. It hopes to set a trend through this event and continue to introduce its guest-themed events every month.