On 13 April, Sri Lankan students organised the 'Sri Lankan Night 2019' at the Kursk State Medical University (KSMU), in the framework of which they showcased Sri Lankan cultural performances, which included traditional and modern dancing numbers, and singing national songs.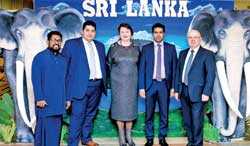 The Sri Lankan Night 2019 was attended not only by KSMU administration and faculty members, but also by Mohammad Chahine, Honorary Consul of Sri Lanka and Advisor to the Rectorate of the University, Russian and other foreign students, enrolled at KSMU. The Embassy of Sri Lanka in Russia was represented by First Secretary Dulmith Waruna, who attended the event on behalf Ambassador Extraordinary and Plenipotentiary of Sri Lanka to Russia Dr. Dayan Jayatilleka.

While addressing the gathering, Dulmith Waruna underscored the importance of construction of an inter-cultural dialogue between different nations and thanked the Sri Lankan Students Union for the organisation of the event and contribution to the promotion of Sri Lanka's image in the Russian Federation.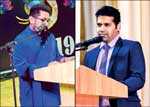 The Sri Lankan Night 2019 was referred to by the guests as a very colourful and memorable event in the social life of the KSMU student community.

During the visit to Kursk, Dulmith Waruna also had meetings with representatives of the Chamber of Commerce of Kursk and Sri Lankan Honorary Consul with a view to further expand the economic cooperation between the Kursk region, one of the most important and economically attractive regions in Russia, and Sri Lanka.

Kursk State Medical University is one of the most popular Russian medical educational institutions in Sri Lanka. Over the years KSMU has provided thousands of Sri Lankans with high quality education in medicine. Currently, more than 390 Sri Lankan nationals are enrolled at the university.