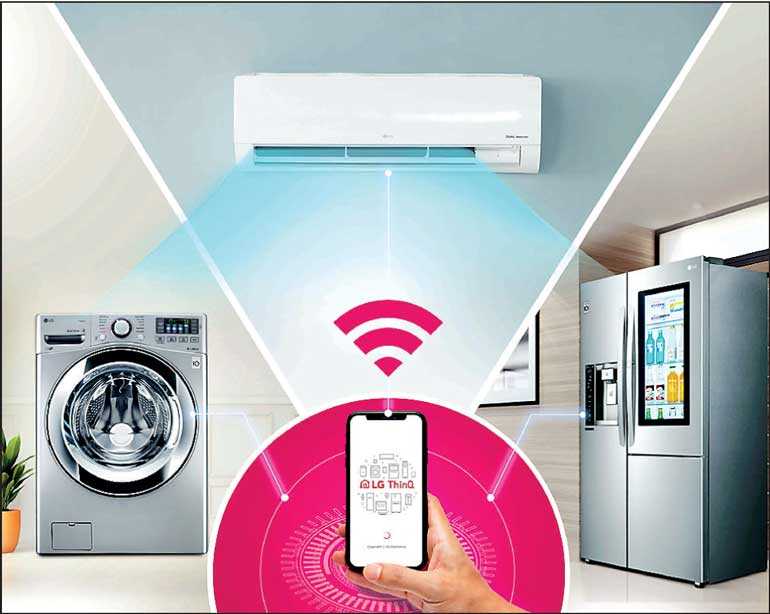 ---
The busy lifestyles of today's generation demand easier ways to live life and enjoy comfort to the fullest with little effort. Meeting this requirement is the newly introduced SmartThinQ app from LG that is guaranteed to make your life so much easier when you're constantly on the go.

Using Wi-Fi technology, your smart phone becomes a remote access point once the app is installed on your phone and you can access LG products in your house from wherever you may be. The SmartThinQ app is now compatible with LG's R32 dual cool inverter air conditioners, side by side refrigerators and washing machines.

It's very easy to forget to switch off the air conditioner when you're in a rush to head out. The LG SmartThinQ app allows you to remotely access your LG AC using your smart phone so no more worries when it comes to controlling an AC you've forgotten to turn off. Once you're done with a long day at work, cool air inside your home is a dream.

The LG SmartThinQ app lets you switch on your AC while you're on your way home so you can enjoy the cool air as soon as you step inside. This is the perfect solution to those hot and humid days where you can turn on an AC only when you reach your house. You can enjoy the added bonus of getting an energy consumption report at the end of the day. This helps you keep track and know when and where to cut down on your usage.

Unexpected guests turning up at your home with no notice can turn into rather a chore. The LG SmartThinQ app can help solve all those zero prep time issues. While you head out on to the supermarket to grab some groceries and supplies, use your smart phone to access your LG side by side refrigerator and rapidly freeze ice, set cooling temperatures so food can set faster and even activate the hygiene fresh feature to ensure that the food inside your fridge remain fresher for longer until you get back home. Now you can handle those sudden visitors like a pro, stress-free and with peace of mind.

Leading hectic lifestyles on a daily basis often end up in piles of laundry getting stacked in your house. The LG SmartThinQ app enables you to wash clothes even when you're out of your home. Simply pop the laundry into your LG Washing Machine and be on your way. Use your smart phone wherever you are to start the washing cycle, switch between wash programmes, change the timing of the cycle and also monitor the energy usage. Doing laundry has never been this simple especially when you're always on the go.

LG has always been at the forefront of introducing new technology to the country. Being pioneers of making the lives of the people convenient and meeting their demands using new and sophisticated products at every turn, Abans is proud to be partnered with LG for this unparalleled technology.