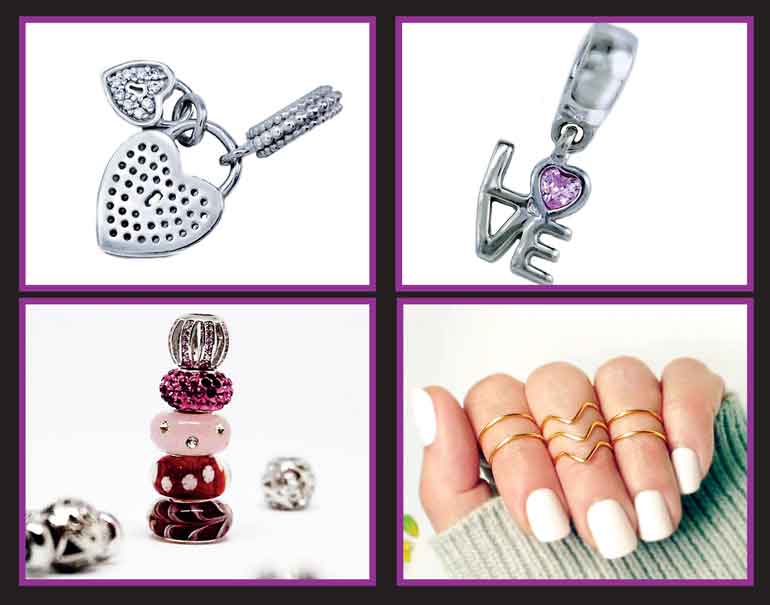 This February, Mallika Hemachandra Jewellers is not only creating precious and intricate jewellery to add a spark to your blossoming romance but is also creating precious memories to last a lifetime by redefining your idea of love and celebrating your most cherished relationships.

Ruby red elegantly tucked in 22kt gold, this year's romance collection by MHJ is a reflection of the longevity of the colour that has ignited passion, desire and love for centuries. The exquisite range of ruby stones set in flawlessly crafted gold pendants is an ode to the five decades of expertise MHJ holds in jewellery crafting. The jeweller adds to the enchantment of the season by enclosing the pendants in special gift boxes gift-wrapped especially for Valentine's Day, accentuating the sentiment of creating memories that last forever.

Apart from romantic partners celebrating their love this season, MHJ will also have on offer an array of jewellery to celebrate all types of cherished relationships. For the fashion forward best friend, sister, daughter or colleague: a range of modern, stylishly elegant and stunningly designed rings are on offer, including trendy knuckle and thumb rings, to suit any mood or occasion.

The MHJ Valentine's Collection starts from Rs. 7000, and will be available at the Horton Place Main Branch, Crescat Boulevard, Liberty Plaza, Majestic City, Nugegoda, Kandy City Centre, Gampaha Ward City and the K Zone outlet in Ja-Ela. All branches will be open from 10 a.m. – 7 p.m. on all days.

Special credit card promotions are also on offer for the season, with up to 15% discounts on 22kt plain gold jewellery and up to 20% discount on diamond jewellery. Their unmatched customer servicing also offers free jewellery cleaning at all branches and free gold testing at the Horton Place Branch. Fans are also encouraged to subscribe to the MHJ Facebook and Instagram pages for more special offers and promotions and to visit www.mallikahemachandra.lk for additional details on these and other collections.

Having mastered the art of jewellery craftsmanship over the years, MHJ has remained one of Sri Lanka's leading and sought after jewellers for all seasons, thanks to the company's unfailing benchmark of highest quality design and competitive pricing.

"We wanted to give all our customers, both longstanding loyal patrons as well as the younger generation, a chance to celebrate Valentine's Day this year, a chance to celebrate all types of love," commented Mallika Hemachandra Jewellers Managing Director Chamindri Hemachandra. "All collections on offer this Valentine's season reach out to all those who wish to express their affection to someone, to redefine love and to create long lasting memories that are not limited to a season."

The Tizzy

Jewellery Collection

Mallika Hemachandra Jewellers is also the official franchise owners of Tizzy Jewellery, a new, trendy jewellery brand crafted of pure sterling silver. The silver charms, necklaces, bracelets and pendants that emphasise on 'collecting memories' are the perfect purchase this season for yourself or your loved ones. The Tizzy range offers enchanting beads and charms to cover various symbols, shapes, patterns and styles that can be added on special occasions, personal triumphs and celebrations or simply to represent a treasured memory. It is the best way to relive a memory or to express yourself through creatively crafted jewellery, adding many more memories as you go along.

The Tizzy collection starts at Rs. 800 and is available at MHJ stores in Crescat Boulevard, Liberty Plaza, Majestic City, Kandy City Centre, and the K Zone outlet in Ja-Ela. Visit www.tizzy.lk for more details on the collection and follow the Facebook and Instagram pages to stay up-to-date with trends and promotions.