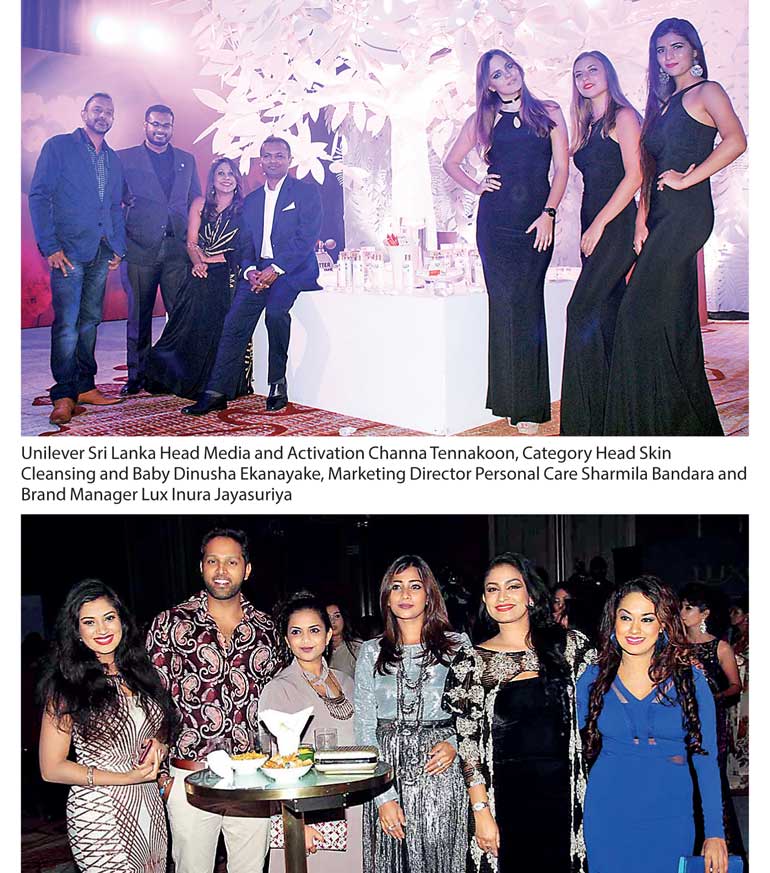 Unilever's iconic brand Lux, which has been a household name for generations and has a 75-year-old presence in Sri Lanka, with a range of beauty soap and the latest eight-hour long lasting fragrance of Magical Spell body wash, has now introduced a premium, perfumed soap, 'The Lux Perfumed Bar Collection' to local users. What is more, the whole range of Lux, was brought to life, at yet another spectacular House of Lux!

In their pursuit to elevate the everyday fragrance experience of Sri Lankan women, Lux introduced their new 'Perfumed Bar Collection' at the House of Lux 2018 – an evening of glamour enjoyed by Colombo's favourite socialites, distinguished guests, and friends of Lux.

House of Lux 2018 – an immersive fragrance experience unlike any other was brought to life on 16 January at the magnificent Shangri-La Ballroom. The space was transformed to offer a spectacular fragrance adventure, with four fragrance zones inviting guests to discover the fragrance that is best matched by their mood and personality, and to embark on a sensual fragrant journey like never before.

"Lux celebrates the everyday woman's extraordinary power through perfume. She's more today than she was yesterday – and we'd like to remind her of that tomorrow, and for every moment thereafter," said Unilever Category Head Skin Cleansing and Baby Dinusha Ekanayake.

Through the Lux legacy of fine fragrance, Lux enables every woman to feel empowered, with a perfume confidence that is unique to her. "Fine fragrance helps you explore that dimension of your beauty – by intermingling with your body's natural scent to create a perfumed fingerprint unique to you. It's the power of you, conveyed powerfully with just a little Lux," said Ekanayake.

"Welcome to an immersive fragrance experience that brings perfume alive," said Unilever Marketing Director –Personal Care Sharmila Bandara. "It is essential for the modern woman, to express her femininity unapologetically and consistently, and we encourage her to explore it every day. That is why Lux, is perhaps the world's most recognisable and iconic beauty brand."

"The new Perfumed Bar Collection is premium to others in the marketplace, and above even the core Lux range. This is simply because the perfumed collection involves much more attention in terms of the ingredients which go into making it, and the fragrances and technology used in the production of the perfumed bar collection come at a large cost to Unilever as well. The product, whilst priced only just above the core range delivers the value of fragrance and overall shower experience manifolds over. It is amazing that we have been able to make this product available to our Sri Lankan consumers," said Unilever Sri Lanka Brand Manager Lux Inura Jayasuriya.

As for the one single factor that makes Lux stand out from all other soaps, "it would be the fact that Lux is the only soap out here in the market that could claim association with the best fragrance houses and experts to bring to our consumers, fragrant beauty treats, made under the best quality standards, expertly crafted to perfection to deliver what we promise – Fine Fragrance Skin Treats for every woman in Sri Lanka," said Jayasuriya, further commenting on the brand.

The Lux Perfumed Bar collection comes in three variants. Charming Magnolia which is fragranced with the combination of delicate French Magnolias and Kashmir Wood Scent, Hypnotic Rose which is fragranced with the essence of exotic Egyptian Roses and the sweetness of Vanilla Musk, and Elegant Gardenia which is ensconced in the essence of Japanese Gardenia and Cedarwood Oil.

As to what sets the Perfumed Bar Collection apart from other premium soaps available in the market, "It is the first ever and only perfumed bar in Sri Lanka and is indeed the most efficacious product to have come from Unilever anywhere in the world," said Inura Jayasuriya.

House of Lux also brought to life 'Magical Spell' that is rich in the fragrance of the rare Black Orchid. It also contains the essence of Juniper oil, which together with proprietary Unilever technology gives Sri Lankan women the ability to remain fragrant for eight long hours in the day.

"This is indeed your quick fix to # TurnYourSkinOn," said Jayasuriya. "Today the Body Wash market is growing at high double digits, especially in South-East Asia and Europe. In South East-Asia there is a Body Wash market of 70% and in Europe 90%. Having said that, in three to four years' time, my belief is that the soap to liquid conversion will accelerate to a 50/50 market share because of the new innovations and experiences making it easier for consumers to associate with."

"In their 75 year legacy in Sri Lanka, Lux has proved over and over that a bold, innovative spirit is what paves the way to a revolutionary future. We remain in the hearts of our consumers as the best soap to indulge in and we hope to continue in our innovative pursuits so that our fans can continue to excite and ignite their everyday," said Unilever Sri Lanka Head of Media and Activations Channa Tennakoon.