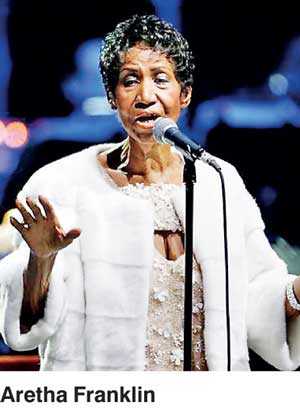 Reuters: Aretha Franklin, the preacher's daughter whose powerful voice made her the long-reigning 'Queen of Soul' with such hit songs as 'Respect' and 'Chain of Fools' died on Thursday at the age of 76, the Associated Press reported.

Franklin, who won 18 Grammys and had some 25 gold records, died at her home in Detroit, the AP said, citing a publicist for the singer. Representatives for Franklin did not immediately respond to a request for comment.

Her family had told media in her hometown of Detroit this month that she was gravely ill and asked for prayers.Franklin's father was a Baptist preacher in Detroit, and the gospel singing she heard in his church was her musical foundation. She created a uniquely emotional and powerful voice that put her at the forefront of 1960s soul music along with Otis Redding, Sam Cooke and Wilson Pickett.

Franklin sang at the funeral of slain civil rights leader Martin Luther King, as well as at the presidential inaugurations of Barack Obama and Bill Clinton. In 1987 she became the first woman voted into the Rock and Roll Hall of Fame, and in 2010 Rolling Stone magazine named her the No. 1 singer of the rock era.