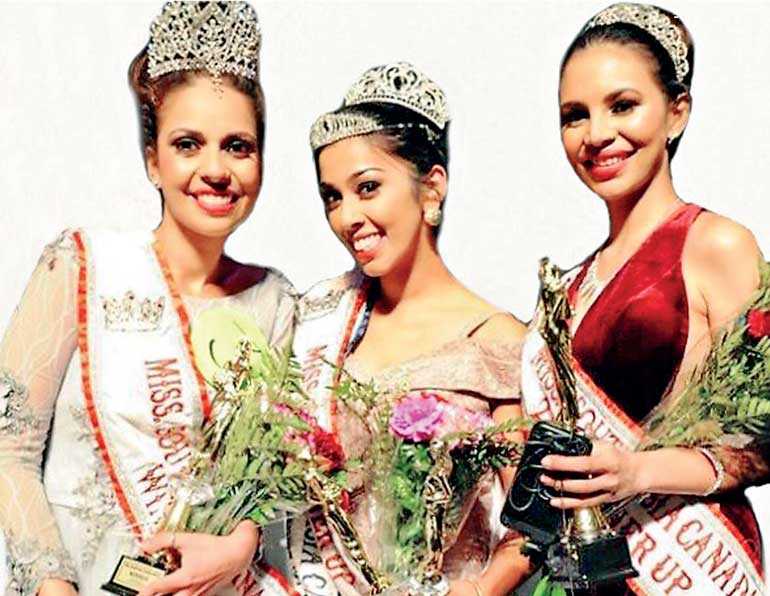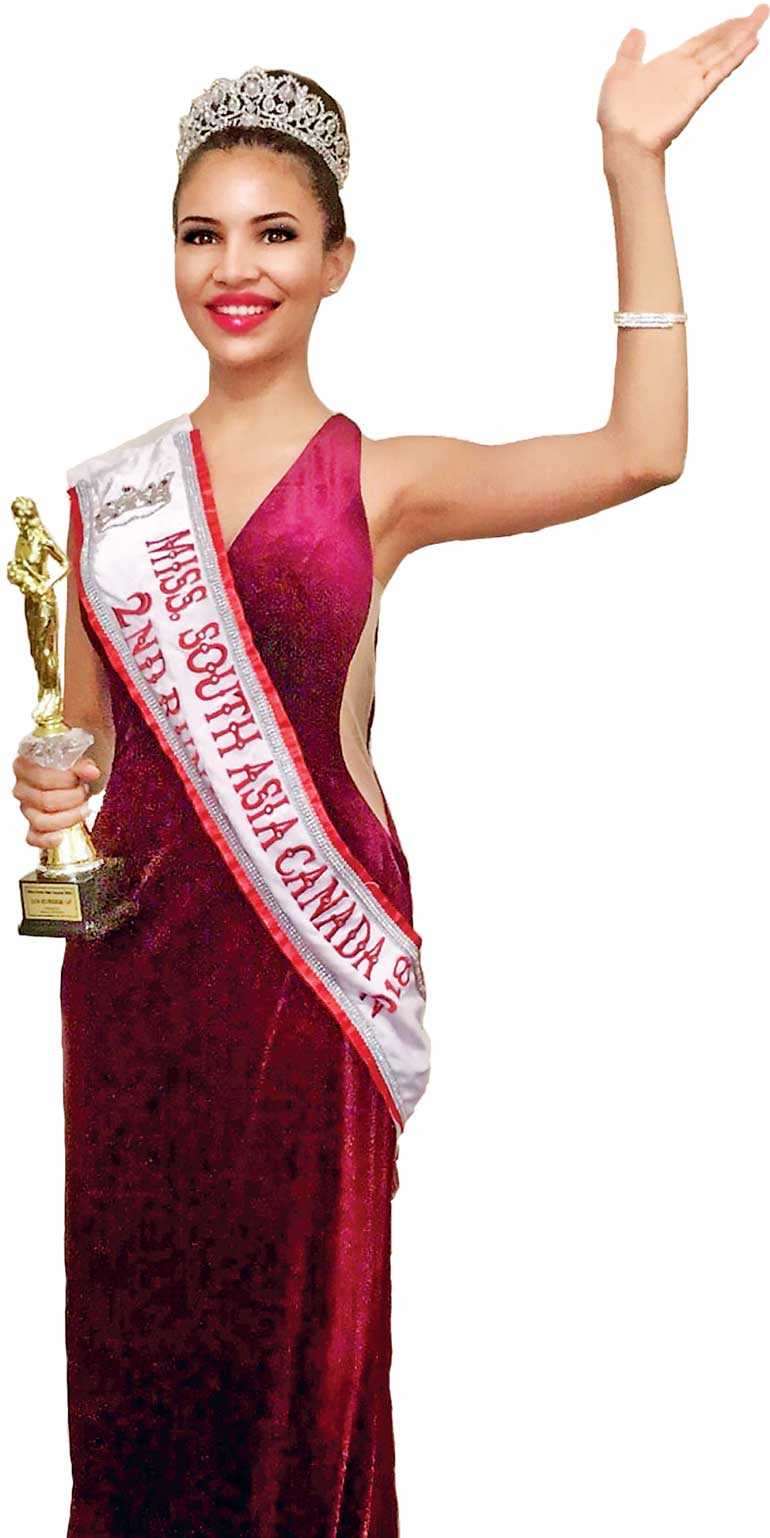 Lankan beauty Keshini Madara Marasinghe, a Canadian-Sri Lankan who is currently a PhD student in Public Health and Gerontology, brought greater recognition to the country, by winning the title of Second Runner-Up National at the 2018 Miss South Asia Canada pageant that was held recently.

Proving that beauty and brains go hand in hand, Marasinghe has a Master's in Public Health from Canada and did her Bachelor of Science in Health Studies and Gerontology at the University of Waterloo in Canada. She is a Toronto trained actor and a model as well. Marasinghe has done a lot of volunteer work with older people in Canada and is currently trying to help an orphanage in Sri Lanka, to re-build cleaner and healthier bathrooms.

In this interview with Daily FT, Madara shares her observations as to how her achievement really put Sri Lanka on the map, as she was able to promote the country's tourism, vast ethnicities and beautiful cultureon a global and grand scale platform.

Following are excerpts:
By Shannon Jayawardena

Q: Could you give a small background about yourself and your interests?

A: I'm Madara and I live in Toronto, Canada. Currently, I'm doing a Ph.D. in Public Health and Gerontology. I have a Master's Degree in Public Health and a Bachelor's Degree in Health Studies and Gerontology. I model and act on the side as I have always been interested in pursuing drama and arts. Other times I volunteer with older adults, underprivileged children, and I really want to do something to help stray animals in Sri Lanka.

Q: This is a great achievement for our country, how has this helped you promote and bring greater recognition to Sri Lanka?

A: Well you know, it's surprising, out here a lot of people don't know a lot about Sri Lanka. All they know is that there was a civil war. Most people aren't aware of the different types of ethnicities and religions in Sri Lanka. Since winning this title, I get asked a lot of questions about the place I was born in. I get to clarify people's confusions about Sri Lanka and answer their questions, show photos of Sri Lanka to promote tourism. For this pageant, I wore a Kandyan saree or an Osari in the traditional round, where each contestant had to wear a traditional outfit that represented their culture. Everyone loved the Kandyan saree and it was the first time they had seen one. What I wore was a bridesmaid's Kandyan, imagine what their reaction would be if they had seen the bridal Kandyan saree! There are so many beautiful designs being made in the country today by local designers. It needs to get out of this island, so our local designers get recognised for their talent. I was very happy to showcase one of our traditional outfits in this pageant and promote Sri Lankan fashion. The many numbers of times Sri Lanka achieves titles like this, not just in pageantry but in sports, fashion, education, or any field, the more questions will be asked about Sri Lanka and the more people will get to know about Sri Lanka.

Q: Being a Ph.D. student in Public Health and Gerontology, what propelled you to compete in the Miss South Asia Canada pageant?

A: Pageantry is not just about beauty and modelling. International pageants promote volunteerism, charity work, artistic talents, and the value of being educated. Appreciating the value of being educated and volunteerism especially drew me into pageantry. If you look at past beauty queens like Priyanka Chopra who won Miss World 2000, she was pursuing engineering at the time of winning the title; Aishwarya Rai, Miss World 1994, was pursuing architecture at the time; Iris Mittenaere, Miss Universe 2016, is a student in dentistry; Manushi Chillar, Miss World 2017, is a medical student, just to name a few.

As you can see, the power of education has constantly been valued equally as outer beauty, talent, and volunteerism in pageantry. I really liked that aspect of pageantry. It takes a lot of hard work and talent to tackle all of that and pageantry recognises individuals for their hard work and gives them an opportunity to extend their charity work and knowledge to help people all around the world. That's just one part of pageantry, it opens doors to so many other opportunities.

Q: You are currently trying to help an orphanage in Sri Lanka, to re-build cleaner and healthier bathrooms; how do you plan on achieving this task and where do you plan on taking it from there?

A: Yes! I was close to getting this project done last year when I was in Sri Lanka. Unfortunately, the contractor who had agreed to volunteer for the project could no longer go forward with the project. So I'm currently looking for anyone who is willing to donate or knows contractors who are willing to take on this project to build cleaner washrooms for girls living at this home called Gangodawila Balika Child Development Centre that is situated in Maharagama. It is a Government-approved shelter for destitute girls from around Sri Lanka. Currently, it is home to around 55 girls from three to 18 years of age.

I cannot agree with the level of cleanliness and conditions of the bathrooms and toilets these kids use so I want to renovate their bathrooms to be cleaner and hygienic. Once the renovations have been completed, I plan to hold training sessions for the children and staff at the home to teach them good bathroom habits and how to maintain the hygiene of the bathrooms. Anyone who is willing to contribute can get in touch with me via social media or e-mail at kmmarasi@uwaterloo.ca.

Q: You've done a lot of volunteering work in Canada, how has this opportunity helped you do more and help more people across the country?

A: I was around 14 years old when I started volunteering in nursing homes in Canada. Since then, it has only encouraged me to do more. It is great to see that something that I do can make a huge difference in another person's life. I used to help older adults with arts and crafts in these nursing homes. They really enjoyed these sessions and all I could think was, 'I wonder if older adults in nursing homes in Sri Lanka ever get to do anything fun like this?' It's not only fun; arts also promotes people's mental health. Last year when I visited Sri Lanka, we held a painting session at a nursing home and the residents really enjoyed it. I wish I could do that more, perhaps when I'm in Sri Lanka again, but I encourage people to do things like that. It only takes a trip to a nursing home with a bunch of friends or family and spending some time with older adults.

Starting volunteering at a young age also helped shape my education. I chose gerontology as my specialisation because I had experience working with older adults and wanted to learn more about helping them live a healthy life through program and policy changes in Canada. Everything I have done in gerontology, research projects, papers I have published, all of that actually happened because I was a volunteer at such a young age. Being exposed to helping those in need as a volunteer pushed me to take further steps to help them in an even more effective way such as through research and health policy which can have a country-wide effect.

Q: What would you say is the most important lesson learnt out of all of it?

A: Helping those in need is the greatest thing that you can do. There's no way that you can go wrong with helping those in need. You don't have to have a lot of money to help another living being, especially in Sri Lanka. Look around. You will spot five to six hungry stray animals walking around on the streets. You just have to look around to find opportunities to help.

Q: What is one message that you would want to share with all the young girls aspiring to build a career such as yours?

A: Be truthful to yourself. Find out what works for you and not for anyone else. It is okay to take time to figure that out. Don't be afraid to ask yourself questions like 'What do I really want to do?' 'Why am I pursuing what I am pursuing?' 'Is it because I want to prove to people that I can do something?' (which shouldn't be a reason), 'How do I want to contribute to society?'

It is scary to challenge yourself with these questions because it might take you to a place where you have no answers, but that's what will help you find what works for you. Pursuing what you have a passion for will let you enjoy your job. Don't be afraid to challenge yourself.

Q: What would you say is the key to self-empowerment and success?

A: What I said above. You must find what works for you and not for anyone else and that will help you take control of your own life. It's not as easy as it sounds. Figuring that out can take time, a lot of energy, support from parents and friends, and maybe sometimes you won't have their support, but pursuing something that you are passionate about will work in your favour in the long run. Once you have figured out what you want, work hard at it; that will take you to success.