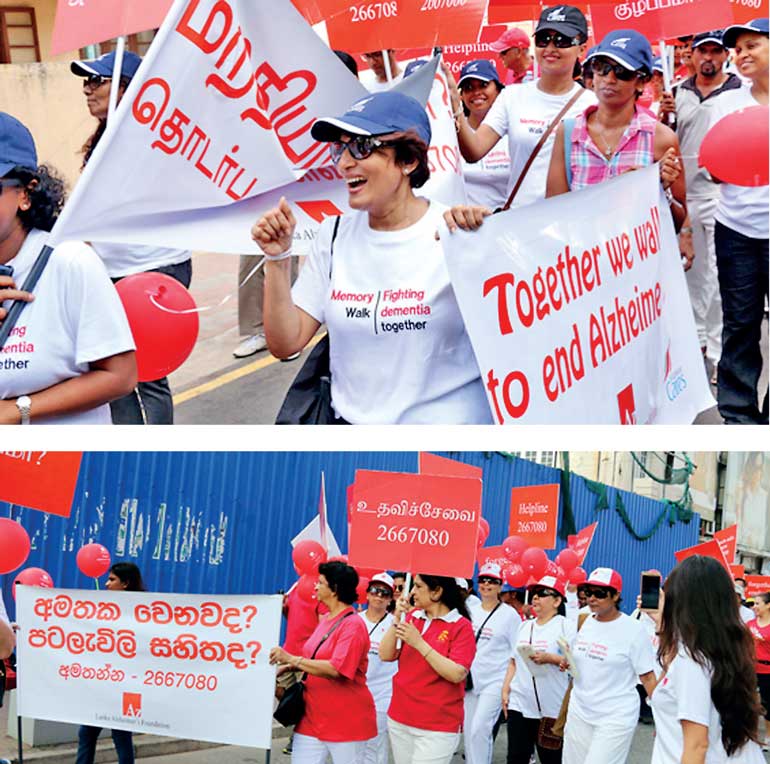 As the Lanka Alzheimer's Foundation prepares for their annual walk on 30 September, 'Remember Me' is their current message to all. September – declared as World Alzheimer's Month unfolds many events to create awareness in Sri Lanka. Reaching out to the community is a part of the Foundation's vision rendering many services to those persons with Dementia and related diseases, Alzheimer's being the commonest.

Once again, the Cinnamon Grand will lend their hospitality to those who are ready to support the cause. This year, participants will be encouraged to purchase raffle tickets at the venue only and the raffle draw will be held at the end of the walk. This way, there will be many fortunate 'walkers' who can be optimistic about winning something! Elders will be escorted in a luxury bus along the route of the walk so that they have an outing as well! This event wouldn't be on the cards if not for the regular sponsors like Cinnamon Grand, Keells Foods, Walkers Transport, PET Packaging, Nestle Lanka Limited, Cargills, Medi Calls and Photographer Wasantha all of who have believed in the work of the Foundation and been there since 14 years to date! Beautiful souvenirs of the Foundation will also be on sale where the umbrellas would definitely come in useful should there be inclement weather. Participants are expected to be there by 8 a.m. after which the walk would commence. A 5 km trek is yours to enjoy along the Galle Road, up Dharmapala Mawatha, turning into Duplication Road all the way to the Colpetty junction, back on to the Galle Road before heading back to the Cinnamon Grand Hotel. Refreshments before and after the walk will be available for all participants who brave the weather should it rain or shine!

For those interested in listening to Dr. Shehan Williams, Professor in Psychiatry and Consultant Psychiatrist Faculty of Medicine, University of Kelaniya, MBBS, MPhil, MD (Psychiatry), MRCPsych speak on 'Tea and Cognition – More than a Storm in a Teacup', do register with the Foundation's hot line 2667080 and swing by the Lanka Alzheimer's Foundation located at 110 Ketawalamulla Lane, Maradana at 6:30 p.m. on 21 September– and acknowledge World Alzheimer's Day! Entrance is free and open to all.