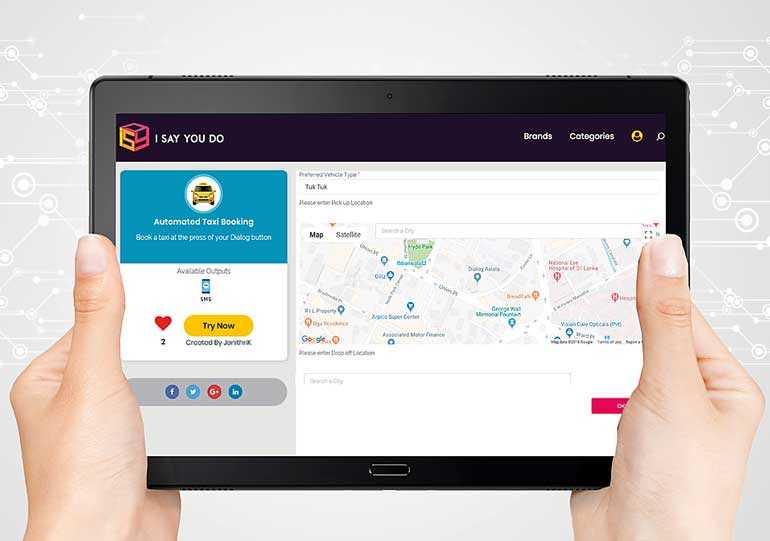 IdeaMart announced the launch of its latest innovative product, 'ISayYouDo', a web platform that assists its users in managing, personalising and automating their daily tasks, lifestyle choices, access to relevant information, and entertainment options. This revolutionary platform is the first of its kind to combine web/digital, telco, and Internet of Things (IoT) services.

The ISayYouDo web portal, accessible at www.isayyoudo.io, allows users to browse a variety of widgets and personalise choices to fit their requirements on any of the services and the multitude of automated tasks the web platform offers. Such personalised services include receiving SMS alerts whenever news channels post an article about any topic or keyword of the user's choice, enabling Facebook posts to be automatically posted on the user's Twitter account, receiving weather forecasts at a specific time of the day and even having ISayYouDo, automatically hire a taxi service of the user's choice. These along with various other personalised services in entertainment, deals and offers, health and fitness, sports and education are offered through the web platform.

A variety of services from favourite brands, franchises, online and offline communication channels, and web services can be found on the ISayYouDo web platform – where customised automation of daily tasks and lifestyle necessities are just a click away.

Commenting on the launch of the platform, Dialog Axiata PLC Vice President – Digital Services Fariq Cader stated, "The ISayYouDo ecosystem was incepted with the end-goal of combining numerous verticals in order to provide a unified experience to its users. With the ability to automate any task along with the option of developing new services, the possibilities for ISayYouDo are endless."

IdeaMart, the largest Telco Developer Ecosystem Program, manages, evangelizes and maintains ISayYouDo by providing a website where end-consumers can discover, and subscribe to ISayYouDo's services. Additionally, the Developer Portal facilitates the creation of new services which can be monetised and published on the ISayYouDo platform. Visit www.isayyoudo.io for more information.