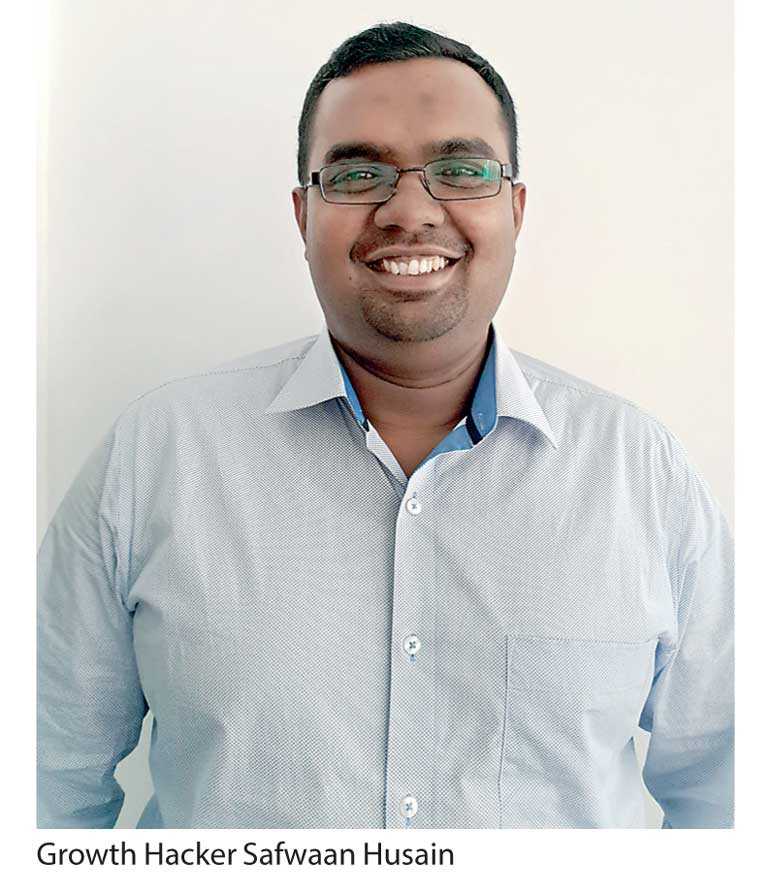 Glitteray Ltd., which owns and operates an online jewellery retailing platform, glitteray.com, has raised a series of funding through a Sri Lankan venture capital firm. Glitteray is looking to advance its operations using technology and elevate its user experience. Daily FT met with Safwaan Husain, who joined Glitteray in an interesting job role as a 'Growth Hacker'. Following are excerpts of the interview:
Q: Share your background

with us.
A: My academic background is in software engineering. I graduated with first class honours from Sheffield Hallam University with a Bsc in Information Technology (Software Engineering). Although my batchmates looked for opportunities as programmers and software engineers, I was not sure if that's what I wanted to do. Back then, I did have a flare for marketing and enjoyed the few modules I did on marketing.

I ended up getting my big break in one of the world's best advertising agencies. I thoroughly enjoyed by tenure at Mindshare UK, handling clients such as Unilever, Nestle, Land Rover…. I learnt a lot about SEO and digital marketing in general during this time.

This exposure helped me setup the digital marketing division at GroupM Sri Lanka. During a time when digital marketing was little known in Sri Lanka, I had the opportunity to become an evangelist for digital media within the industry and internally; eventually, converting traditional advertisers into digital savvy brands.
Q: What will be your immediate priority? How will your strategy differ from the one that was in place?
A: My immediate priority is to get the house in order at Glitteray, ensure that the web assets are all optimised to drive our objectives. Then to start off to find out the best digital strategy for Glitteray. We will be looking at different media vehicles to drive our business objectives.

We are launching a full optimised website with advanced visuals, enhanced user experience with relevant content. We will be looking to revolutionise the whole jewellery industry and the way Sri Lankans purchase jewellery.
Q: What are the challenges you face as a purely online jewellery store?
A: Jewellery is not a typical product one would buy online. We all have bought clothes, techie gadgets and may be food but never jewellery. The consideration phase of the decision making purchase is very important and the products are slightly more expensive. Therefore, converting and interested customer to a sale is very important. Further, jewellery is purchased only at certain special moments or occasions. Being at the top of their minds at the right time is also a big challenge. Therefore, we intend to understand the consumer and the purchase journey better and adapt accordingly.
Q: What made you make a big move?
A: I've been in the digital marketing industry for eight years now, and I've had the opportunity to work for some of Sri Lanka's largest marking organisations and learn alongside them. I saw a lot of potential in the E-Commerce sector and as saw it as the industry for tomorrow. Therefore I decided to move to a young and nimble company like Glitteray who has big dreams and aspirations. I believe, I can add a lot of value to a business such as Glitteray with the skillsets I bring to the table. Plus, I also believe that it's a great opportunity to sharpen my entrepreneurial and management skills.
Q: What are your immediate plans for Glitteray?
A: My immediate plans will be to help grow Glitteray as a business and as a brand. As mentioned, we will be looking to explore digital media and other media options to establish Glitteray as a household brand. Furthermore, we have plans to expand into other countries as well. All in all we are in for some interesting times.