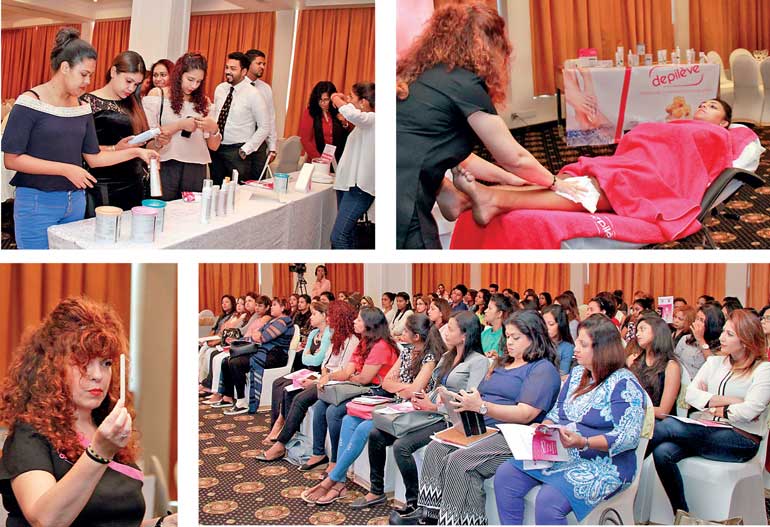 Depilève, the world's brand leader in professional waxing systems, conducted their Speed Waxing Academy in Sri Lanka on 13 September at The Kingsbury Hotel for 100 local beauticians.

During the training session, speed waxing, new application and epilating techniques as well as the importance of use of pre and post waxing skincare products was communicated to the audience. The beauticians in attendance showed a lot of interest in the newly launched 3G Film Wax which is the product of choice for intimate and sensitive areas. This strip-less wax had the outstanding feature of having an extremely good grip on the hair strand for easy and effective removal.

"As the most trusted supply chain partner, the mission of the company is not to introduce different types of cosmetics products, but to support the industry with the right education while providing world recognised premium brands to uplift the lifestyle of the Sri Lankan consumer. This special waxing workshop that was well attended successfully conducted and much appreciated by the participants, was conducted by Esther Mendes, the Global Business Head and Paola Frizzarin, the Global Trainer from Depilève's head office in Spain," the spokesperson for Cosmotech, stated.

The program, which began at 9:30 a.m., ended up successfully after the evening tea break. An extremely happy group of practicing beauticians stated that they were really privileged undergo an orientation programme about the upgraded products of Depilève.

Depilève is the gold standard in professional waxing systems, distributed in 91 countries. Depilève believes that a comprehensive professional waxing system should cover a wide range of cosmetic products for both before and after waxing that prepare and treat the skin to reveal its beauty after hair removal treatment.

Depilève is one among many high quality brands represented by Cosmotech Ltd. and is a fully owned subsidiary of the Mega Pharma Group of Companies established in 1995. Cosmotech has been careful in selecting world-renowned brands that deliver beyond customer expectations. Their product portfolio extends across hair care, facial care, body care, and colour cosmetics thereby bringing out a strong and confident personality in you as a practicing professional beautician.