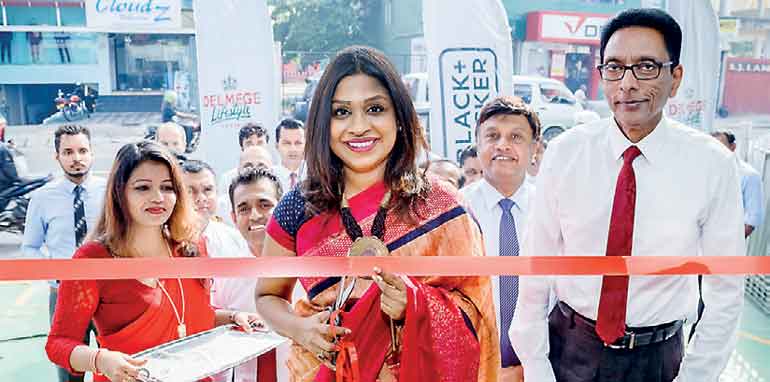 Vallibel One CEO and Delmege Group Director Dinusha Bhakshi, Delmege Interior CEO/Director Nilantha Fernando, Deputy CEO Aendra Bandaranaike and Delmege DCP General Manager R A D Karunajeewa being present at the opening
Delmege Group of Companies recently unveiled 'Delmege Lifestyle,' an experience store that offers lifestyle solutions on par with international standards, located at No. 230, Galle Road, Mt. Lavinia.

The opening ceremony was attended by

Vallibel One CEO and Delmege Director Dinusha Bhakshi, Delmege Director and Delmege Interior CEO Nilantha Fernando, Delmege Construction Products General Manager R.A.D. Karunajeewa and the senior management.

The store offers from interior solutions to home appliances, thus encompassing all that is required to enhance lifestyles. Delmege Interior in known to be a leading marketer of international brands and provider of interior solutions to from mid-scale to mega projects.

The brands represented by Delmege Interior comprises Shaw, Brintons, Heritage, Interface, Quick Step, and Franke. All these brands and products can be experienced at the store. Besides expert consultancy is provided free of charge to choose the most appropriate interior products such as carpets, vinyl, bamboo, cork, decking, laminate flooring and office furniture.

A range of Dux hot water pipes and fittings are also displayed for consumer experience along with Joven – instant water heaters, Alucoworld – aluminum composite panels (cladding), Usaton – water geysers, Havells – water geysers, and Standard – Fans.

The range of home appliances available in the store includes Black + Decker, the world's no 1 home solution provider, and India's no. 1 home appliance brand, Ohms, with which consumers enjoy the meaning of total home solutions with quality and glamour. Warranty between one to two years is given for these brands and the special customer rewards scheme includes discounts up to 30% for different products at present.