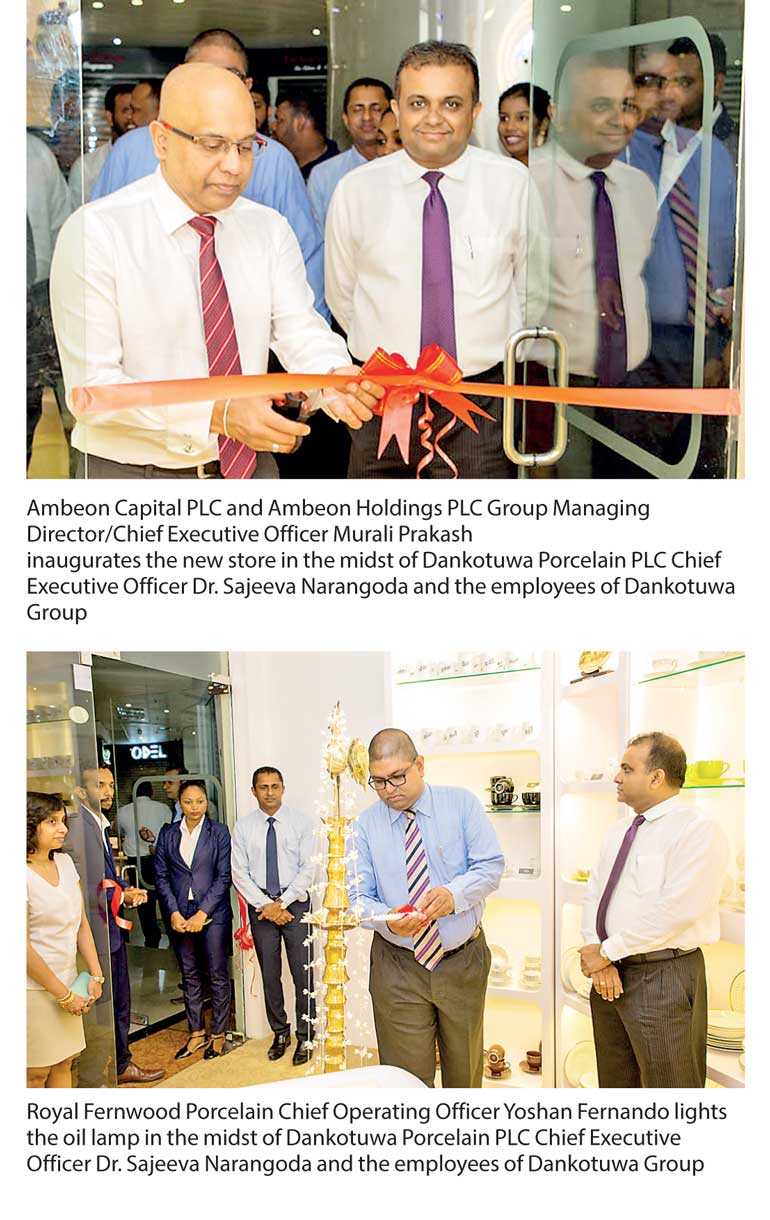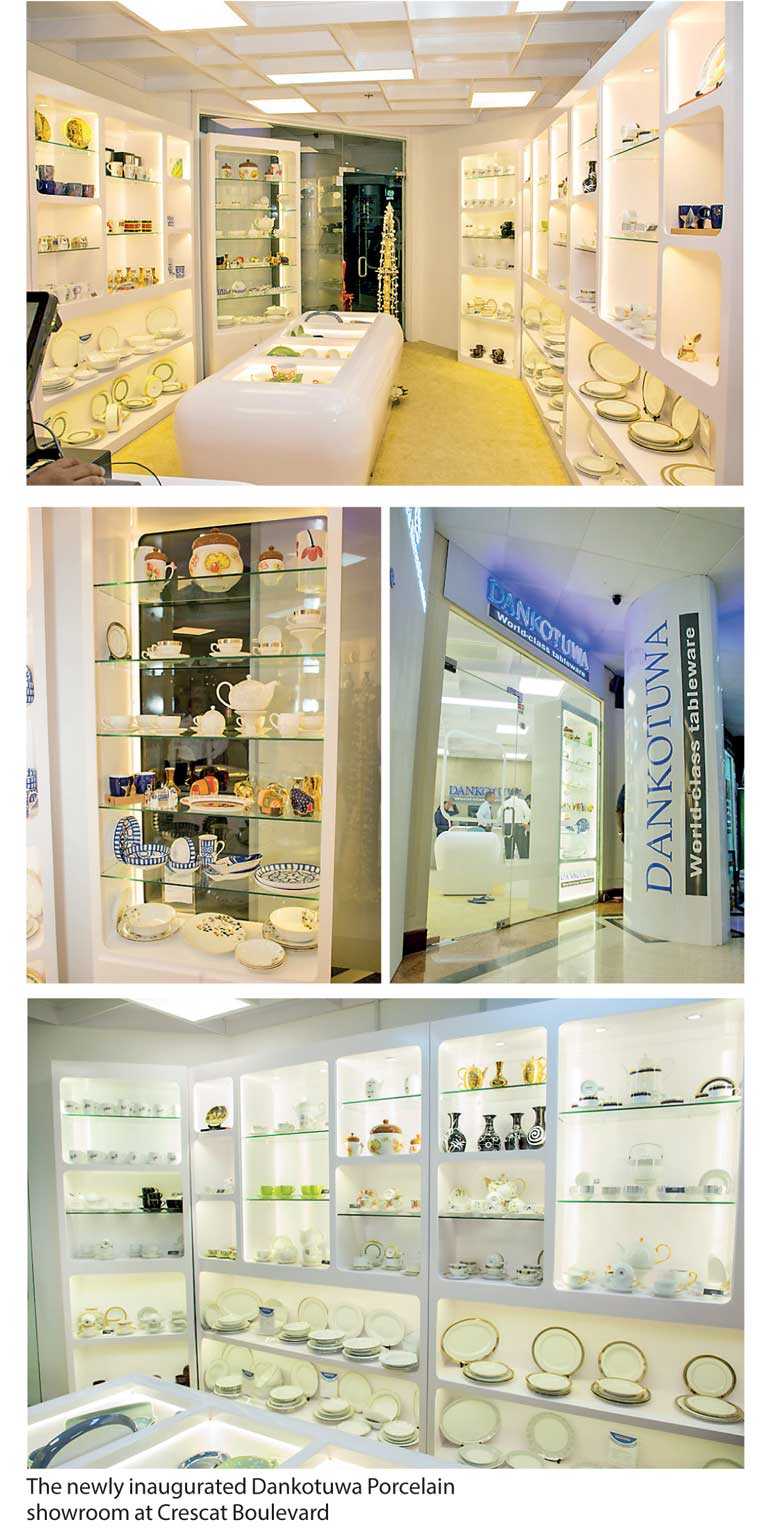 Exciting collection of giftware and nontraditional sets now on display
Offers an upscale shopping atmosphere with products ideal for gifting
Showroom to house a mix of local and international/export designs
Coloured porcelain from Royal Fernwood also on display
Dankotuwa Porcelain PLC, renowned for its luxurious and elegant porcelain tableware, unveiled its latest showroom, in the upmarket shopping complex of Crescat Boulevard, Colombo 03.

Located within the heart of Colombo, the Crescat Boulevard is known to house world-renown brands and is regularly patronised by customers who are keen on an international shopping experience. Dankotuwa Porcelain's all new luxurious store is said to provide an upscale shopping atmosphere and unparalleled service unlike any other within the country.

The all-new Dankotuwa Porcelain Showroom at Crescat Boulevard displays the very best of Dankotuwa Porcelain's fine Sri Lankan tableware and giftware, housing an array of modern and elegant products, thus giving consumers a hands-on opportunity to experience world-class tableware exclusively from Dankotuwa Porcelain. In addition to this, the Showroom also houses exclusive collection of giftware including porcelain elephants, vases and plaques, as well as specialised hand painted porcelain items such as jewellery boxes and much, much more. This makes it the ideal store for purchasing unique products to serve as one-of-a-kind gifts.

Speaking at the inauguration event, the Chief Guest Ambeon Capital PLC and Ambeon Holdings PLC Group Managing Director/Chief Executive Officer Murali Prakash stated, "Sri Lanka's iconic porcelain brand Dankotuwa Porcelain now aims to give every Sri Lankan consumer a memorable retail experience when shopping for high-quality, reliable porcelain, satisfying their various tableware needs. By transforming the brand and expanding Dankotuwa Porcelain's retail distribution, the Ambeon Group, of which Dankotuwa Porcelain is a part, intends to increase customer access to a luxurious shopping experience, which is also uniquely Sri Lankan, thereby helping to inspire a higher quality of life."

This new store will also offer a range of products from Royal Fernwood – a subsidiary of Dankotwa Porcelain – that is renown in Sri Lanka for quality colour, decorated porcelain tableware and figurine ornaments. Royal Fernwood Porcelain is a well-respected brand that has made significant headway in international markets and is more youthful and vibrant than Dankotuwa Porcelain, which is a much more premium offering known worldwide for its remarkable whiteness that radiates a sense of pristine beauty.

"With the launch of the Dankotuwa Porcelain Showroom at Crescat Boulevard, Sri Lankans now have access to a fantastic range of inspiring options for gifting purposes," stated Dankotuwa Porcelain PLC Chief Executive Officer Dr. Sajeeva Narangoda.

"This range of products, which consists of a combination of both local and international/export designs as well as a smaller composition of sets that make it ideal for gifting, coupled with a comprehensive design service, allows Dankotuwa Porcelain to promise a retail experience like never before. I am pleased to personally invite all our loyal customers to visit our store, and experience for themselves the luxuriousness of porcelain giftware, presented to them on a platter in a truly international setting," added Dr. Narangoda.

The latest Dankotuwa Porcelain Showroom at Crescat Boulevard brings to life the art of gifting – blending design excellence with modern thinking so as to deliver a delightful shopping experience. Over the years, Dankotuwa Porcelain has designed, developed and mastered the art of producing innovative world-class tableware. The Company is now well poised to augment its high-quality porcelain offerings by venturing into the giftware space. All these, together with a focus on creativity, design and product quality, have allowed the Company to revolutionise the retail space in Sri Lanka utilising its best-in-class sensibilities.

Dankotuwa Porcelain PLC, a subsidiary of Ambeon Holdings PLC commenced its commercial operations in 1984. From superior glazing technologies, personalized designs and endless options, the company continues to create timeless and modern collection of porcelainware that expresses exclusive dining experience for every occasion. In addition to the Crescat showroom, customers could now purchase Dankotuwa Porcelain from their Signature showroom located down Guilford Crescent as well as other showrooms located at Kirulapone, Union Place and Negombo.

An important feature/benefit of Dankotuwa Porcelain tableware is the fact that it is safe for all aspects of dining as the raw materials used for white products are lead and cadmium safe and does not contain bone ash. The company has the unparalleled distinction of being the first tableware manufacturer in Sri Lanka to obtain the relevant ISO certification, thus maintaining high quality standards where products can be used in a microwave or a dishwasher. Voted as one of Sri Lanka's Super Brands, recipient of the Presidential Export Awards and nominated as Most Outstanding Exporter (NCE) on several occasions, the elegance, sophistication and superiority of Dankotuwa Porcelain has earned for the company a reputation for being the best in Asia, Europe and the US. Both Dankotuwa Porcelain PLC and Royal Fernwood Porcelain Ltd. are also reputed manufacturers of porcelain tableware and gift items for global giants such as Oneida, Macy's, Lenox, John Lewis, Crate & Barrel, Megros, Jasanmal, Ralph Lauren, the Walt Disney Company and Dilmah. Within the milieu of growth, the Group continues to progress in the areas of Social Compliance Initiative and Monitoring Systems, which demonstrates its commitment towards maintaining overall social standards while conducting its business.