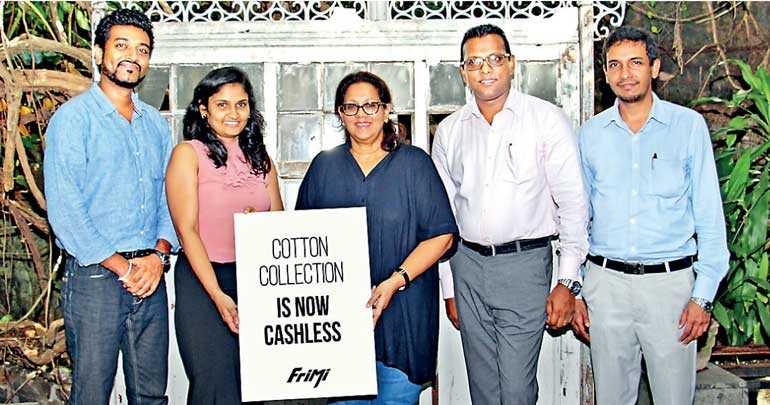 Cotton Collection recently partnered with the popular mobile wallet app FriMi powered by

Nation's Trust Bank, becoming the first fashion retailer in the country to take its first step towards a cashless future.

The secret to Cotton Collection and in particular their own label COCO's success has largely been driven by its ability to keep up with rapidly changing fashion trends and showcase them in its collections. From the very beginning, they found a significant gap in the market that few clothing brands had effectively addressed. This was to keep pace with latest fashion trends, but offer clothing collections that are a combination of high quality and yet, are affordable.

The brand keeps a close watch on how fashion is changing and evolving every day across the world and creates responsible passion for fashion amongst a broad spectrum of consumers, spread across different cultures and age groups. They applied this effective strategy to consumer retail trends and with cash falling out of fashion partnered with FriMi to offer their customers a convenient and seamless, shopping experience.

Digital payments are increasingly replacing cash payments for various reasons, but global studies indicate that convenience is the key factor for this. From the comfort of the home or in the busy atmosphere of an office it can take just a few minutes to make a digital payment, check your e-statement and supervise transactions. For many people, phones are already replacing their wallets. It also seems safer than walking around with a bulging wallet full of cash and it makes store checkouts that much faster. Through digital payment, it is easier to track one's spending than when using cash. At the end of the month, there will certainly be no hidden surprises as to where and when you spent your money.

FriMi is a fast and easy to use digital solution to earn, spend, shop and save. It puts you in control of all your financial decisions and really does liberate your lifestyle by allowing you to the freedom to lend, borrow or pay for anything, anywhere, anytime. FriMi can manage everything for you, from the convenience of online banking, shopping, and doing transactions to keeping you posted on customised offers from your favourite brands, like Cotton Collection.

It is really fast. Any action can be completed within a few seconds (depending on your data connection strength) it's safe as your account protected with a PIN and biometrics and there are no hidden transaction fees. You just need to register and download the app at www.frimi.lk

For over 27 years Cotton Collection has catered to an ever increasing, extremely loyal customer base offering them the latest in trend, high quality affordable fashion matched with exceptional service. Their partnership with FriMi means more of this and more freedom. This freedom is good for the consumer, good for business, and good for the environment, which is the essential trifecta for continued success.