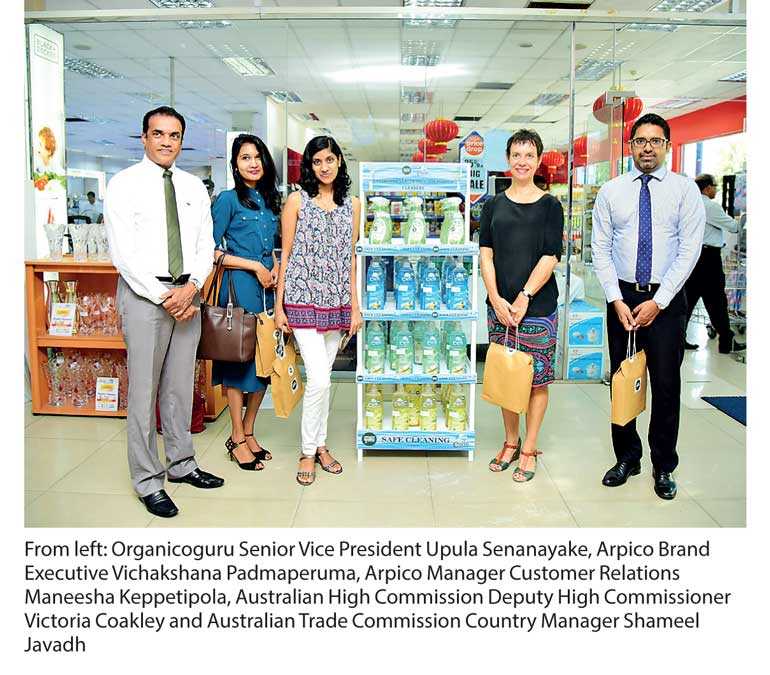 On a request from its customer Arpico Supercentre, Organicoguru.com the pioneer earth friendly functional food entity in Sri Lanka introduces through its offices in Australia, 100% plant ingredient based, synthetic chemical free detergents from Australia's No. 1 environmental brand 'Earth Choice' by Natures Organics Australia at Arpico Supercentres.

This is the first time such nature friendly household cleansing products is made available to Sri Lankan households and Arpico Supercentres is the very first supermarket to carry these products in their shelves. Earth Choice has been available to the public at Arpico Supercentre's flagship outlet at Hyde Park Corner from 3 August onwards.

Natures Organics Australia is a company with a longstanding commitment to developing and manufacturing high performance products, which result in having the lowest possible negative impact on the health of our environment. It has also long been committed to producing products utilising 100% recycled packaging materials at every opportunity.

Natures Organics motivation is based on a philosophy of creating environmentally responsible products, of the best quality. It does this not only to make its products attractive for safety conscious consumers, but also to reward and provide incentive for people to do the right thing; to protect our planet and make the important shift to more eco-sensitive alternatives.

This philosophy aligns perfectly with the primary purpose of Organicoguru.com which is to promote optimal health and wellbeing of consumers while helping them reduce the risk of disease. Organicoguru.com firmly believes that we must protect our Earth as she is all that we will ever leave behind for our children and future generations hence are pleased to promote the idea of Arpico Supermarkets to introduce consumer safe, synthetic chemical free 'Earths Choice' Multi-Purpose Spray, Floor and Surface Cleaner, Dishwash Liquid, and Laundry Liquid, through Arpico Supercentres.