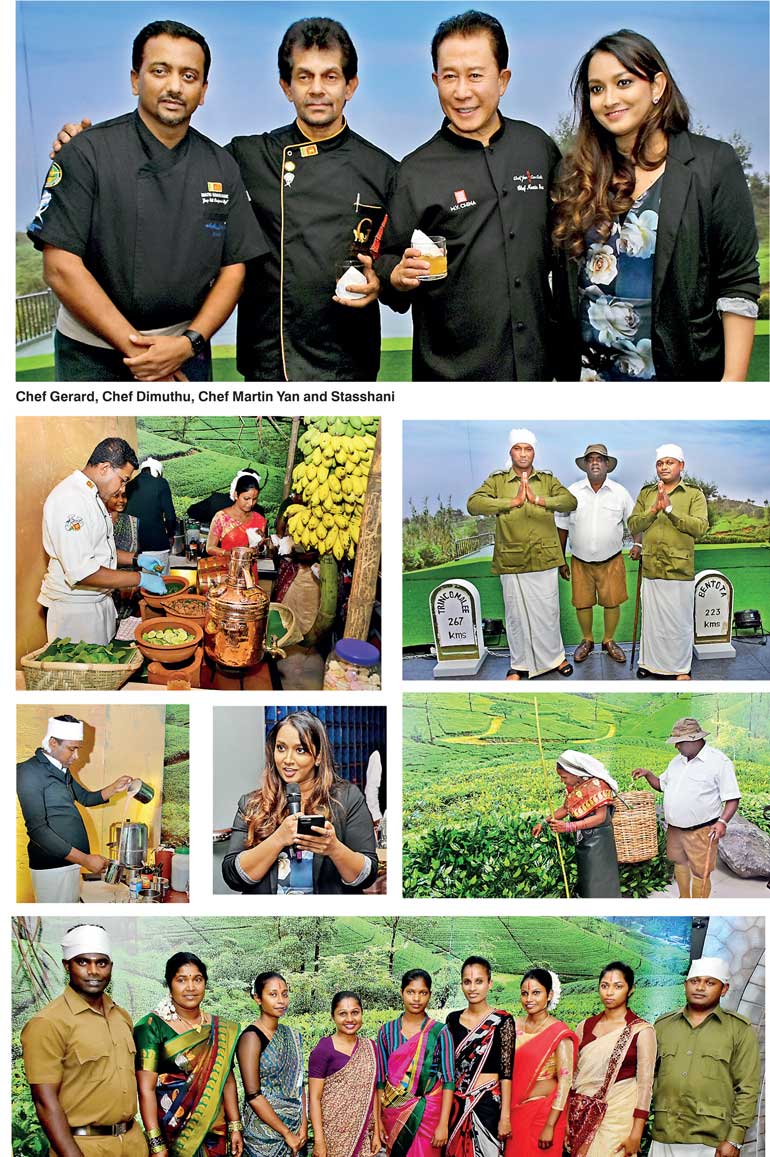 Celebrating the perennial connection between Sri Lanka and Ceylon Tea dating back to 150 years, premier hospitality chain Aitken Spence Hotels hosted a unique concept event on Thursday, 14 September at its Vauxhall Street head office, with over 300 guests in attendance.

Completely transforming the corporate atmosphere, Aitken Spence Hotels in its customary innovative spirit brought Nuwara Eliya to Colombo, creating an epic journey to the hills complete with sights, sounds and views. Invitees started their experience with a rail ride from Fort to Nanu Oya, arriving at a beautiful walkway through tea plantations leading to the entrance of Heritance Tea Factory, all whilst in Colombo 2.

Signature brews specially made to be blended with curated tea infused concoctions and delightful sweet and savory nibbles with a twist to truly Sri Lankan flavours were created by Aitken Spence Hotels' talented and award winning culinary teams – led by F&B Corporate Director two-Michelin star chef Bjorn Van Der Host and Culinary Brand Ambassador and Culinary Olympics gold medalist Chef Dimuthu Kumarasinghe – which added to the overall experience.

In celebrating the legacy that started with James Taylor and his experiment along the margins of his coffee plantation divisional roads, the guests were treated to a surprise entrance by a good ol' fashion bombaimottai man, doing the rounds with his tin box, drawing memories of an era gone by.

The event also acted as a platform for the Group to thank its valued stakeholders for their unstinted support during the past years whilst looking forward for a future that will mirror past successes combined with new milestones and achievements.

Speaking at the event on behalf of the management, Aitken Spence PLC Director and Aitken Spence Hotel Managements Ltd. Chairperson Stasshani Jayawardena noted that as a truly Sri Lankan hospitality brand that looks at carrying the virtues of Sri Lankan culture and its interlaced values to the world through its brands of hotels, the momentous occasion of Ceylon Tea's success through 150 glorious years was one well worth celebrating.

"While tea is part and parcel of Sri Lanka and its identity in the world, it has influenced our business as well. One of our premier hotels, Heritance Tea Factory, is a unique property that is converted from a 19th century tea factory constructed in the days of a British Raj. The hotel has been featured in many local and international forums as a unique holiday resort and we are very proud of having such a property, which was the brainchild of G.C. Wickremasinghe as part of our portfolio. As such, it gave us an impetus to share in this national celebration of its legendary journey in tea," Jayawardena said.

The eminent guest list included ambassadors, personnel from the Tourism Board and Ministry, heads of banks, celebrity chefs such as Chef Martin Yan of 'Yan Can Cook' fame, members from the Emirates Culinary Academy, longstanding Diamond Club members, influencers, corporate and sales partners, guests and media. Upon their departure, each guest was appreciated with a special package which included home-made tea infused jams, tea-infused chocolates and Stassen tea.