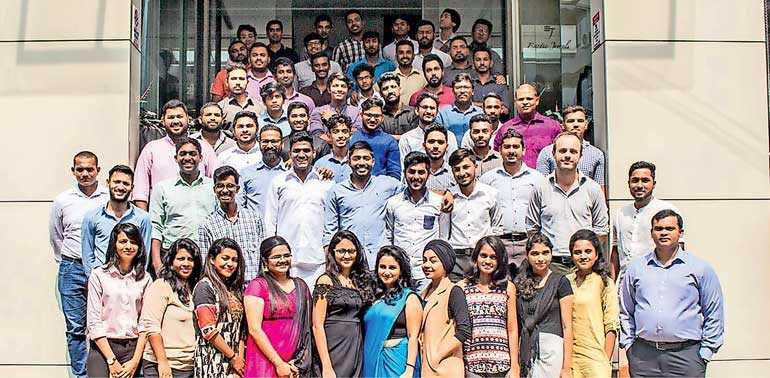 The team managing the 'Daraz Pola'
Changing the game for customers in terms of an online shopping experience, Daraz.lk has launched the 'Daraz Pola' to make the lives of busy professionals and homemakers alike simpler, by being the most convenient online corner store with all daily essentials available, with the added advantage of having them delivered straight to their doorstep at no extra cost.

The Daraz Pola running till 5 June has a host of big brands on board,such as Dettol, Anchor, MySpice, Harpic, Lipton, Araliya Rice, Huggies, Surf Excel, & Horlicks, thereby offering a wide assortment of specifically added products tailored to fit every Sri Lankan's household needs.These products will be available with up to 35% off, plus further discounts of up to 5% off on all purchases via a Visa or MasterCard credit or debit card. Additionally, all orders will be delivered right to a customer's doorstep, with no added delivery charge.

Furthermore, customers can avail themselves of exclusive discounts when they shop on the Daraz App, in locations such as Kandy, Colombo, Kalutara and Gampaha, with all orders placed before 6PM at those locations receiving free next day delivery. As part of the new Hub launch inKandy, Gampaha and Panadura, customers will also receive a special discount of Rs.500 off on their first purchase through the app when they use the codes KANDY500, GAMPAHA500 and PANADURA500 respectively.

A spokesperson for Daraz.lk said:"We truly believe that e-commerce has the potential to change lives for the better, with maximum convenience offered to the purchaser to own the products and brands they desire to possess. Therefore the 'Daraz Pola' offers a range of savings forsome of the most popular brands, just at the click of a button and from the comfort of their couch."

Having expanded internationally at an impressive rate within a short period of time, and with their ongoing investment in technology, focus on growth andthe easyaccessibility offered to purchase top brands, Daraz has built a strong position in eachof the markets they operate in. This is also true of its branch in Sri Lanka, which has its own set of success stories in making waves in the e-commerce industry in the country, with a host of innovative strategies to bring the best brands in the market to their customers' fingertips.The companyis also in the process of expanding their reach to all regions of the country by opening 10 new hubs and investing in warehouse infrastructure.