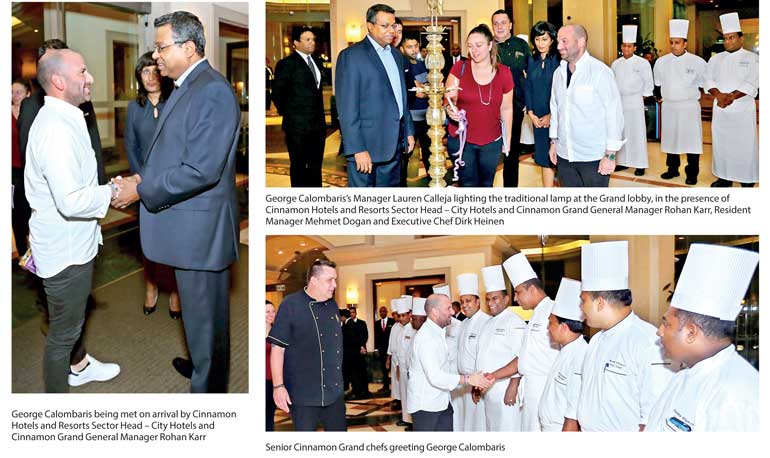 Celebrity TV personality, restaurateur and judge of 'MasterChef Australia' George Calombaris arrived at Cinnamon Grand in the early hours on Wednesday, 7 May to begin his four-day tour in Sri Lanka.

He was greeted by Cinnamon Hotels and Resorts Sector Head – City Hotels and Cinnamon Grand General Manager Rohan Karr along with Resident Manager Mehmet Dogan, Executive Chef Dirk Heinen and Head of Marketing Communications – City Hotels Tharika Goonathilake. The hotel's kitchen brigade led by the senior chefs was also present to honour him in true Grand spirit.

Calombaris is here at the invitation of Cinnamon Life, Colombo's premier lifestyle mixed development and will conduct a series of interactive programs in the next few days, giving his loyal fans in Sri Lanka a rare chance to meet him and savour his culinary masterpieces. He will present two curated dinners at the Cinnamon Grand on 9 and 10 June (Friday and Saturday), a masterclass at Cinnamon Lakeside on Saturday, 10 June, be part of a charity auction and a decadent High Tea on Sunday 11 June at the Grand.