From left: Manager Ajith Kumara, Director Saurabh Udeshi, Managing Director Naishadh Udeshi, Manager Jeromi Jayawardane and Branch Manager Warren Hameed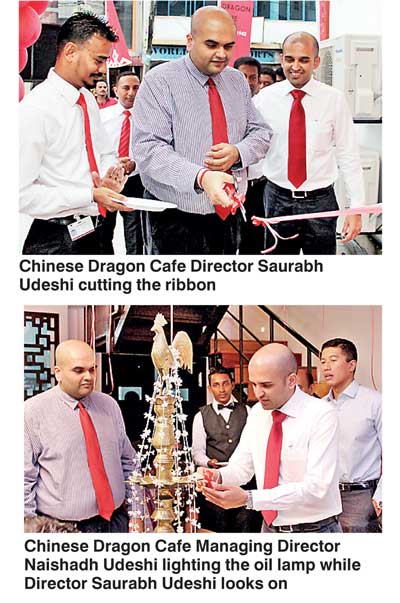 Chinese Dragon Café the pioneering restaurant in Sri Lanka's Chinese restaurant sphere opens its newest branch at 203A, Galle Road, Ratmalana just metres away from the Mount Lavinia police station. The spacious new branch with great ambiance and newest cuisines of Chinese, local, Mongolian and barbeque is all set to provide an unforgettable experience for people who yearn for varied tastes.

This newest branch at Ratmalana will add muscle to the Chinese Dragon Café branch network consisting Bambalapitiya, Rajagiriya, Colombo Fort and Wattala outlets that cater to customers with the theme, 'Meal to remember'.

A native Chinese couple who came to our country in 1942 started Chinese Dragon Café restaurant in Bambalapitiya. Conventional Chinese cuisine provided by the restaurant to locals became immensely popular among them. For 73 years Chinese Dragon café has been catering to Sri Lankan consumers with over 300 delicious food recipes.

Currently going beyond the purviews of traditional Chinese cuisine, the Chinese Dragon Café restaurant chain has adopted the theme 'Meal to Remember' to serve its customers with mouth watering dishes of Hot and spicy seafood soup (Tom Yum), Hot butter cuttlefish, Seafood fried rice, Chilli crab, Manchurian chicken, Kan Kung with garlic as well as localised Chinese food dishes with unique tastes.

Chinese Dragon Café Managing Director Naishadh Udeshi said, "We as the foremost Chinese restaurant in the country have been in the sphere for 73 years having a great rapport with our customers. Thus we will strive to serve our customers with a meal to remember. Another ambition of ours is to provide real Chinese food for all in the society at affordable prices. We became the most preferred Chinese restaurant for people in the metro and maintained that position for decades because of the quality of our food. Experienced cooks and employees working with us for over 30 years are one of major forces behind our success."

He added, "With the change of lifestyles around the world over the decades, food habits of people have too changed. Hence Chinese food as well as food in the western and eastern world embraced new cuisines. Our Chinese Dragon Cafe restaurant evolved perfectly with this change. Thus we in addition to providing traditional Chinese food also provide opportunity for our customers to sooth their taste buds with the newest Chinese, western and eastern cuisines."

The ambiance of Chinese Dragon Café plays a primary role in attracting families, groups of friends and foreigners to patronise its restaurants. Exceptional service provided by experienced and friendly staff too is significant.

Services offered to customers by Chinese Dragon Café restaurants include delivery of food, providing food for households and offices, arranging office meetings, providing customers the facility to order food online via www.chinesedragoncafe.com website and its Facebook page and catering to functions and get-togethers.

In the vicinity a Chinese Dragon Café restaurant is situated food can be delivered within 45 minutes. In addition to Chinese food, tasty Sri Lankan, Mongolian, Thai and barbecue food is provided by Chinese Dragon Café at affordable prices for functions and get-togethers.