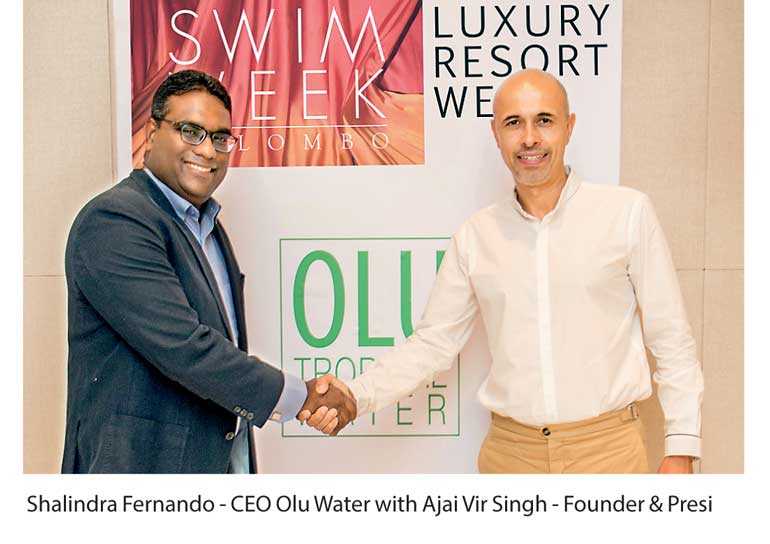 OLU Tropical Water is once again the title partner for the fourth consecutive year for 'Swim Week Colombo – Luxury Resort Wear Edition', due to be held from 4-7 July, at the Shangri-La Hotel Colombo.

The runway shows planned for this season will feature the latest collections in luxury resort-wear and swimwear designed by five important international designer swimwear brands Aviva, Heidi Klein Swim, We Are Handsome, Hot-As-Hell and Zalando. Along with 12 leading Sri Lankan designers and swimwear brands Pigeon Island, Conscience, Maus, Meraki, Sonali Dharmawardena, Charini Suriyage, Aqua Island, Sea Sand, La Pard, Rumpunch and Linea Aqua.

OLU is Sri Lanka's only locally bottled natural mineral water, originating 4,300 feet above sea level, from the cloud forests of Sri Lanka. It is gently purified and filtered through the minerals of the earth and extracted from the bedrock itself.

OLU Natural Mineral Water is exceptional due to the purity of its source. It is the only certified natural mineral water source in Sri Lanka. The cool air in the cloud forests of Kotagala naturally condenses and filters its way through layers of natural rock and mineral formations, acting as a purifying filter in the way nature intended it to be.

Untouched by man and free from pollution, it accumulates in an aquifer which is more than 250 feet below. Using deep well technology this water is drawn and bottled immediately at source to ensure quality and then distributed island wide to give consumers the privilege of consuming, pure, great tasting natural mineral water.

OLU is now championing the use of glass as a packaging material due to its reusable nature and greater sustainability credentials.

OLU Tropical water is available at leading hotels, restaurants and supermarkets.