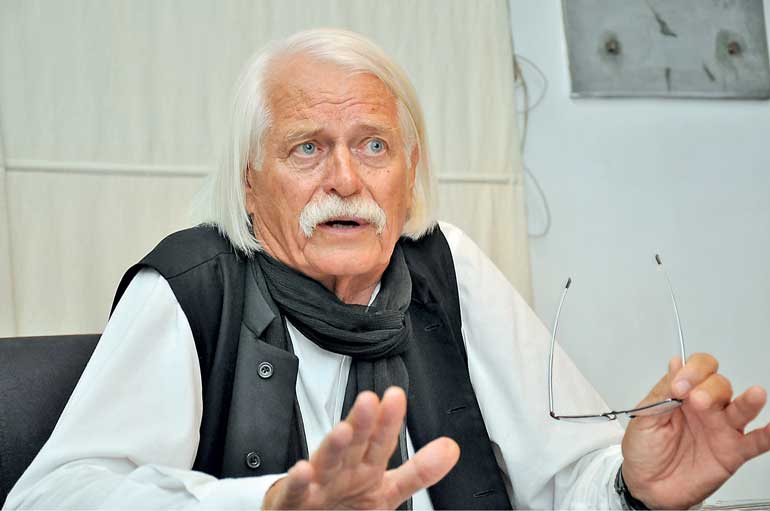 At 33 he came to Sri Lanka to set up an industrial tyre factory for his

principals in Europe. Within five years, he quit his job as the General Manager to go solo and joined with local investors to set up what has now become a global giant in

industrial tyre manufacturing. More than 30 years later, the lord of Loadstar, Pierre Pringiers, shows no sign of slowing down. After making his mark in industrial tyre

manufacturing, he has now moved on to new businesses.

"When I came here about 35 years ago, I was like a sheep, working under a boss at the age of 37. After four years here building up the business in very difficult circumstances, I always say I became a lion. My bosses from Belgium didn't recognise me. This is how entrepreneurship comes to the surface," he claims.

The 'lion' hasn't stopped roaring since then. Teaming up with Jinasena Group, with only $ 30,000 from him, Pringiers built one of the most

successful businesses in the country over the years. Thanks to him the country became a hub for industrial tyre manufacturing, with over 60% global market share at present. After building the company, and seeing it through tough times during the 2008 economic slowdown, Pringiers handed over the reins of the company to the younger generation when he was 60, a decision made well in time he says.

"I was good as a pioneer, but they were much better at getting at

compliance, quality control and

regularity. They built the basis for the next 20 years."

But Pringiers has no plans of slowing down. From tyre manufacturing he sailed his way through a host of

philanthropic projects to uplift his community in Mirissa to a

boat-building venture which he set up in 2008. Although the venture hit some rough seas, they are now

turning the sails towards the leisure boat industry in the country.

"That's the nature of entrepreneurs. They want to do one thing today, and another thing tomorrow. Shareholders have a hard time managing them," Pringiers admits, speaking of his business style.

The biggest testimony for his

products came in the most unlikely

circumstances, when a Sri Lankan fishing crew, sent as trainers to Somalia in one of the boats

manufactured by Pringiers' yard, sailed back home with only 300 litres of fuel, surviving two cyclones.

"This was the proof of performance of what we have built. So we are now using this experience, we are going through all these things that are broken and the sail systems that are twisted. Nothing has happened to the boat. Had it been one of the fishing boats here, they probably wouldn't have survived the second cyclone."

Since then he has modified his business plan to focus more on leisure boats and water sports,

designing multiday boats to be used in Sri Lankan seas. This, he hopes, will set sail to gain mileage in new areas in tourism, tapping into the luxury traveller market.

Outlining his future plans with Daily FT, Pringiers spoke of the trials of venturing into unknown waters and challenges he faces in setting up a business in an environment that has hardly undergone any reform since opening the country's economy to outside world.

Following are excerpts from the interview:
By Chathuri Dissanayake

Q: You have a unique perspective on the Sri Lankan business climate. From the time you came here as an investor 30 years ago, you have experienced how the things have changed from a position that gives a different view. Can you relate your experience?

A: Then it was Eldorado. There was nobody here. We were one of the first large-scale investors to come here. We were very successful. What I would say to BOI and everybody who wants advice into which type of investments we should try to attract to Sri Lanka, in the 1980 it was a kind of fashion that to be successful in certain industries you have to move your factories from Europe to somewhere lower cost country. In our case it was a lower cost country, because of the rubber and labour. In other sectors like electronics, there were other reasons, like labour cost. But that was then. The fashion has completely inverted now. Now it is make it, sell it and use it in the country which you make it. Sri Lanka has to adapt to that, and attract investments where investments come here and put their roots here and have some sort of possibility to develop the local market, and using that as a jumping board for the external market.

This is a shift of strategy. This is an important shift as the BOI which was created in 1978 as the Greater Colombo Economic Commission has the same rules as 1978. It is about 40 years old. If you look at it in the internet generation, it is like an eternity. It is high time these rules and regulations are adapted to the realities of today.

In those days BOI was attracting investors, if an investor comes and says I am a tyre company and I would like to manufacture tyres, they would say okay, you can manufacture and sell 100% of your production overseas. But if the company says, 'Can we also buy from our colleagues so that we can put that to our containers?' it was not possible then. Now it is becoming possible. Can you do trading? No you can't do trading, or servicing. You can only manufacture and export. This is not the DNA anymore of an enterprise, or an investor who comes here. They have to have a whole gamut of possibilities to make an investment a success and it is not up to the Government to regulate that, it should be a fairly free playing field for such companies.

What the BOI still has in place is a silo system. You fall into a silo – single product and you follow that. But if the investor wants to diversify that is not possible, you have to create a new company. At that rate GE would have one million companies, as they make so many different products, but it is one large corporation. This is what is missing here. It is partially understood now but the regulations are not adapted yet. This is the biggest challenge here.


Q: You have been the pioneer of an entire industry in the country. How did you come about to setting up your own business after you broke away from your principals in Belgium?

A: After leaving the company I set up here, the second phase of the industrial tyres venture, I started with Jinasena. When I started with Jinasena, I didn't have much money, I think I had about $ 30,000 saved over four years and that is all I had basically.

To start a tyre project with only $30,000 you must be a fool, and I was one. I went to Jinasena and they were interested in something to do with the local rubber. I came up with a game changing idea about how to produce this tyre. I have been producing tyres before and I had an idea which was simple. We wanted to maximise labour, and minimise the amount of money to invest, because I had a small budget. Basically I invested only $ 30,000 in Loadstar, I found another partner who also put $30,000 and the rest was contributed by the Jinasena family.

When we started in the 1984-1985 period we were a very small operation. At that time when I looked at the company I worked for, I thought we would never catch up. The gap was so big. We were basically a startup, absolutely low budget but high motivation. But 25 years later, we became bigger than the company I once thought I would not beat. We were growing at a very rapid pace and we overtook them in terms of market size. We can now say that we are the largest manufacturer in the whole sector worldwide; the second largest is Trelleborg, which bought the company I worked for before starting Loadstar.

Both number one and number two in our sector are Sri Lanka and there are 10 or 12 competitors who have come up in Sri Lanka. The country has become the number one in the world to manufacture solid industrial tires. So without actually knowing it, I have been instrumental in creating this kind of success story for the whole country. It was never my intention to do that, it happened automatically and this is the nature of entrepreneurship.

Basically the road of Loadstar has been tremendous, we have gone through a very heavy crisis in 2008 because of the financial crisis. At that time I think I was about 60 plus, and I thought it was time to look at the next generation. We have been in business for about 25 years and I assessed how the next 20 years of the company should be like. It should not be exactly the same as what we have done up to then.

When I was in Davos promoting Sri Lanka I said that we were a family business, and today with the merger with Canada's Camoplast we are a one billion company. All that happened in 30 years plus with very strong roots Sri Lanka and even today the original shareholders, including myself, are still main shareholders in the main company. We have a much stronger company with an international footprint but with roots in Sri Lanka, as 65% of our sales are produced in Sri Lanka.


Q: What made you diversify from tyres to building boats?

A: I had been evaluating options for a good way to give back to society for a while when the tsunami hit in 2004 and I realised this was where I should get involved. So I got together with my partners the Jinasena family and established a foundation to create The Solodeal Loadstar Rehabilitation Trust and donated $ 1 million from our own funds and we collected $ 2 million cooperate donors, that's how I came in touch with the boating communities here.

By March 2007, we had completed the first project, but then I was out of a philanthropic job again. Then I was exploring options in water sports, and got focused on yachting. I met and investor who wanted to go to China to build, but I convinced him to set up his plant in Sri Lanka. He invested in the Baramundi boatyard. That was in 2008, they had five clients. I was not involved, but the foundation was; I helped set up through the BOI and found a building in the BOI zone. But by 2009 the investor was bankrupt and I had to invest to save him, the foundation, save all the jobs and to ensure that all the five clients were satisfied. These were the most miserable years of my life. I had to run a boatyard, and I have never built a boat in my life. I had four expert builders there, who could build boats but none could finish one.

I was also not used to having clients, they were European, they had paid very little for their boats, but they wanted luxuries. Although the team know how to build structurally-sound boats, their finishes were not good, so much so one client was reduced to tears when she saw how bad the finishes were in the boat. In hindsight, after losing $2 million in trying to satisfy five clients by sending experts from Europe to service them, I realised that the boatyards in Europe don't have all the skills in house. They have basics in-house while the rest is sub-contracted. But we don't have all this here, we had to learn all the skills here, and at the end of the fifth one we knew how to build and finish a boat. The clients were satisfied at the end of the day.

Yacht building industry is probably 20 years behind in Sri Lanka, in design, technology, finishes, and even in procurement. Everything has to be imported here, we cannot buy anything locally. It's a nightmare. This is what I have been saying after my experience. I have been telling this to the EDB, which made me a member of the Boat Building Experts Committee to promote boat building to export. In fishing boat building we have nothing short, we have very good boat builders with people like Neil Marine, which are on par internationally.
Export to Europe is easier said than done. I met with the largest boat builders in Europe when I was looking for an investor in Europe, Beneteau Group is one of them. The CEO pointed out that there has to be a market in or around Sri Lanka for an investor to be serious about such a venture in Sri Lanka. I did find a local investor, but didn't want to sell. I had no vision or plan, so I declined the offer, explaining the situation.

After exploring options and commissioning a feasibility study, I was told to create the market. I commissioned three MBA students to research Sri Lanka's yacht market potential. They came back and told me: "Mr. Pringiers, there is nobody to buy your boats here, but we have an idea. You build your boats, you create a charter company to buy the boats, try to generate revenue for your charter company with tourists and locals who come on your boats, and with that you try to manufacture and developed the culture." This is a very ambitious target, but this is what I have been doing since 2014, when I first put a boat in water. We now have five in water. The company now adds three per year.

The company has a few different yacht models, with two-day charter boats, operating from Bentota during one season and Passikudah in the next. The day charter boats facilitate tourists to have fun, so you have cruises at different times. By the end of next year we will have eight boats in the water. Next year the company also plans to build a new model. The final design is being fine-tuned now. It's a game-changing project. I call it boutique cruise boat.

Instead of bunks that are usually the feature of a boat, there is a king-sized bed, a bathroom and it is complete with a private balcony. The model was an inspiration from the big cruise ships. But we go for the type of boutique boats, only 20 rooms and private terrace. Basically we have now reached the final designs; from this year we have engaged three international designers to finalise it. It's a hotel on the water.

I have been scouting investors for this project, but haven't found any yet. There is a fantastic opportunity here. We have two seasons, which is a great opportunity as the boats can be in blue water conditions 365 days a year. So you have more than 1,400km of coast, 20% growth in tourist arrivals and fantastic ocean wildlife, three areas where you can see whales, Sri Lanka is a touristic jewel. In addition we have skilled labour.

Basically our concept is not classic cruise ship, where they sail miles and miles. Here we do not do that. What we do is discover Sri Lanka through cruise. We go about 30km maximum during one day and go to the villages where no other tourists venture. The industry today does not offer new experiences to tourists. There are only a few touts trying to sell items to tourists, which is not what they come here for. They come here for a unique experience. During the last few decades, infrastructure projects related to the industry like building hotels were promoted. But that is not what tourists want either. They don't want to come here and be stuck inside four walls. They want to discover something new, experience something that they have never done before.

If you look at opportunities in the yachting business, there are yachts in Thailand, Malaysia, Singapore and Middle East. There are of course yachts in the Mediterranean. But nothing around Sri Lanka. There is a vacuum so there is an opportunity. Sri Lanka is strategically located. Thailand can be taken as an example, for good or bad. The numbers grew rapidly. But these yachts are not built or owned in Thailand. They are mostly owned by offshore charter companies. Although economic development is visible in the four marinas being developed with 30,000 people working with yachting companies there, a large portion of the money goes out of the country, through the offshore companies.


Q: How do you propose to go about the new venture avoiding the mistakes made by Thailand as you pointed out?

A: Our company needs to create all three companies with the BOI due to current regulations. We want to produce yachts for the Sri Lankan market, with the view of exporting. But we need to gain experience and improve designs and test. So we have the boat building company, and then the charter company which buys the boats which is also BOI, and then we have the construction and service company which builds mini marinas for boat mooring. We operate three mini marinas. So these three companies are necessary. This shows how complicated it is in Sri Lanka to invest.

But, if BOI can authorise the manufacturing company to charter the boats, then we won't have to create a second company. Selling a boat from the building company to the charter company, I have to pay NBT, PAL and VAT, all together I have to pay 27%. I am paying for the boat to be built as I have invested in that company, then when I sell it to second company I pay tax. On a boat like ours of $ 2.5 million, I have to pay 800,000 as tax, before the boat has earned even one cent. I have tried explaining this to many officials, including the Prime Minister, Industry of Commerce Minister, EDB and BOI but to no avail.

If I had a similar situation as the present scenario in 1984, when I was creating Loadstar, Sri Lanka would never have the No. 1 status in the global industry. Nobody would have come here. No one would follow me to this new venture if the tax regime is like this. I cannot build all the boats alone. We need more investors in Sri Lanka. But if we don't do it, outsiders will come in and Sri Lanka will never have a boat building industry.

I have been talking to officials, where I point out several issues. Two have been solved, but four more issues like what I just explained need attention. Most officials I speak to listen, but do nothing. Maybe because I am a foreigner, and I have money. So I can pay the taxes. But I have not been able to find any investors because of the taxes and also because of the risky business.

The silo model BOI uses does not help boat manufacturing company export either. According to their current regulations, the company that manufactures cannot service. There has to be a separate company for that. It would not be easy, if we don't combine the two. This is my problem now.

However I have found one French investor who wanted to be present when the market takes off, and we signed the contracts last year. We will be launching our first boat soon. There is a second investor interested already. We are still in negotiating with him. This proves that if there is one success story, others will come like in the case of Solid Tyres. This is the same attitude towards yachting, if this 27% stays in place, then we cannot succeed.

The followers of the first success will help Sri Lanka create a yachting hub in Asia, a hub for building operation that is chartering, yacht maintenance and mooring and also the yacht tourism if the right conditions are met.


Q: What are the challenges you face?

A: The first is the BOI silo system. There are three ways to develop yachting in Sri Lanka. We are not interested in building large marinas. We do only small marinas. But other investors will want to venture into it, where they combine land and sea, and infrastructure development, which can be huge in Sri Lanka. This will go together with yachting development.

The second part of the model is that we want to develop the yacht building industry, to use locally-built models. Third part is that we want locally-rooted companies owning the boats. Because the international trend now is chartering where the ownership is elsewhere, major part of the money earned by the charter company, with only about 20% of the money remaining in the company. This is a problem that Thailand is facing now, and they are not able to fix it. This is why I am asking the Government to help the local industry grow.