Rabia Siddique to address forum on 17 June in Sri Lanka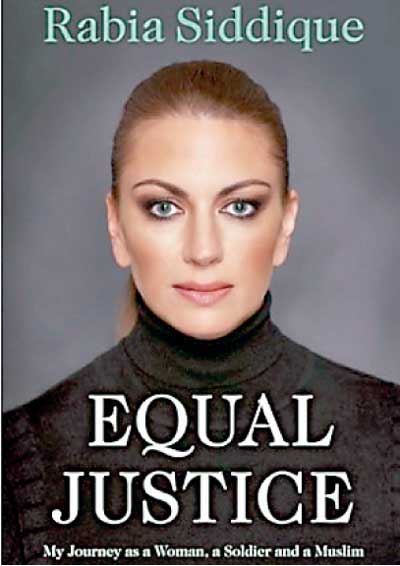 Rabia Siddique was born in Perth, Australia in 1971 the eldest child of an Indian Muslim father and an Australian mother and spent the first five years of her life in India. In 1976 her family migrated to Perth where she first experienced social inequality and injustice in the form of discrimination faced by migrants in conservative 1970s suburban Australia.

At the tender and vulnerable age of nine she also experienced abuse for the first time, which quickly robbed her of her childhood and her innocence.


Rabia obtained a Bachelor of Arts and Bachelor of Laws degrees from the University of Western Australia and started her legal career as a criminal defence lawyer. She then moved to the Commonwealth Director of Public Prosecutions, where she became one of the youngest federal prosecutors in Australia.


In 1998 Rabia moved to the United Kingdom and in September 2001, after re-qualifying as Solicitor Advocate of England and Wales, Rabia commissioned as a Legal Officer in the British Army, a rather unexpected career choice! Her career in the Army took her to England, Scotland, Northern Ireland, Germany, Italy and the Middle East.


Rabia later became the Army's recruitment 'poster girl' by promoting equality and diversity within the British Armed Forces. In a terrifying ordeal, whilst deployed to Iraq in 2005 Rabia, along with a male colleague, assisted with the rescue of two Special Forces soldiers from Iraqi insurgents during a hostage situation that garnered worldwide attention.


After the Iraq hostage incident Rabia's male colleague was awarded a Military cross for outstanding bravery for his part in the incident, while Rabia's involvement was covered up by the British Army and Tony Blair's Government. In her fight for justice she brought a landmark race and sex discrimination case against the UK Ministry of Defence.


In 2008 Rabia left the British Armed Forces and went on to become a Crown Advocate in the British Counter Terrorism Division of the Crown Prosecution Service, which involved working on some of the most high profile terrorism and hate crime prosecutions, as well as advising on war crimes cases. This role also took Rabia to the International Criminal Court in The Hague.


Rabia currently works as Senior Government Legal Counsel, whilst also juggling professional public speaking and facilitating engagements, the publication of her first best-selling book, 'Equal Justice', guest lecturing and tutoring at the University Western Australia and various television and radio appearances and interviews relating to her story and her work in promoting Women in Leadership.


She has run the London marathon for charity, undertaken human rights and community aid work in the Middle East, South America, South East Asia and Australia, was awarded a Queen's Commendation for her humanitarian work in Iraq in 2006 and was Runner Up Australian Woman of the Year UK in 2009.


In 2014 Rabia was a finalist in the Telstra Australian Business Women's Awards and was named as one of Australia's 100 most influential women. In October last year Rabia received a standing ovation from 1,700 people at her TEDx talk entitled 'Ripples and Waves' where she spoke about the power we all have as individuals to create the change we wish to see in this world.

Rabia is the keynote speaker at the 'Inspiring Leadership' forum at the Cinnamon Lakeside on 17 June. Please log on to www.virtualedgesl.com for details.