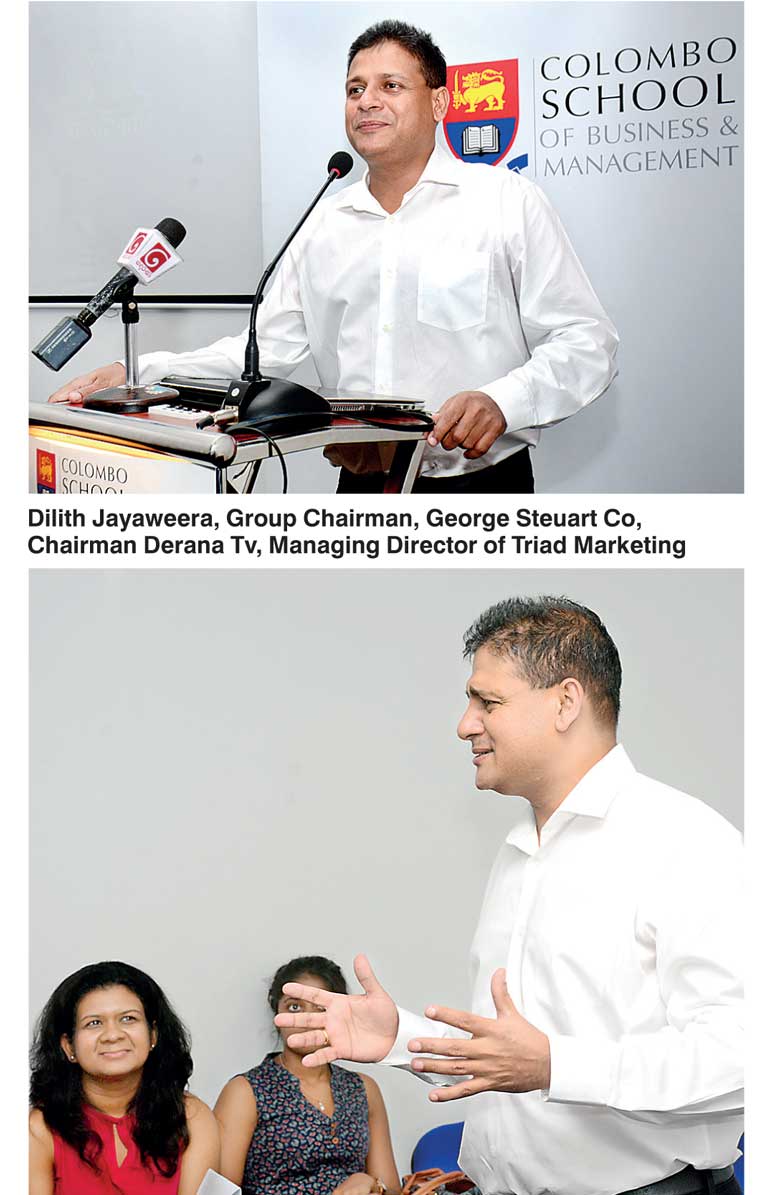 By Devin Jayasundera

From advertising to television and now with his increasing presence in the leisure sector, business magnate Dilith Jayaweera has emerged as one of the most prominent – and sometimes controversial – corporate personalities in the country today.

Looking to expand his areas of expertise, his role as an investor in the past few years has growing significantly, with the major highlight being his acquisition of the country's oldest mercantile establishment, the George Steuart Group.

In a candid and intimate revelation, Jayaweera recounted the simple beginnings of his entrepreneurial journey at a recent discussion organised by the Colombo School of Business Management.

Hailing from the southern part of the island, Jayaweera entered the Law Faculty at University of Colombo mostly to fulfil his parents' wishes. However, the 1987 JVP insurrection triggered the closure of the universities in the country for extended periods. To make use of his free time and to finance his expenses in Colombo, he tried his hand at a myriad of professions, ranging from pharmacist to insurance agent.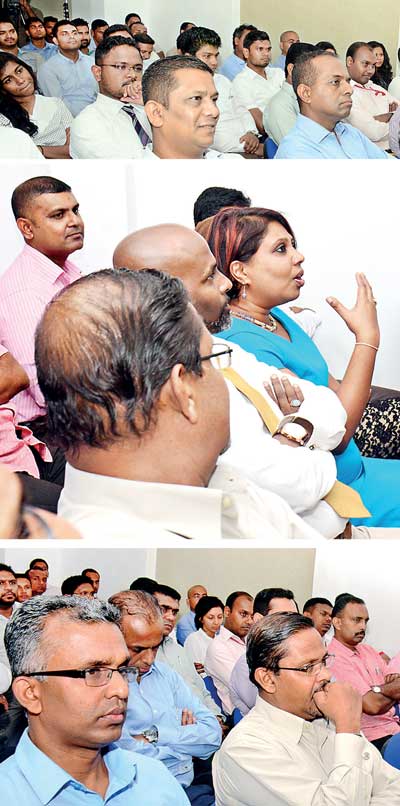 "During this period I was working as an assistant pharmacist and an insurance agent for Sri Lanka Insurance and I also started tutoring logic. With the money I made during this time, I happened to be one of the richest university students when university started."

His intense involvement in university politics, mainly influenced by his father's Marxist ideologies, occupied a large portion of his time, leaving little time for education. In fact he says politics took over his university life to such an extent that he never saw a lecture hall or a lecturer.

This brief period of political exploration also led to exposure to the then popular nationalist ideologies of Dr. Nalin De Silva, which had a crucial impact on the young Jayaweera. These early ideas were instrumental in laying foundation for his first venture, Triad, an advertising agency.

"This was a time when local ad agencies were tying up with global agencies. We wanted to build Triad as Sri Lanka's national agency and be committed to developing local brands only. This positioning provided a clear edge in differentiation," he revealed.

The purely local focus of the agency meant having lower margins and also giving up the opportunity of tapping into the deep pockets of multinational FMCGs. With this understanding, the company started investing in minor subsidiaries for backward integration, from a production house to a printing press.

According to Jayaweera, the turning point for the company came when Triad was given the responsibility to conduct 'Rata Perata,' the UPFA campaign, in 2004. He was also directly involved in the 2005 presidential campaign for former President Mahinda Rajapaksa, for which Jayaweera himself wrote the tag line 'Aluth Sri Lankawak' and created the popular symbol of the 'Chinthana Lotus'.

He acknowledged that the success of these campaigns enabled the company to significantly improve its cash reserves but denied that any political leverage came with it.

At a time when the predominantly Colombo centric advertising industry was limited to the English-speaking elite, Jayaweera pioneered efforts in localising the industry. "The industry rule at that time was that the creative directors were generally from an English background. We created creative directors who were from villages, had seen the real village life and been with the people who ultimately represented the biggest market of the country."

In referring to the current day business education, Jayaweera noted that management theories should not be treated as gospel truth. "Rules are historical knowledge; somebody has seen it, written it. Trout came up with the concept of positioning, so if everybody knows positioning, how can you use it and get the advantage of differentiation? What can you do differently when something becomes common knowledge?"

In referring to the Buddha's Kalama Sutta, he encouraged the audience to critically assess management theories and to mercilessly challenge them to achieve a sustainable competitive advantage in business.

In conclusion, Jayaweera lamented the lack of Sri Lankan identity in local corporates. He also attributed it as a major reason for the dearth of creativity and innovation in the country.

"I don't know why it is happening. Sri Lankans are increasingly becoming very mediocre in creativity and innovation. We have to be 'Sri Lankan' corporates. We are not supposed to be products of textbooks that mostly come from the West."