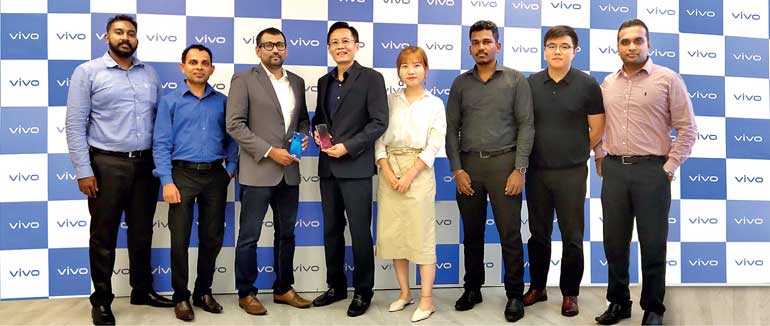 P. Gurubaran (Vivo), Chamin Kumara (Singhagiri), Singhagiri CEO Pubudu Basnayake, Vivo CEO Kevin Jiang, Alison Jin (Vivo), Darshana Weerakonda Arachchi (Singhagiri), Andrew Zhang (Vivo), Gihan Nanayakkara (Vivo)
---
Leading global smartphone manufacturer Vivo recently partnered with Singhagiri, Sri Lanka's leading electronics retailer, to expand its reach to consumers across the island.

With this strategic tie-up, the Vivo V15, Y17, Y91, Y91i and Y91C smartphone models will be available for consumers at over 120 Singhagiri showrooms in Sri Lanka. This move supports Vivo's overarching objective of making innovative technology easily and rapidly accessible to the mass consumer market.

Available in Sri Lanka following the company's recent global market expansion, Vivo has steadily established its brand presence across the target local youth market with trendsetting smartphones powered by trademarked, innovative technology. Now, backed by Singhagiri's smartphone retail dominance in the market and four-decades-strong trading legacy, Vivo will continue to build brand equity with a wider, island-wide consumer reach.

"We are thrilled to tie-up with a like-minded industry leader such as Singhagiri to offer Sri Lankans easy access to the most innovative smartphones in the global market today," stated Vivo Chief Executive Officer Kevin Jiang.

"We are also ensuring that all consumers enjoy innovative technologies pioneered by Vivo; from notch-less full screens to superior selfie cameras, from apps powered and enhanced by artificial intelligence to bezel-less displays, Vivo continues to raise the benchmark of smartphone design across the world. Through this partnership with Singhagiri, Vivo look forward to delivering on our promise of premium smartphones and services to our rapidly growing Sri Lankan market."

Adding his thoughts on this partnership, Singhagiri Ltd. CEO Pubudu Basnayake mentioned: "It is with great delight we announce our partnership with vivo, which is one of the leading smartphone brands in global mobile phone market. As Singhagiri, we always put our customers' priorities first. This was a successful attempt of providing our customers the best of the best experience."

Vivo is a leading global technology company committed to creating trendsetting smart mobile innovations and services. Vivo is devoted to forming a vibrant mobile internet ecosystem, and currently owns and operates an extensive network of research operations, with R&D centres in the US (San Diego) and China (Dongguan, Shenzhen, Nanjing, Beijing and Hangzhou). These centres focus on the development of cutting-edge consumer technologies including 5G, AI, mobile photography and next-generation smartphone design.

By the end of 2017, Vivo had over 200 million users enjoying its mobile products and services around the world. Vivo is present in 18 markets globally and features offline retail stores in over 1,000 cities worldwide.

Incorporated in 1977 as the authorised agent for a number of global electronics brands, under the guidance of the late Sugathadasa Marasinghe who was also the Founder and Chairman of the company, Singhagiri draws close to 40 years of experience in electronic retail industry. Today, the company has expanded its reach across Sri Lanka, with more than 120 showrooms located islandwide.