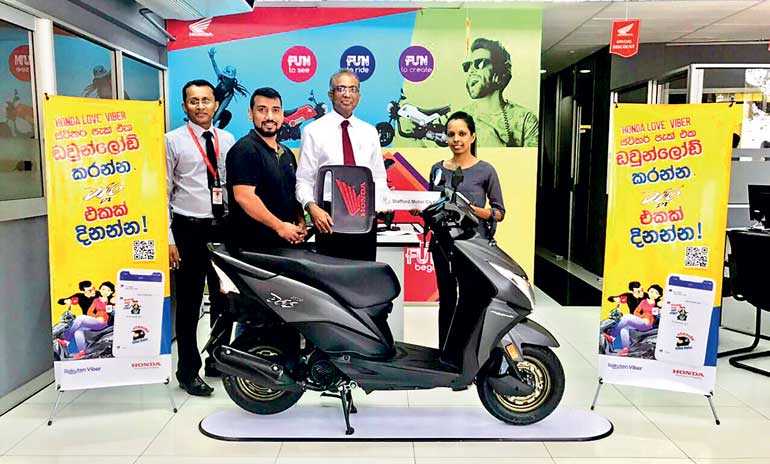 Stafford Motor Company Managing Director/CEO Dr. Kalinga Kaluperuma, Stafford Motor Company Director/COO Charaka Perera, Viber Partnership Manager South Asia Nitin Tyagi, along with the winner Dulma Dharmasiri
---
A mother of one daughter, Dulma Dharmasiri lives in Alapane in the Ratnapura district with her husband and mother. She takes her toddler to the Early Education Centre located in Ratnapura.
While her husband rides to work daily, a distance of over six kilometres, she travels by bus for over six kilometres to take her daughter to the Montessori.

Dulma and her husband both use Viber on a daily basis to engage in regular conversations with family and friends. She downloaded the Honda Love sticker pack to share and chat freely with her school friends.

Dulma was thrilled beyond her expectations to find out that she was the lucky winner of the Honda Love sticker competition conducted by Viber and Stafford Motors. She became the proud owner of a Honda Dio DX scooter.

Begun in February 2019, the Honda Love Viber sticker download competition continued for a month and a half with over 200,000 Viber fans participating. From the initial entries 20 individuals were randomly selected. This was whittled down to five finalists and finally Dulma was picked as the ultimate winner.

While visiting the Stafford Motors Head Office to receive her scooter, winner of the Honda Love Viber sticker download competition, Dulma said, "Even today, it is unbelievable that I am the winner as I downloaded the Honda Love Viber sticker pack mainly to chat and share among our group of school friends. I was not even aware that such a competition was being held. I had a great need for a scooter but was not in a position to purchase one. With great difficulty we travel to the Montessori on a daily basis. It is a daily grind for both me and my daughter.

"When I drop my daughter off at her Montessori daily I do not return home due to the distance but remain nearby and return only after she finishes for the day. On days that I am unable to go, my husband would drop her off on his way to work and then pick her up when she finishes and bring her back home and return to his place of work. This became a barrier towards his work."

"I dreamed of owning a scooter because then I would be able to drop my daughter at her Montessori and return home, carry out some household work and be able to return to pick her up. When one of us falls ill we need to go to Ratnapura town to receive medicine. Even for other requirements we have to go into town. The travel distance to Ratnapura from our village is about six to seven kilometres and for most activities, it is my husband who has to bear the brunt of the family responsibilities and I always felt if I owned a scooter, I could help share this burden with him in some way.

"Winning this competition has given me great confidence and inner strength. In addition to engaging in household work, I can also contribute towards helping my husband in his future work and not worry or trouble him all the time. Winning this prize is a great boon also towards the development of my child's future," she explained elaborating the hardships they have undergone to-date.

This victory for Dulma has contributed towards setting her family on a stronger footing, further strengthening her life to face the future with confidence.

Adding his views, Dulma's husband commented, "When we initially received the call from Viber Sri Lanka we did not believe the news and thought it was a joke. I had always wanted to purchase a Honda Dio due to its convenience as both my wife and I can ride it. We offer our heartfelt thanks to both Viber Sri Lanka and the Honda Company. Having the bike is extremely beneficial for our future endeavours. I am currently working together with my brother on our own business which affords me some freedom to help my wife in our daughter's schooling activities or else the entire burden falls on her. Our aim is to commence our own business and having the bike will definitely support our activities."

He noted, "We downloaded the Honda Love Viber sticker package to engage in Group chats among our school friends. We both attended the same school and have been married for over eight years. Since we married we have been using Viber Group to speak among our school friends a lot. We decided to download the Honda Love Viber sticker and a few days later we received this victory. We use Viber constantly to chat with our family. Even to talk to my brother who is in Bangkok, we use Viber as we save on data calls and do not spend a lot. The stickers bring us enjoyment; it's easy to use and less costly." Since its introduction, the Honda Dio has fast gained popularity and become the most sought- after scooter in the Sri Lankan two-wheeler market. Its unique Moto Scooter design, comfortable layout, great pick-up and effortless handling are simply unrivalled. The newer DX model showcases a digital meter, gold coloured rims and a new range of graphics.