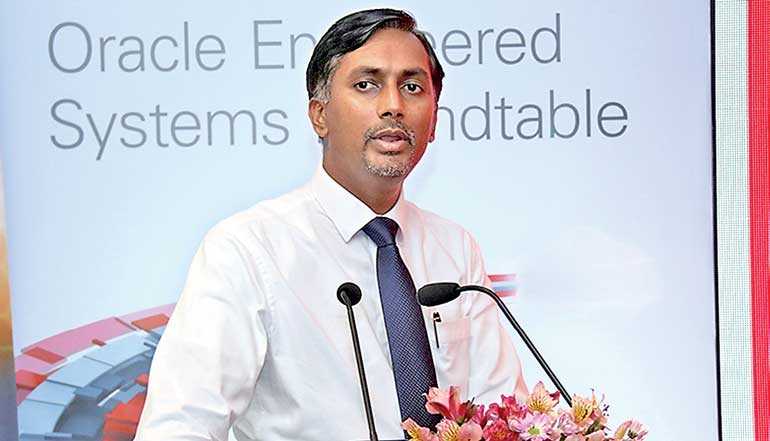 Leading Sri Lankan ICT Solutions provider and systems integration specialist, VS Information Systems (VSIS), hosted the country's first ever Oracle Engineered Systems Roundtable 2018 as part of a continuing drive to introduce innovative, best-in-class products and services to the domestic market while creating value in every engagement.

Taking place at the Mövenpick Hotel Colombo, the Roundtable was conducted by senior Oracle personnel on the fundamentals of the company's three main product lines championed by VSIS in Sri Lanka, namely: Oracle Engineered Systems, Oracle Big Data analytics and its pioneering Zero Data Loss systems, to mitigate and strengthen recovery without any data losses.

"Data is the new oil, it is the fabric that weaves through businesses, societies and across economies and so the most proactive businesses are already into a second generation of investments into data warehousing, analytics and recovery.

"The reason behind these investments is not simply to stay abreast of the competition, but also because the intelligent management of a company's data can provide unprecedented competitive advantages. However, a strategic approach is absolutely vital to securing the best returns on investment and work, in partnership with Oracle to guide Sri Lankan enterprises through this new digital paradigm in order to secure the strongest return on their IT investments," VSIS General Manager Wajira Wanigasekera stated.

Over the course of the Roundtable, participants were educated in how Oracle Engineered Systems could be utilised to completely transform data management, and its potential applications in Sri Lanka as enterprises increasingly gravitate towards autonomous database optimised cloud services. The Banking, Financial and Telecommunications sectors lead the charge on database optimisation as a first step towards a more sophisticated service offering leveraging the power of Oracle's advanced data analytics.

"One of the most difficult challenges that businesses must navigate is in the integration of structured and unstructured data for analysis on a single platform. This is where VSIS and Oracle can step in to provide invaluable strategic business insights by gathering disparate information into decision making dashboards, trends and KPIs etc.

"Essentially, this means that an organisation can easily retain any of their existing systems for generating data, while leveraging Oracle platforms to dump all of their data from disparate sources into one location, and then mix and match, continuously analysing the data for trends and exploiting those insights to generate valuable insights and tangible business outcomes," Wanigasekera noted.

Another crucial area delved into at the Oracle Engineered Systems Roundtable 2018 was the role of maintaining rigorous data backup and recovery capabilities, in strengthening an organisation's ability to operate in a risk-free environment, with Oracle's Zero Data Loss systems.

"Here too Oracle has established platforms, systems and processes capable of ensuring that all information backed up is immediately validated to ensure zero loss of data before it is compressed and stored. These systems are even capable of integrating back-ups from legacy devices, including magnetic tapes and physical disks."

The roundtable ended with a spirited round of questions from participants into the investments necessary to integrate Oracle Engineered Systems into existing legacy systems, the potential of Big Data to generate business insights in organisations of varying size, and best-practices in ensuring Zero Data Loss.

Given VSIS's role as Oracle's authorised partner in Sri Lanka, the company will play a leading role in the implementation of Oracle Engineered systems and Zero Data Loss systems while its committed team of certified professionals are fully geared to assist Sri Lankan enterprises of all sizes to make the bold step forward into the field of Big Data Analytics.

VS Group is an organisation which has served as a pioneer in providing innovative products to the Sri Lankan market and possesses a rich history of over three decades. The Group's engagement with the Sri Lankan IT sector spans systems integration through VSIS, bespoke software development from Inova and Big Data Analytics and ERP solutions through its specialised consulting arm, Altria.