Rotary Club of Colombo Centennial, in partnership with The Federation of Information Technology Industry Sri Lanka (FITIS), presents a networking evening and discussion on "Towards Trustworthy Robots" with Dr Thrishantha Nanayakkara, on 7 August at 6:30 pm at Galadari Hotel Colombo followed by fellowship and light dinner.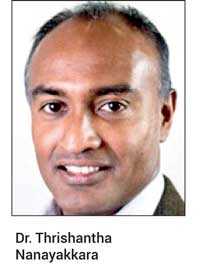 Dr. Thrishantha Nanayakkara will lead this discussion, and is a Reader (Associate Professor) in Design Engineering and Robotics, and the Director of Morph Lab at the Dyson School of Design Engineering, Imperial College London. He is currently the principal Investigator and Director of the "RoboPatient" Project, funded by the UK Engineering and Physical Sciences Research Council.

This conversation would undoubtedly be invaluable to those interested in the field of robotics, as Dr. Thrishantha Nanayakkara would be sharing his knowledge and expertise in this field.

The robotics market was around $ 31 billion in 2018 and is projected to grow at around 25% till 2024. It is expected that robotic co-workers and consumer robots will revolutionise industries over the next decade with unit costs dropping fast to make the break-even time as short as a few months. This growth will be fuelled by the fast-growing power of Artificial Intelligence (AI) and fast computing.

However, some deep-rooted bottlenecks remain in the safety and stability of autonomous robots. "After more than 60 years of research in AI and robotics, we have powerful thinking machines, and very accurate industrial robots, but we don't have a robot that can be trusted to hold a live hamster or to provide care to an elderly person. Why are humans and other biological counterparts still far ahead of robots in managing these delicate contact tasks?" asks Dr. Nanayakkara.

For further details on this discussion please contact Sahana from FITIS on 0770554444 or Danushka on 0772377277.