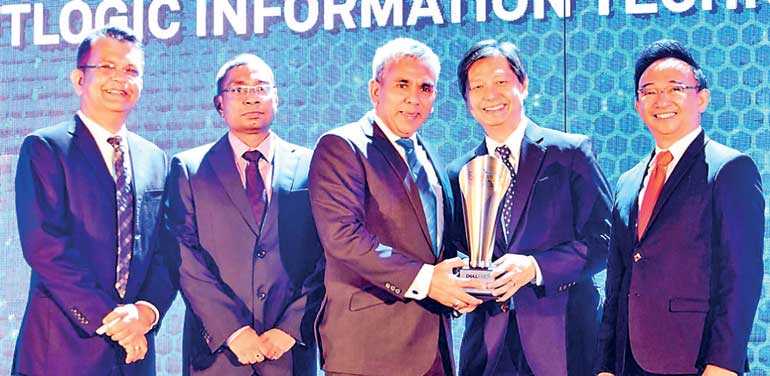 Softlogic Information Technologies Director and CEO Roshan Rassool receiving the Business Partner for FY19 – B2B Category award
Softlogic Information Technologies Ltd, one of the country's leading software and hardware solutions providers and a subsidiary of Softlogic Holdings PLC, won prestigious awards at the recently held Dell Power Awards at Anantara, Kalutara.
The event was attended by regional representatives from Dell including Anothai Wettayakorn – Vice President of Asia Emerging Markets and South Asia Consumer and Small Business, Chee Wei Chue – Channel Leader, Dell EMC/Channels Asia Emerging Market.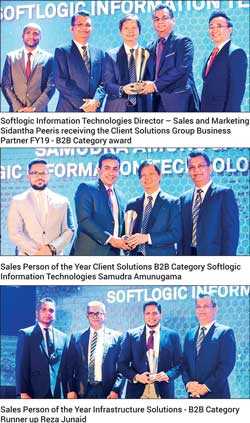 Softlogic Information Technologies was the winner of the highest number of awards highlighting the company's commitment to excellence and emphasising its prominent role as the key partner of Dell in Sri Lanka. The company was presented with the 'Server Business Partner for FY19- B2B Category,' 'Client Solutions Group Business Partner FY19- B2B Category,' Runner Up for 'Sales Person of the Year' Reza Junaid (Infrastructure Solutions – B2B Category) and 'Sales Person of the Year,' Samudra Amunugama (Client Solutions - B2B Category), making it a memorable night for the company.

Softlogic Information Technologies Ltd. Director/CEO Roshan Rassool said: "Achieving Dell's global standards and aggressive growth requirements year on year is not an easy task. These awards are a strong demonstration of our commitment and passion to be the best in the ICT industry in Sri Lanka. Additionally, it also indicates how well the organisation has adopted to the market and technology needs of the country."

He added, "We are excited of the future as Sri Lanka's adoption to digital transformation is encouraging. Whilst establishing a strong foundation on the platform solutions, our highly-skilled team is also well geared to guide local organisations to experience growth through the use of emerging technologies such as blockchain, big data, AI and IoT."

Director – Sales and Marketing Sidantha Peeris said: "Softlogic Information Technologies has truly transformed to an organisation that offers from a simple end user device to building a mission critical data centre to our customers all under one roof. Our team is responsible for designing some of the most mission critical and state-of-the-art implementations to our customers using products such as Dell EMC servers, storage solutions, networking products and backup and recovery products. As the sole Titanium partner for Dell in Sri Lanka, we believe it's our duty to introduce the latest technologies of Dell EMC to the market with our highly certified and trained staff. Once again we are humbly proud of the acknowledgement that DELL EMC has provided us with. This recognition is a tremendous motivation for our organisation to reach even to greater heights.