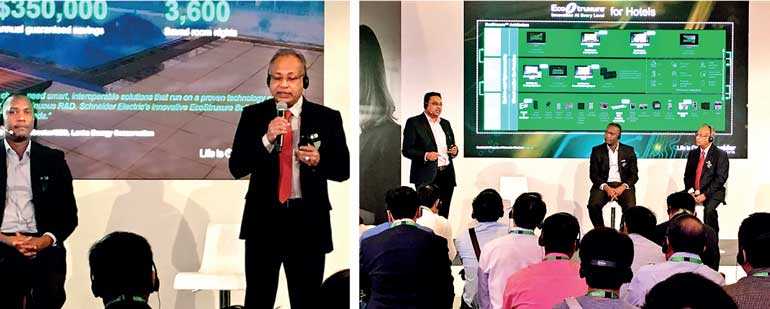 Eyeing next decade of sustainable energy sector
Schneider Electric, the leader in digital transformation of energy management and automation, hosted more than 1,500 customers, partners, suppliers and influencers at its latest Innovation Summit, 20-21 September at Singapore Marina Bay Sands. The event brought together Schneider Electric experts and world-leading industry thinkers to share insights and bold ideas on the challenges and opportunities of powering the digital economy.


Bold idea turned into a proven business model by energy award winner

Sri Lankan born Energy Conservation award winner Dammica Wickramaratne domiciled in Perth, Western Australia, Chairman for Lanka Energy Conservation (LEC), which is Sri Lanka's leading Energy Performance Contracting (EPC) Company, showcased its Energy Performance Contracting capability at the Schneider Innovation summit in Singapore. He was a key speaker at the Hotel Expert Learning session, sharing the success of his new business model in Energy Performance Contracting (EPC), a bold idea turned into a proven business model.

"Our business model is new to Sri Lanka, within four years we have secured regional attention, and we are proud to be Ecoxpert partner of Schneider Electric in Sri Lanka through LEC and in Australia through our parent company Eco33-Australia," says LEC CEO Rukshan Sheriff, further adding, "Our success story was appreciated during the Innovation Summit Booth in Singapore.


Bold ideas for the digital economy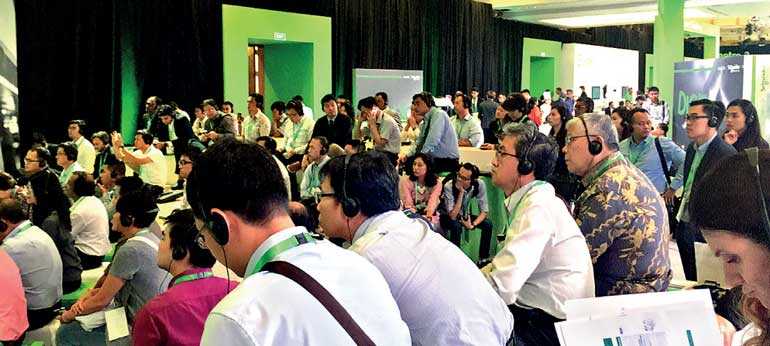 "The world is changing at an unprecedented rate driven by a booming digital economy. Technologies such as the Internet of things (IoT), artificial intelligence and big data analytics are making companies more efficient and innovative, boosting their competitive advantage," said Schneider Electric Chairman and CEO Jean-Pascal Tricoire. "As a responsible industry leader, we need to demonstrate how our innovations help our customers and partners make a successful digital transformation in energy management and automation. Our technologies, built on EcoStruxure, harness the power of digitisation, enabling our customers to become more efficient, safe, reliable, connected and sustainable – leaders in the New Digital Economy."

During the two-day event, customers, partners and suppliers can attend Strategy Talks on topics as varied as 'Redefining power distribution', 'Intuitive manufacturing, thanks to digitisation' and 'Reinvented buildings'. Schneider Electric is also conducting 15+ Expert Learning Sessions with its stakeholders, delivering concrete customer successes and solutions and interactive discussions between participants. Finally, a 3,700 m2 Innovation Hub will demonstrate the wealth of Schneider Electric's software, solutions and services. This Hub will also house a Partner Village featuring the company's network of technology partners and start-ups.