Zero One Awards 2018-2019 winner

Zero One Awards 2018-2019 Overall winners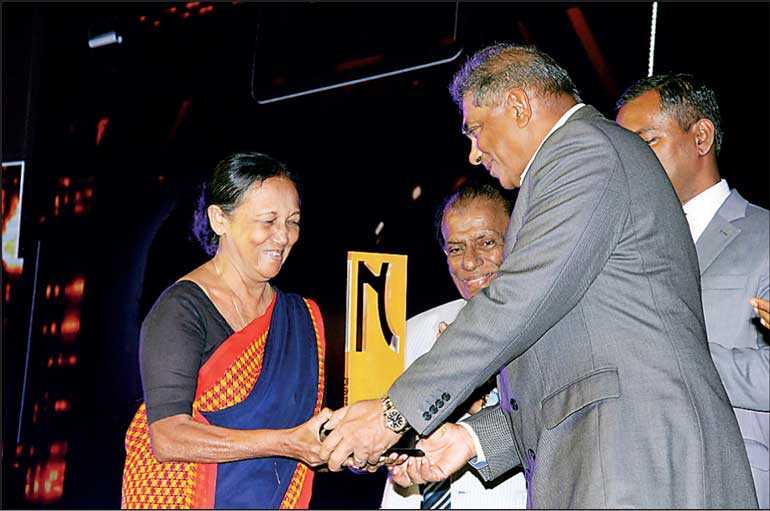 Zero One Awards 2018-2019 life time

award Prof. Dayawansa
---
Sri Lanka Telecom (SLT), the premier ICT solutions provider in the country, successfully concluded the 3rd edition of the trailblazing awards program to recognise digital initiatives, the SLT Zero One Awards for Digital Excellence, at a grand awards ceremony held at the Shangri-La Colombo. The glamorous awards ceremony organised to honour and recognise the innovators of digital initiatives for the years 2018/2019 was held on 4 March.

The SLT Zero One Awards for Digital Excellence is a unique awards scheme dedicated to recognise digital excellence in institutions, individuals and brands with regards to significant achievements made by leveraging digital technologies. This year's competition saw the receipt of entries from a large number of applicants spread across a wide spectrum of industries and sectors including financial, information, travel and leisure, media and publishing, health care and personal services, professional services, retail, manufacturing, transportation, storage and logistics, Government institutions, NGOs and even individuals and teams.

A total of 174 awards were given away this year, including institutional category / sector awards, six overall winners, two individual category awards, two lifetime awards and a lifetime memorial award to individuals who have made a unique contribution to the digital sphere in Sri Lanka in some way,. The institutional / sector awards were given under the categories: Best Digital Enabled Product / Service, Best Digital Integrated Campaign, Best Community Empowerment Program, Best Digital Media Agency, Best Website or Microsite, Best Use of Mobile.

Applicants for the awards were subject to a transparent and rigorous screening process carried out by a panel of 20 independent judges with international exposure in the digital media industry. The two Lifetime Awards were given away to:
Prof. Indra Dayawansa, retired Senior Lecturer in Electronic and Telecommunication Engineering at the University of Moratuwa, who served as the Head of Department of the University for nearly 10 years. Prof. Dayawansa is the first Woman Chairman of the Institution of Electrical Engineers Sri Lanka branch.
Tony Weeresinghe, Founder, Chair and CEO of Ustocktrade LLC – the first Alternative Trading System (ATS) providing retail investors with same-day trade settlement for US equity securities. He also the founder of Millennium IT and E-Channelling and Co-Founder and Director of The Chain Foundation.
The Lifetime Memorial award was given away to late Dr. Amith Munindradasa, who was a Senior Lecturer at the Department of Electronic and Telecommunication Engineering at the University of Moratuwa. He was also a Consultant at the Arthur C. Clarke Centre and the Institute of Engineers Sri Lanka. Dr. Munindradasa was widely renowned in Sri Lanka for his love of nature as well as the invaluable service rendered towards the conservation of wildlife in Sri Lanka. In addition, he was also an expert in explosives and ballistics and functioned as a Defense Advisor in Sri Lanka. Youtuber ChanuxBro was awarded the "Social Media Personality of The Year" while Shohan Kulasuriya won the award for "Best Software/Application Development" in the main category (individuals) awards.
The overall - winners of the SLT Zero One Awards for Digital Excellence 2018/ 2019 are as follows:
Best Digital-Enabled Product/Service category: BooleanLab Private Limited(EagleEye)
Best Digital-Integrated Campaign category: Spa Ceylon Luxury Ayurveda
Best Community Empowerment Program category: STEMUP Educational Foundation (CoderDojo Sri Lanka)
Best Digital Media Agency category: eMarketingEye
Best Website or Microsite category: HNB Finance (www.hnbfinance.lk)
Best Use of Mobile category: SriLankan Airlines
SLT extends its heartfelt congratulations to all the winners on their success at the awards. During a time when the Government of Sri Lanka is undergoing a major transformation towards becoming a digital economy, SLT has continued playing a catalytic role as a pioneer and trailblazer in ICT in the country. The company has continuously re-invented and transformed itself many times over during the past 160 years to lead the country's ICT journey. This awards program is yet another initiative that was birthed by the company with this vision in mind, and is the first ever digital awards of its kind in the country. The key role that technology can play in uplifting a country's economy and living standards of people can never be emphasised enough. The company encourages organisations as well as individuals to continue to innovate in the digital platform and contribute towards the country's digital transformation since digital is the future, and the future is digital.