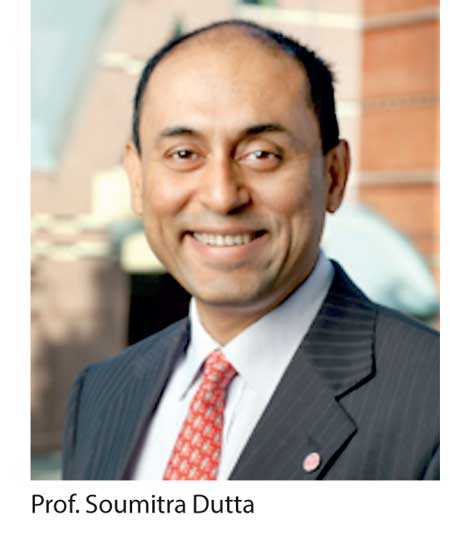 SLASSCOM's upcoming innovation event, themed 'Innovation in Sri Lanka: The Need for Systemic Change' would feature Prof. Soumitra Dutta, former Dean and current Professor of Management at the S.C. Johnson College of Business at Cornell University as the keynote speaker.

While his main focus would be on Sri Lanka's new rank on the Global Innovation Index (GII) and what we have done differently as a country in order to secure and improved ranking on the Index, he would also be speaking about global trends in innovation in 2018, and be providing key insights and recommendations for Sri Lanka to further improve its ranking.

Prof. Soumitra Dutta is no stranger to Innovation and Technology, having an illustrious repertoire in those spheres. He is the co-editor of the Global Information Technology Report published by the World Economic Forum, and the founder of the Global Innovation Index published by the World Intellectual Property Organization, both publications having had a tremendous influence on technology and innovation policy. He has also served for over 20 years as the Roland Berger Chaired Professor of Business and Technology at INSEAD at Fontainebleau in France. The keynote address would be followed by an in-depth panel discussion with Prof. Soumitra Dutta, and panellists Virtusa Executive Vice President, CIO and General Manager Madu Ratnayake and SimCentric Technologies Managing Director/Chief Technical Officer Dr. Romesh Ranawana.

The moderator of this panel discussion will be Sysco LABS Director Rasika Karunatilake. The panel discussion would cover areas such as innovation in Sri Lanka and the need for systemic change, the impact of the GII for Sri Lanka and the importance of having such a ranking system, and information regarding the current status of the country with regard to technology and innovation. The event would be held on Friday, 19 October at Hatch, Fort (No. 14 Sir Baron Jayathilake Mawatha, Colombo 01) from 3:30 p.m. to 6 p.m. Visit www.bit.ly/Innovation_SL to register for the event. For more information, contact Chrismali on chrismali@slasscom.lk or 114062226.